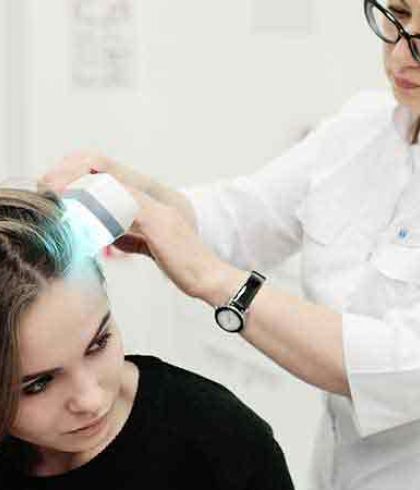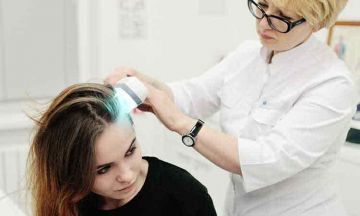 Learn More About Your Scalp Type
The first step in hair fall treatmentis understanding the type of scalp you have. With so many products available in the market, choosing one is a tough task. Once you know what type of scalp and hair you have, choosing the right shampoo, conditioner, and hair fall treatment regime is a cake walk. Let's delve right in!
Type #1 Oily
How do I recognize if this is mine?
Do you wake up almost every day with your hair looking like it's been freshly oiled? Does your hair go limp within a few hours of a blow dry? Finding yourself the victim of pimples on your forehead? Constantly wiping oily flakes off your shoulder? You've got an oily scalp.
An oily scalp is the result of overactive sebaceous glands which secrete an excess of sebum. Sebum is a natural waxy substance that moisturises our skin and hair. When secreted in excess, it clogs the pores and leads to acne and an excess layer of oil on your scalp. Thus, if you've got an oily scalp, chances are that you suffer from acne all year around too.
How do I care for it?
Look for clarifying shampoos and stay clear of products that are hydrating or volumizing. Leave your shampoo in for a couple of minutes post lather, to let it work its way into your scalp. Use a conditioner sparingly. If you sweat heavily, use a dry shampoo alternatively with a regular shampoo. Maintain a diet that's low in sugar and processed foods.
Type #2 Dry
How do I recognize if this is mine?
Is your hair frizzy and unmanageable most of the time? Do you find small flakes snowing down each time you scratch your scalp? Does your hair tangle up too easily and break often as you comb through? If the answer to all these was yes, you have a dry scalp.
Dry hair and scalp result from lack of natural moisture. Our glands secrete a natural moisturizing substance called sebum, however constant exposure to pollution and chemicals causes the sebum to wear out. If you don't help your body replenish this dehydration, your skin cells dry out and start flaking. These flakes are different from dandruff flakes. Dry scalp is one of the reasons for hair loss in men and women and needs to be treated with the right products and dietary pattern.
How do I care for it?
Look for shampoos that moisturize and hydrate. Oil your hair at least twice a week. Ask your stylist for a deep conditioning treatment or a hair spa.  Even if you have a dry scalp do wash your hair on a regular basis – at least 2 to 3 times a week – to keep it clean, flake free and minimize hair breakage. Avoid the hair dryer.
Type #3 Normal
How do I recognize if this is my type?
Is your hair dry in winters and oily in summers? Do find your hair pretty much manageable without the aid of too many styling products? Can you go at least two days without a shampoo and an oily appearance on your fringe-line? If yes, then you're one of few who have a normal scalp.
A well-balanced diet and minimal use of artificial styling products can help anyone get a normal scalp; provided you are not undergoing any medical treatment. A normal scalp has balanced pH levels. pH levels indicate how acidic or alkaline a substance is. Normal pH levels help destroy harmful bacteria and maintain healthy hair.
How do I care for it?
If you have a normal scalp, chances are that you're already doing things the right way. Avoid subjecting your tresses to unnecessary chemical treatments such as perming and colouring. Opt for a shampoo that states it is pH balanced on the bottle. Use a conditioner only on your hair length and avoid the scalp.
Type #4 Combination
How do I recognize if this is my type?
Are the roots of your hair oily and your ends dry and rough? Do have a lot of split ends? Is your hair completely greasy on some days and rough and tangled on others? If so, you have a combination scalp.
Understanding and caring for a combination scalp can prove to be tricky and confusing. A combination scalp occurs due to overactive sebaceous glands. For those with oily hair, the excess oil trickles down the length of the hair. However, in the case of combination scalp, the excess oil is blocked at the root level. This leaves your hair tips dry and they often knot even after combing.
How do I care for it?
A combined scalp needs a clarifying shampoo for oily scalp and a hydrating conditioner for dry ends. If you sweat heavily or gym daily, try alternating your regular shampoo with a dry shampoo to handle those greasy roots. Oil the length of your hair regularly.
Taking the time to understand your hair and scalp type will help you get the best out of your hair care regime. You will be able to buy the right products that will suit your scalp condition. Homeopathy offers all kinds of treatments and products to gently handle different hair types. Adopting homeopathy to treat your hair and scalp will help you take a comprehensive approach to treating dandruff, balding and different types of hair loss. Let every day be a fabulous hair day!