Female Sexual Health - Treatment
It is important to keep in mind that female sexual dysfunction is treatable, and with homeopathic treatment, most women have shown significant improvement in their sexual health. Homeopathy offers a holistic approach, which treats patients at the level of the body as well as the mind, which is primarily essential for sexual dysfunction patients.
Homeopathic treatment has shown good results for lack of libido and inability to get aroused, especially because the cause is psychological in most of the women. It also helps immensely in cases of painful intercourse.
Persistent anxiety about treatment results can also be a hindrance for good treatment response. Most often, patients who seek treatment have hit a rough patch in their personal lives and relationships due to their problem and have lost patience to stick to the treatment. Counselling of the patient's partner is also important along with the patient, to help in attaining a positive treatment response. It is in the best interest of the patients that they opt for early treatment for their sexual troubles, which can offer effective results and prevent any further progress of the condition.
Why Dr Batra's™?
At Dr Batra's™, we understand the physical as well as the emotional symptoms of the lack of sexual desire in women. Our doctors have treated thousands of female patients for the same. It is believed that the cure for low libido is more likely to be found in the mind than in the pill bottle. Homeopathy can address this condition holistically.
Our doctors provide a supportive and caring approach, which helps women discuss their problems uninhibitedly. This medical and psychological interview session itself creates awareness of what is required for a healthy sexual response. After identifying the causative factors behind the lack of sex drive our doctors build the customised treatment plan to address the patient's specific needs.
They also provide relationship counselling so as to help the patient address this concern in a better way with her partner.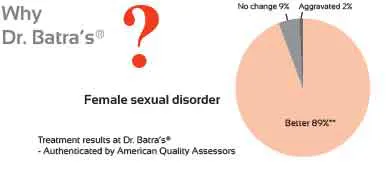 Female sexual dysfunction at Dr Batra's™ and success rate of treatment