Causes of Vitiligo
Vitiligo is an autoimmune disorder characterized by white patches on the skin. A pigment called melanin produced by melanocytes imparts skin with its natural colour. When melanocytes die or are unable to function, it results in the loss of melanin (or loss of skin pigment). This becomes a major cause of white patches on skin also known as vitiligo. While the cause of white spots on the skin is the loss of melanin, the precise reason behind the destruction of these pigment-forming cells is not completely understood.
In most cases, a combination of auto-immune, genetic and environmental factors has been seen as the causes of vitiligo. Other vitiligo causes may include stress, which affects the immune system, causing the body to react and mistakenly destroy the melanocytes by releasing antibodies against them.
Heredity has also been strongly proposed as one of the vitiligo causes. According to the Harvard Health Publishing, approximately 30% of people with vitiligo have a family history of the condition. About half of the people with vitiligo start showing symptoms before the age of 20.
Vitiligo affects men and women equally, and is commonly seen in children. The incidence is higher in children when both parents are affected by Vitiligo. Vitiligo causes are often dependent on the type of vitiligo the person is suffering from. One of the most common vitiligo causes is a chemical release from the nerve-endings in the skin. These neurochemicals are considered poisonous to the melanin found in the skin, resulting in reduced pigmentation. The reduced pigmentation is a major reason for vitiligo or cause of white patches on skin.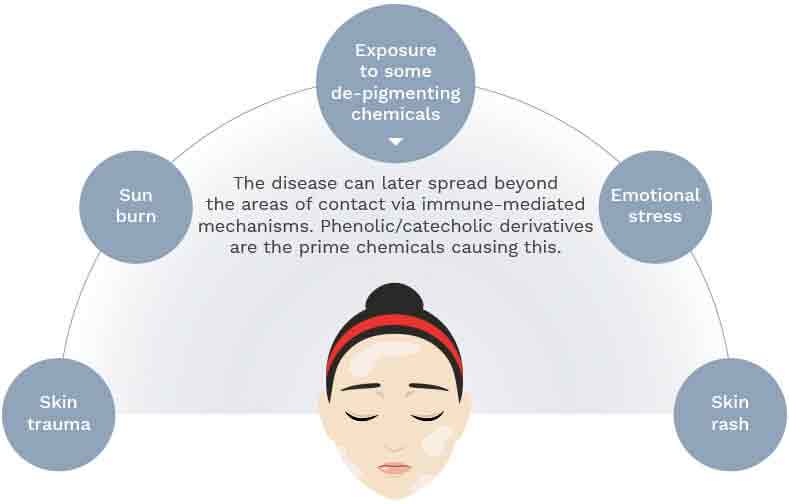 Additionally, vitiligo is also said to be associated with certain auto-immune and inflammatory diseases.
Hypothyroidism (under-functioning of the thyroid gland)
Hyperthyroidism (over-functioning of the thyroid gland)
Diabetes mellitus
Addison's disease
Alopecia areata
Pernicious anemia
Want to know what type of vitiligo you have? Take the vitiligo evaluation test: Test Now
FAQs
Can stress and anxiety be causes of vitiligo?
Anxiety can have a huge impact on skin health. For those suffering from acne, eczema, hair pulling, hives and psoriasis; anxiety can increase symptoms and cause uncomfortable flare-ups. According to the National Center for Biotechnology, Psychological stressors also play a role in vitiligo. Events such as the death of a family member, work and financial problems have been associated with preceding factors and are considered reasons for vitiligo or the cause of vitiligo. In addition, patients with vitiligo experience severe psychological effects and exhibit anxiety, depression, social stigma and impaired quality of life. Stress increases the levels of catecholamines, neuropeptides and cortisol that are found to be higher in vitiligo patients.
How do you stop vitiligo from spreading?
Vitiligo treatment is based on restoring the skin's appearance and original colour. However, the effects of treatment are not usually permanent; the right treatment can control the spread of the condition. The most common vitiligo cause is excessive exposure to sun. Other environmental and psychological factors like stress can also be vitiligo reasons. At Dr Batra's™, our homeopathic doctors can diagnose vitiligo based on the visible signs and symptoms. They take into account the patient's medical history and conduct a detailed examination of the patches. Dr Batra's™ uses India's first 3-D imaging device for accurate analysis and evaluation of the patient's skin condition. Based on an advanced optical technology developed by scientists in Dublin, this 3-D imaging device captures the condition up to 10 mm below the surface of the skin. This state-of-the-art technology helps to diagnose the problem at least 12 weeks in advance, even before visible symptoms. This helps in the evaluation of vitiligo causes or reasons for vitiligo for an effective treatment reducing further spread.
What foods are causes of vitiligo?
Vitiligo is an autoimmune skin condition in which the cells that produce skin pigment are attacked and destroyed thus, becoming a major cause of white patches on skin. Many people who experience vitiligo wonder whether their dietary and lifestyle choices can prevent a recurrence or worsen the condition. There's no scientific evidence that intake of certain foods could worsen vitiligo or are reasons for vitiligo. However, healthy diet rich in copper, zinc and other antioxidants like dark chocolate etc. can help in the prevention and treatment of vitiligo.
How can I hide vitiligo on my face?
Remedial cosmetic cover creams help conceal the patches of vitiligo at least temporarily. But for a long-term treatment, it is recommended to avoid using make-up and other cosmetic products as they may cause side-effects. According to the report published by the National Center for Biotechnological Information, homeopathic medicine includes a holistic approach to understanding the patient. Homeopathy integrates this approach to provide customized treatment for patients based on their individualized requirements. Homeopathy considers the patient's susceptibility to certain kinds of stress, which allows it to be more successful during the early development of the disease, even before conventional medicine. Homeopathy for Vitiligo helps to correct the melanin destruction, thereby reducing the recurrence of the disease and the need for makeup. For more information on homeopathy;
https://www.drbatras.com/book-an-appointment.
Can vitiligo cause depression?
Partial or complete destruction of melanocytes (the cells that form melanin) in the affected skin area are causes of vitiligo. This influences the patient's quality of life as they experience a high level of stress. Depression and anxiety are common disorders seen in vitiligo patients. Therefore; the primary aim of the homeopathic treatment for vitiligo is to slow down the destruction of melanocytes. It also helps stimulate re-pigmentation in the existing white patches. Homeopathic medicine for Vitiligo is prescribed on the basis of the patient's case history, temperament, skin type, extent of spread and so on. It also focuses on the underlying emotional concerns like stress, anxiety, depression and other psychological issues. It is recommended to consult an expert for timely treatment and evaluation of vitiligo causes.