Homeopathy Treatment results
Know more
Eczema patient experiences inflammation of the skin, which is characterized by itching, redness and an outbreak of lesions. If ignored, it becomes a chronic problem and a major health burden. Research has shown that homeopathy offers significant improvement in eczema without any side effects as compared to other conventional treatments. Dr Batra's® has introduced India's first 3D imaging device for the analysis and evaluation of skin health. The powerful diagnostic machine allows the skin to be viewed in 2 and 3 dimensions, and enables multi-spectral analysis of the epidermis and dermis.
Some of the illustrative case photos of patients treated at Dr Batra's: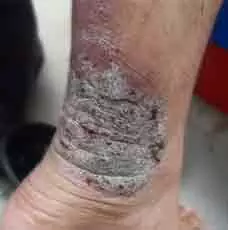 Eczema is a skin disease with a tendency to last for years. Similar is the case with Mr. Anand. He is experiencing the eczema problem since 1995 but he ignored the condition and has not taken any treatment to cure the disease. Hence, the disease flared up, resulting in significant itching and discomfort. In 2008, he started taking treatment for eczema at Dr Batra's. Since then, he has seen a lot of improvement. Now, he is continuing with the medicines prescribed by our doctors to achieve 100% satisfaction.