Dr Batra's® Story
Dr Mukesh Batra is single-handedly responsible for pioneering modern homeopathy in India.
In 1973, when he graduated in medicine, homeopathy was regarded as an ancient art, little better than faith healing, and practiced mainly by amateurs and retirees. However, early to realise the importance of homeopathy in healing, he took up the challenge of standardising it to bring it on par with conventional medicine. He also legitimised homeopathy as a paid and professional service.
It is largely because of his entrepreneurial courage, dedication, foresight and medical skills that homeopathy is viewed as a modern, progressive, efficient and effective medical science today.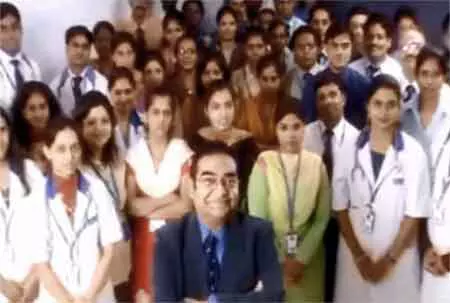 He has not only set up the world's largest homeopathy clinic but also extended the medical benefits of this safe and natural medical system in the country, through path-breaking commercial as well as charitable initiatives.
Dr Batra's™ initiatives arent limited to just India. He has strived incessantly to bring about the acceptance and legalisation of homeopathy across the world. He was instrumental in legalising the science in Mauritius where he set up the company first homeopathic clinic. The Mauritian Broadcasting Corporation has made a documentary film on the life of Dr. Mukesh Batra, which was broadcasted on primetime television. He successfully introduced homeopathy to Middle Eastern countries as well.
Overcoming the standardisation challenge is another one of Dr Mukesh Batra's achievements, especially when there is no standardisation otherwise in infrastructure, pricing or treatment procedures within the healthcare sector in India. Dr Batra's™ has achieved standardisation throughout infrastructure, services, medicines, and treatments across all its clinics in India and abroad.
Treatment at Dr Batra's™ is standardised through training as well as processes, which all doctors follow stringently. The medical audit department also does a regular review of treatments. Medicines are centrally purchased through approved vendors as per international standards and dispatched to every clinic; no clinic is allowed to buy local medicines.
Today, under the leadership of Dr Mukesh Batra, Dr Batra's™ Healthcare has grown from just a single clinic in Mumbai solely run by Dr Batra's™ himself to over 230 clinics across 122 cities in India, Dubai, UK, and Bangladesh, 400 doctors, 2000 employees, over 1.5 million patients treated so far, personalised product brands (64 SKUs), over 84 franchisees, a media house that publishes India's first homeopathy and lifestyle magazine, a veterinary hospital functional in New Delhi, and a training academy for doctors.
Dr Batra's patients include heads of states like the President and Prime Minister of Mauritius, Prime Minister of India, Chief Ministers, Governors and Cabinet Ministers, top industrialists and leading artists, film stars and singers.
Throughout the history of this company, world-class health services have always been the hallmark. The company has symbolised the role of a guiding star, changing the way homeopathy is perceived in India. It has played a pioneering role in putting India on the global homeopathic map.