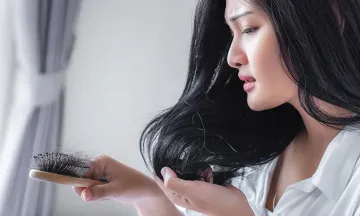 Tips to prevent excessive hair fall in women
Just like a 'good hair day' puts us in a good mood, suffering from hair problems can dampen our spirits equally. Hair-related problems like hair thinning, dandruff, or dry hair are becoming increasingly common in women. Our current lifestyles, high-stress levels, and growing use of chemically formulated hair products increase the risk of hair loss. However, in some cases, an underlying medical condition can also be the cause of hair fall. With the right diagnoses and early treatment, you can control hair fall effectively. To understand the problem correctly, you should check in with a hair specialist.
In the meanwhile, here are some tips to help you deal with your hair fall problems better:
Avoid over-styling your hair 
Due to the toxic chemicals found in styling products, hair treatments like straightening, perming and coloring can lead to hair fall. Using hairdryers and styling irons can also result in dry and damaged hair. To avoid damaging your hair, try to use these on the lowest heat setting with a heat-protective spray.
Pay attention to your diet
To keep your hair healthy, you need to feed your hair the right nutrition. A balanced diet that includes, Vitamin A, C, D, and E, Zinc, Iron, Biotin, and essential fatty acids can help you keep your hair healthy from within. Eggs, spinach, beans, or walnuts make a great source of nutrition for healthy hair.
Activity to de-stress
If you suffer from hair fall due to a hormonal imbalance or stress, at least 20-30 minutes of physical activity will help make a difference. Either going to the gym, walking, swimming or yoga can help balance hormone and stress levels and in turn, promote healthy hair.
Indulge in Hair Care
Oiling or deep conditioning hair with masks before washing can help minimize hair breakage. Also, massaging your scalp can help stimulate scalp circulation and aid in improving hair growth. Try to nourish your hair with oils and conditioners that are made from natural ingredients. If you are looking for effective hair products for hair fall treatment, you can check out the hair care product by Dr Batra's ®.
Address the underlying problem
Apart from lifestyle and environmental factors, several medical conditions can also cause hair fall. It could be a result of a fungal infection, scalp condition, genetics, pregnancy, thyroid disorder or other medications. The sooner you address the cause of hair loss, the more likely you are to prevent hair fall. While these tips can help you manage hair fall, if your hair problem is not resolved or keeps coming back, consult a trichologist.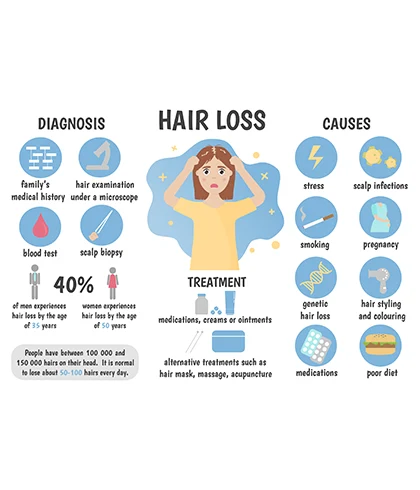 Fortunately, hair fall is a gradual process. It gives you the time to figure out the pros and cons of different treatments and also understand the root cause of your hair loss. However, most conventional treatments only provide a temporary solution and can even cause side effects. On the other hand, homeopathy addresses the root cause without any side effects. According to a study published in the International Journal of Homeopathic Sciences, 2021, the homeopathic treatment showed positive results in treating hair loss-related problems. In comparison to generic hair loss remedies, individualized homeopathic medicines showed a positive outcome in the treatment of hair loss.
Hair Treatment at Dr Batra's® Clinic
Suffering from hair loss can often impact the individual's confidence and personal life. Homeopathic hair fall treatment is aimed at controlling hair fall and stimulating hair growth to provide lasting results. The homeopathic doctor conducts an in-depth consultation with the patient. Treatment is planned out on the basis of factors such as medical history and grade of hair loss. The homeopathic treatment at Dr Batra's® offers the best solution for hair fall control. With a positive treatment outcome of 96.6% - as authenticated by the American Quality Assessors, Dr Batra's® is a trusted name in treating hair problems. To get an effective, natural, and long-lasting solution for your hair problem, book an appointment with us: www.drbatras.com/book-an-appointment.
Also read: Thinning hair choose homeopathy