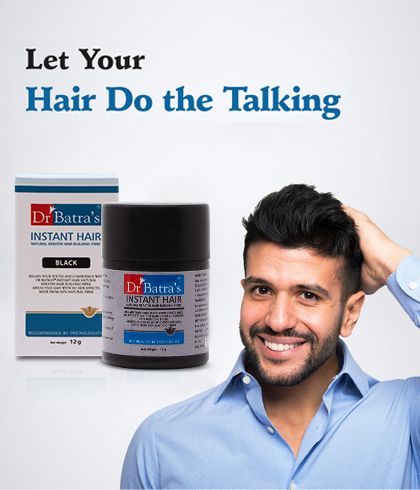 How to use Dr Batra's Instant Hair fiber
Do you often avoid going out because hiding those bald patches takes forever? Bald patches or sparse hair on the scalp can put a leash on your style, not allowing you to style your hair the way you want. Besides, these patches are stubborn and do not conceal even with the best hair dye in the world. But what if we tell you that with Dr Batra's Instant Hair Fiber, you can hide these bald patches in just one stroke? Want to know more? Read further.                                                               
Cover bald patches easily, get Dr Batra's Instant Hair fiber today!
 
What is Dr Batra's Instant Hair Fiber?
Dr Batra's Instant Hair Fiber is as the name suggests a hair fiber powder that is enriched with natural hair-building fibers that nourish and strengthen your scalp while hiding bald patches instantly. It is toxin free and has no possible side effects. If you are someone who loves fuller and thicker hair, this instant hair fiber will give you just that. It helps you regain your charm and confidence in just one stroke.
 
How does Dr Batra's Instant Hair Fiber work?
Hair fibers are formulated with organic protein and hair-building fibers that adhere to your hair and make it appear voluminous. It is considered a 'hair camouflage' that matches the color of your hair and hides sparse patches on the scalp. The two available colors of Dr Batra's Instant Hair Fiber are black and brown. With our Instant hair fiber, you can be sure of reaching an important meeting on time, come rain or shine, quite literally as this hair-building fiber is resistant to rain, wind, and perspiration.
Some of the benefits of Instant Hair Fiber are that it saves time and it saves energy as it has a hassle-free application process.

Here's how you can use the Instant Hair Fiber:
Step 1: Sprinkle or spray onto the bald patch or onto the desired area
Step 2: Wait for 30 seconds for the hair fiber to adhere to your scalp
Step 3: Enjoy fuller, thicker hair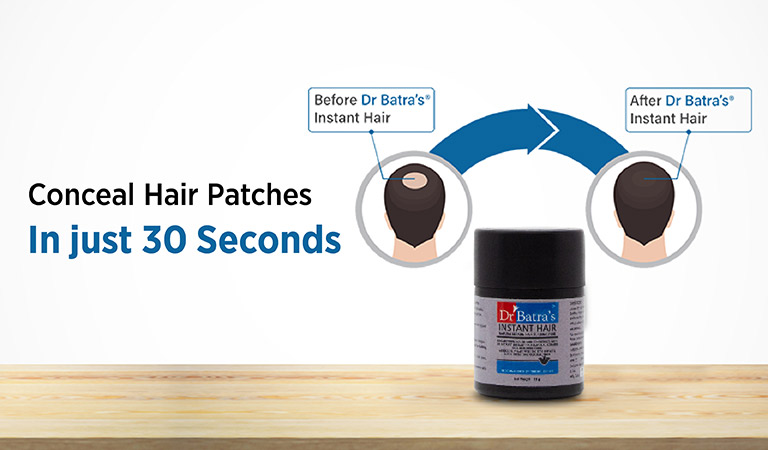 Things you need to know about Dr Batra's Instant Hair Fiber:
It is safe and easy to use
It consists of natural fiber and organic protein
Lasts until the next hair wash
Does not dry your scalp
Adheres to your hair and is non-detectable
Stimulates and moisturizes the scalp with organic proteins
Non-toxic