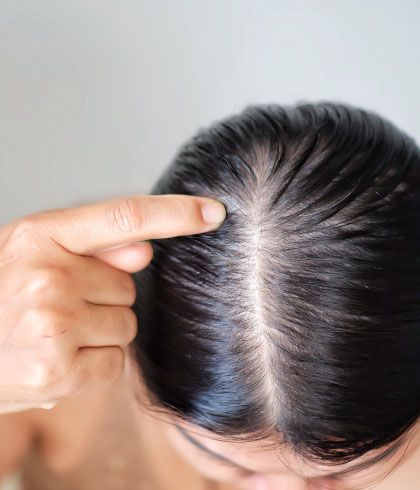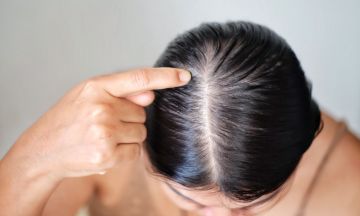 Causes of hair loss in women
Are you losing more hair than you should? You must be wondering why. Things that interfere with the hair growth cycle like medication, illness, infection, or chemicals have the potential to stop hair from being formed properly. Let's understand this better.
What are the causes of hair fall in women?
Some medical conditions lead directly to hair loss. It can be through the disruption of hormones like thyroid issues. Or it can be through scarring from skin conditions like ringworm. Or it can be through autoimmune disorders like celiac disease, where the body's immune system mistakenly attacks healthy cells.
Menopause and hormone imbalances
Women might experience hair loss during menopause due to reduced production of the estrogen and progesterone hormones. These changes lead to symptoms such as menstrual cycle irregularity, dry skin, night sweats, weight gain, and vaginal dryness. This added stress on the body might also worsen hair loss. Some women might notice hair thinning and hair loss after going off hormonal birth control pills. This is because hormonal changes of any kind, mainly dropping estrogen levels, can temporarily disturb the hair lifecycle.
Have you been under emotional or physical stress? It might lead to hair loss. A death in the family, major surgery, or serious illness might cause the body to shut down hair production. There is about a three-month delay between when a stressful event happens and when you might see hair loss. So, you might not pinpoint the trigger right away. Nevertheless, if you experience thinning hair, consider different events or situations in your life that might have caused you considerable stress. Hair loss due to stress is usually temporary. Hair might start growing again after the event has passed.
Lacking certain vitamins and minerals might lead to thinning hair or hair loss in women. B-complex deficiency might cause hair loss and weak, brittle hair. B vitamins, mainly biotin (B7), support hair growth by strengthening the keratin structure of the hair shaft, the part of the hair structure that is visible. Hair loss is a sign of biotin deficiency.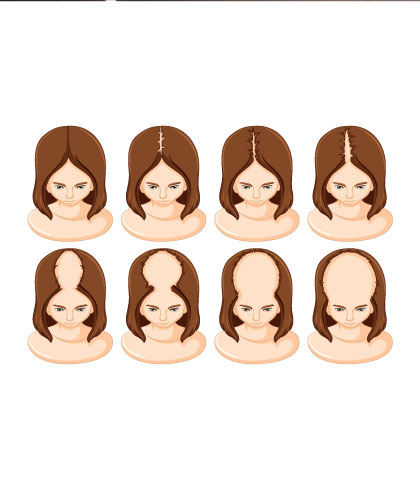 Homeopathy treatment for hair loss in women
Homeopathy helps to determine the root cause of hair loss in women and treats accordingly. It forms the main line of female hair loss treatment It can be supplemented with other treatment options listed below for further enhancement.
Hair Vitalizing Treatment (HVT)
HVT is a US-FDA-approved hair fall therapy for women. It reduces hair breakage. In this hair fall treatment for women, a low-level laser helmet is placed on the scalp for a period of 20 minutes. You can see results in 5 weeks. Its success rate is 90%. This is authenticated by the US-based agency American Quality Assessors (AQA).
This South Korean innovation helps to grow your hair naturally. This method triggers hair growth with no pain. This procedure takes 60 minutes once a week. You can see results in 6 weeks. Its success rate is 88% (as authenticated by the AQA).
This French technology is grounded on a Nobel Prize-winning innovation. This is India's first non-invasive hair fall treatment for women. This treatment strengthens the hair's keratin tissue. It brings the amino acids and vitamins essential for hair growth up to the hair root. This procedure takes 30 minutes once a week. This hair fall treatment for women is convenient and you can observe results in 5 weeks. Its success rate is 77% (as authenticated by the AQA).
Dr Batra's™ homeopathy hair treatment for women is one of the most successful treatments with a high patient satisfaction rate of 96.6% (as authenticated by the AQA). They have successfully treated thousands of cases of hair loss. Homeopathy treatment for hair loss in women is administered after a carefully evaluated study of the patient's case history. The amount of hair loss can be controlled significantly without causing any side effects.
If you notice you are losing more hair than you should, it's best to figure out the cause and start treatment sooner than later. Book an appointment with us so that our hair doctors can diagnose the cause of your hair loss and come up with a customized treatment plan for you.