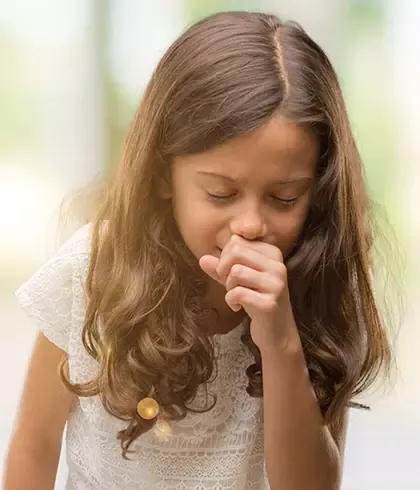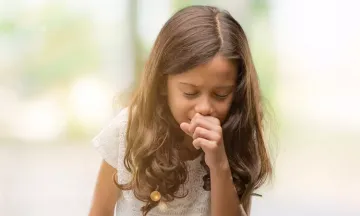 Homoeopathic Medicine & Treatment for Allergic Bronchitis in Children
Authored by
Dr Batra's Team
Does your child have irritating throat and cough with chest discomfort? Don't neglect it. Draw on the safe healing powers of homeopathy to drive the annoyance away - naturally and holistically.
Homeopathy treats not just the symptoms of bronchitis; it treats the disorder from its 'root'. It helps to prevent complications. Studies report that homeopathic remedies for asthma and bronchitis significantly improve lung capacity and overall well-being. (Source: NCBI)
At Dr Batra's™, our homeopathic doctor has treated thousands of patients for various respiratory problems including bronchitis with a treatment success rate of 96.3% (authenticated by American Quality Assessors). To consult our homeopathic doctor, you can book an online appointment.
Do you know these facts?
Children younger than 1 year of age are almost twice as likely to develop bronchitis disease as children between the ages of 1 and 2 years.
Although bronchitis occurs throughout the year, it is more common in the winter.
The condition is more common in babies who are bottle fed and in children who live in crowded, urban areas.
What happens in bronchitis?
Bronchitis is a respiratory disorder in which the tubes that carry air to the lungs are inflamed and irritated. This causes the inner lining of these tubes to swell and produce mucus, leading to cough.
Bronchitis can be acute or chronic in nature, depending on the duration of the illness. Acute bronchitis mostly develops from cold or other respiratory infections, whereas chronic bronchitis results from a more constant irritation of the bronchial tubes, often caused by smoking.
When acute bronchitis is left untreated, it can cause pneumonia. Similarly, untreated, or neglected, chronic bronchitis can lead to lung tissue damage and subsequent drop in breathing capacity (volume of air we breathe in and exhale).
Homeopathy can significantly help sufferers of both types of bronchitis and can provide gentle and safe treatment.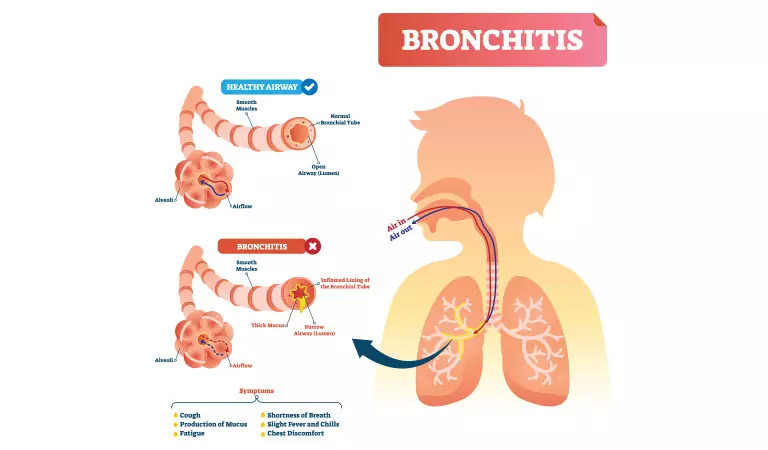 Click here to know more about this respiratory disorder: Bronchitis - Overview
Treatment of Bronchitis in Homeopathy
Homeopathy has very good scope in the treatment of both forms of bronchitis. It can offer significant relief from bronchitis symptoms as well as improve the general well being of the patient.
In fact, clinical studies have corroborated the efficacy of homeopathic remedies vis-à-vis conventional medicines in the treatment of lower respiratory tract illnesses, including allergies and bronchitis. One outcome study in Europe showed an impressive response rate of 82.06% in the homeopathic group as compared to 67.03% in the group receiving conventional (allopathic) medical treatment.
Homeopathic remedies are not given on the presentation of symptoms of bronchitis alone. This is because no two children with bronchitis present with the same set of symptoms, or response to illness. The selection of an appropriate homeopathic remedy, to highlight one example, is based on the given child's unique symptoms, reaction to illness, temperament and psychological patterns. In addition, it may also be related to the type of mucous discharge, especially in older children, its unique features, including odour, among other things.
Homeopathy treatment for bronchitis can also help to prevent complications such as pneumonia, respiratory failure, right-sided heart failure (cor pulmonale), emphysema, etc. Moreover, homeopathic medicines are without any side-effects and are non-habit-forming. Therefore, they can be administered to children of all age groups.
Case Study
Case Study related Bronchitis in Homeopathy
Rohan experienced frequent episodes of cold and cough that would last almost 10 days, every month. His allergy cough used to get worse during winters and after eating sweet & spicy foods. He used to feel breathless by just few minutes of physical activity. Antibiotics were on an off as part of his treatment, though they would help him only temporarily. Then, he started taking homeopathy treatment for bronchitis from Dr Batra's and continued the treatment for a year. He regained good health and did not suffer from bronchitis symptoms anymore. He could focus more on studies now and started attending the school regularly. This holistic treatment eventually made him an ardent follower of homeopathy.
Self Help Tips
Eat plenty of fruits, vegetables, and whole grains.
Try to keep your children away from substances like smoke, chemical fumes, dust, and air pollution.
Infection and cough can make you tired. Therefore, take adequate rest during those infection days.
Drink plenty of fluids like water, fresh fruit juices, green tea, honey lemonade and homemade soup.
Take steam 2-3 times in a day to clear your throat and breathe easily.
If your child seems unwell, check with your doctor to find out what the problem is. More so, if there are breathing issues. The homeopathic doctor will be able to help you provide a safe, effective, and long-lasting treatment for bronchitis. For consultation, you can book an online appointment with our homeopathic specialist through this link: Book an appointment