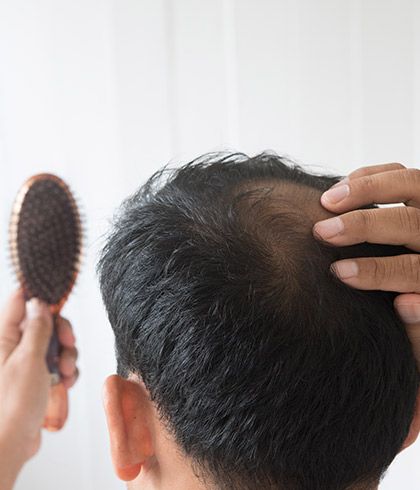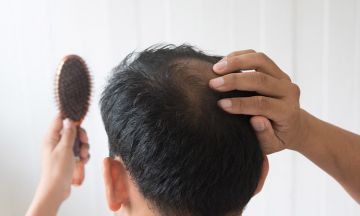 Top 20 Effective Ways To Stop Hair Fall In Men
Hair fall is a common problem seen in men today. According to global Google statistics, 77% of men start looking for hair fall solutions between 25-44 years of age. According to a study by the Journal of Clinical and Diagnostic Research, 50% of men, start losing hair due to age. Hair fall in men starts due to stress, irregular food habits, and a medical condition known as male pattern baldness. Don't worry!
Here are 20 effective ways to help you deal with your hair fall problems.
Treat nutrient deficiencies: Vitamin, iron and protein deficiencies can weaken hair follicles, causing hair fall. Consuming foods like spinach, berries, eggs, nuts, and seeds can help with hair growth.
Reduce stress levels: An increase in stress levels can cause hair fall problems. Hence, it is necessary to de-stress yourself with the help of meditation and yoga.
Dietary balance: Avoid eating oily food and start consuming foods rich in proteins, vitamins, and iron to help reduce hair fall problems. 
Avoid brushing wet hair: Brushing wet hair can weaken the hair follicles and thereby increase hair fall. The pressure applied to style the hair can weaken the shafts and cause hair fall. 
Medications: Some medications like Rogaine and Propecia can help reduce hair fall in men. 
Avoid frequent use of hair colors: Chemical-based hair colors and treatments can lead to excessive hair fall in men. Hence, it is better to use natural products on your hair to reduce the risk of hair fall.
Treat itching on the scalp in time: Fungal and bacterial infections can cause excessive hair fall. Get it treated in time to avoid increasing hair fall problems.
Diabetes: Increased sugar levels can lead to folliculitis that is a hair follicle infection. Hence, it is necessary to reduce intake of sugar to reduce hair fall problems effectively.
Thyroid problems: Overactive or hypoactive thyroid glands lead to a hormonal imbalance, causing excessive hair loss. Treating thyroid problems in time can help reduce the risk of hair fall.
Massage: A gentle massage of your scalp can help reduce hair fall problems and stimulate hair growth. 
Keep yourself hydrated: Your hair shaft contains one-quarter of water. Drinking four to eight cups of water a day can help with hair growth.
Exercise: Physical activity like walking, jogging, or swimming can help control a hormonal imbalance and reduce stress levels. It can help with hair growth. 
Avoid using heating equipment: Heating your hair can reduce protein levels that can lead to hair fall. Reduce the use of heating appliances to reduce the risk of hair fall.
Sweat-free scalp: Sweat can weaken the roots of your hair and lead to hair fall. Using mild shampoos can help balance pH levels of the scalp and reduce hair fall. 
Use natural remedies like 

Biotin: Consume foods rich in biotins such as nuts, sweet potato, eggs, onions, and oats that can help reduce hair fall problems.
Green tea: Green tea contains polyphenolic – the micronutrients found in plants, can help to reduce hair fall problems. 
Bhringraj: It is a medical herb that helps reduce hair fall problems effectively.

Reduce alcohol intake: Alcohol consumption can dehydrate you and lead to an increase in hair fall. It is advisable to reduce the consumption of alcohol to protect your scalp from dehydration.
Avoid smoking: Smoking can hinder the blood flow to the scalp. It can cause a reduction in hair growth.
Use aloe vera: Aloe vera can help reduce infections in the scalp and promote hair growth. You can directly apply some aloe vera gel to the scalp or mix it with coconut oil.
Regular hair washes: A regular hair wash can help reduce the risk of scalp infections. It can then help reduce the risk of excessive hair fall.
Use wide-toothed combs: It is advisable to use wide-toothed combs to avoid hair fall in volumes.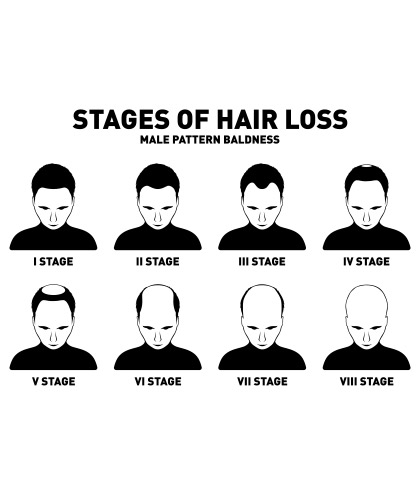 Homeopathic treatment for hair fall with Dr Batra's®
Homeopathic hair loss treatments for men are natural, safe, and effective. Homeopathy offers an in-depth diagnosis for your hair fall problems and treats the underlying cause effectively. According to a study by the National Centre for Biotechnology Information (NCBI), the homeopathic remedy  Thuja is a potential hair growth-promoting agent.
Why Dr. Batra's® for hair fall?
We at Dr Batra's® strive to provide compassionate care to all our patients. Dr Batra's® has combined the goodness of homeopathy with aesthetic hair treatments that offer 6 lakh, hair patients, long-term solutions. Dr Batra's®New Hair Bio-engineered Treatment stimulates hair regrowth and helps to thicken the existing strands. This treatment by Dr Batra's® uses plant plasma, is painless and non-invasive. Get in touch with our expert doctors and receive a holistic hair fall solution. Book an appointment now with us at www.drbatras.com/book-an-appointment.