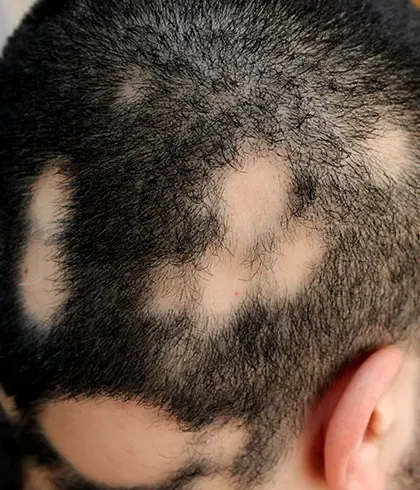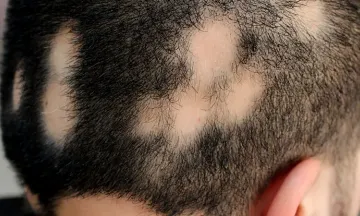 Alopecia Areata Treatment in Homeopathy
Hair fall is medically known as alopecia. It has become a common problem among men and women today. According to a study by the National Center for Biotechnology Information, two percent of the people worldwide are affected by alopecia areata. With alopecia areata, you start losing hair in small patches. This hair condition affects the scalp and can affect the eyebrows, eyelashes, and face as well when your immune system attacks the healthy hair follicles, it stops new hair growth, causing hair loss. 
The different types of alopecia areata can cause differing extents of hair loss. These types include: 
 Patchy alopecia areata: in this type, you may lose a coin-sized patch of hair in different parts of the scalp. 
Diffuse alopecia areata: with diffuse alopecia areata, you may notice hair thinning all over your scalp. 
Alopecia totalis, in this type, you may experience hair loss all over your scalp.
Ophiasis alopecia: In this type, you may notice hair loss around the sides and the back of your scalp.
Alopecia universalis: you may see hair loss on the scalp, face, eyebrows, and eyelashes.
What leads to the occurrence of alopecia areata?
Environmental factors can trigger alopecia areata in people susceptible to the condition due to heredity. A family history of rheumatoid arthritis or type 1 diabetes can cause hair to fall.
Alopecia areata affects both men and women. While men have more visible patches on the scalp, chest, back, and face, women suffer hair loss on the scalp, eyebrows, and lashes. This type of hair loss is visible in smaller patches. Children may also suffer from additional symptoms such as nail defects, pitting, or lesions.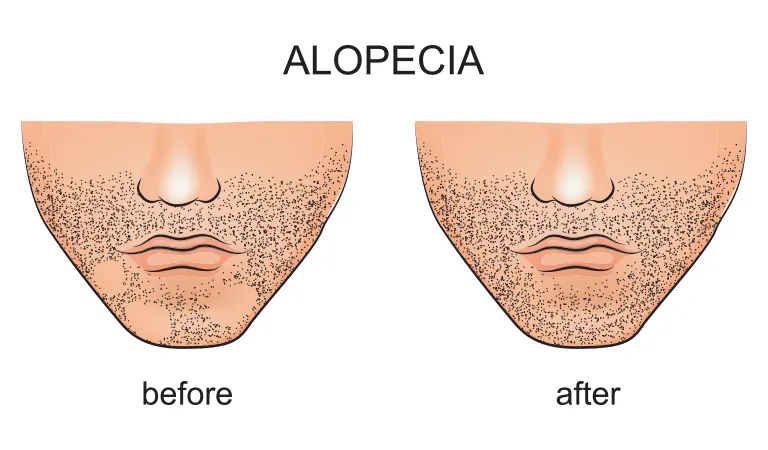 In alopecia areata, you lose hair in patches of several centimeters. It is spontaneous and unpredictable. Excessive hair loss can also lead to alopecia totalis or alopecia universalis.
Natural remedies to reduce alopecia areata symptoms
 Hair loss due to alopecia areata can be disheartening. Let us talk about some natural remedies that can help with this patchy hair loss condition:
 The application of garlic gel or onion juice on bald patches helps reduce the impact of this condition.
A scalp massage with essential oils like cedarwood, thyme, rosemary, and lavender helps hair grow.
Stress management can help reduce the triggers of hair loss.
Aloe Vera consists of vitamins A, C, and E that contribute to cell turnover and promote hair growth. 
Homeopathy for Alopecia Areata
According to a study by the Regional Research Institute of Homeopathy, an 11-year-old boy with alopecia areata treated with homeopathy; showed a notable improvement in his bald patches. 
This case showed the positive impact of homeopathic treatment for alopecia areata. Homeopathy can holistically treat alopecia areata to give you long-term and effective treatment solutions. 
Why Dr Batra's®?
We at Dr Batra's® have a patient-first approach, and we aim to offer treatments that best suit your condition. Dr Batra's® New Hair is a bio-engineered, FDA-approved, non-invasive hair follicle treatment that uses plant plasma rich with polypeptides to treat hair fall conditions include alopecia areata. As authenticated by the American Quality Assessors, we have a 96.6 percent satisfaction rate in treating hair fall problems include alopecia areata.
So, book an appointment today at https://www.drbatras.com/book-an-appointment.