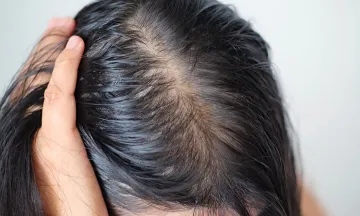 Hair Regrowth Treatment Stories
Hair regrowth is not an easy process for everyone. It can be time-consuming and at times, frustrating. While there are many treatments available, not all of them are effective. Many may have tried everything but nothing worked for them. Perhaps they gave up because they didn't see results in the expected amount of time.
Our main goal is to educate those who wish they knew how to regrow their hair naturally. We have collected some of the top stories with real, honest experiences of people who have regrown their hair naturally.
Success stories of hair regrowth:
1) Hair loss due to female pattern thinning
It is an excellent story about Chetana, who managed to naturally regrow her thinning hair through Dr Batra's® homeopathic treatment for hair loss.
"When I first noticed my hair thinning, I went to see my doctor. He told me that there was no way to regrow my hair and I would have to live with it. I tried all sorts of solutions, like supplements and pills. But nothing worked for me. When I had lost almost all of my hair, I heard about Dr Batra's® homeopathic treatment for hair loss. Not only did it make the thinning area regrow, but it also helped to get rid of all hair problems. It's been over a year and a half since I started using it, and my hair has never looked better!"
2) Hair loss due to alopecia areata

Some people suffer from problems like alopecia areata, an autoimmune disorder that causes patchy hair loss. Kabir thought he couldn't regrow his hair. Let's see how he did with Dr Batra's® homeopathic alopecia treatment.
"I had some small bald patches on my head. I was concerned because my dad has alopecia areata. My friend suggested visiting Dr Batra's® Healthcare once. The homeopathic doctor took my entire case history, including my family history. She prescribed me homeopathic medicine, which I took every day for three months.
When I finished the treatment, my hair grew back. I was happy because I knew that it meant my hair would keep growing from now on. It took a while, but eventually, my hair started to grow naturally again."
3) Hair loss due to male pattern thinning:
You can lose hair for many different reasons, such as severe illness or just hormonal changes. Generally, the most important thing is to never give up if something doesn't work for you, says Abhishek.
"Losing my hair was one of the worst things that ever happened to me. When I noticed severe hair fall, I consulted a homeopathic doctor at Dr Batra's®. He assured me to help me with the hair loss. Within 6 months, homeopathic treatment for hair loss helped me regrow my hair naturally.

4) Hair loss due to stress:

Stress is one of the leading causes of hair loss in men and women alike. In most cases, it can be remedied by giving your body a break and letting it rest for a while. Let's see Anurag's story now.
"I was going through one of the worst times of my life with work and family problems. Then I noticed that I had started to lose a lot of hair. After a few months, I knew that I should do something as I was balding.
I chose Dr Batra's® Healthcare for my hair fall treatment. Not only did it make my hair grow back again, but it also made it stronger than ever before. I could notice hair regrowth after 3 months of homeopathic hair fall treatment," says Anurag.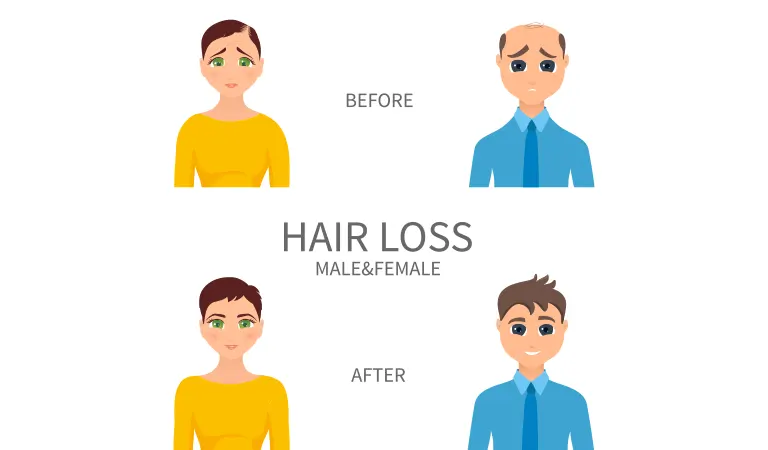 5) Hair loss due to hormonal changes:

Hormonal changes are yet another major cause of hair loss, and in some cases, it can be tough to pinpoint the exact reason. However, with Dr Batra's® homeopathic treatment for hair loss, there will be no need to worry. Let's see how Reshma tackled her hair loss.

"I used to have very thick hair, but I started to lose it rapidly after my pregnancy. At first, the loss was minimal since I had just given birth, but it slowly increased with time. Soon enough, my hair was falling out so much that I couldn't style my hair anymore. At one point, I even thought about shaving all of my hair off so that I didn't have to worry about losing it every day.
I started my treatment at Dr Batra's® after I did some research online. It has been around six months since I started the homeopathic medicine for hair loss that they prescribed me. Already, my hair is regrowing." Says Reshma.
These are the five most popular stories about the positive effects of Dr Batra's® homeopathic treatment for hair loss. The best thing about it is that our hair treatment is entirely natural.
With the individualized hair loss treatment approach, we have over 7 lakh happy hair patients. We have a positive treatment outcome rate of 96.6% in treating hair problems as authenticated by the American Quality Assessors. For more information about Dr Batra's® hair loss treatment, book an appointment now!