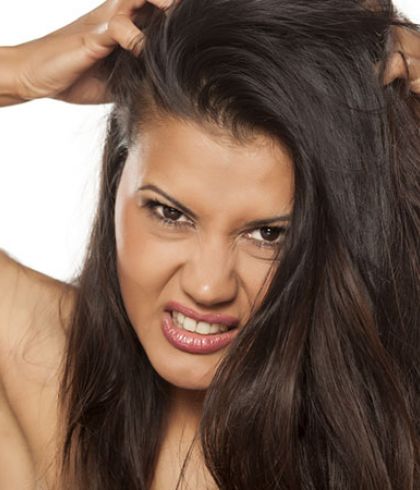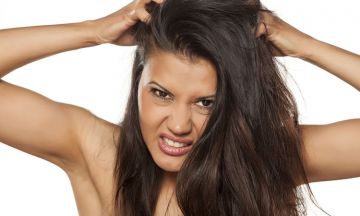 Tips To Combat An Itchy Scalp
Do you find yourself involuntary scratching your head? Itchy scalp, also known as scalp pruritus is a common condition. There can be many causes for an itchy scalp, the common one being seborrheic dermatitis, a condition with dandruff an inflamed skin.
Seborrheic Dermatitis, is a more severe form of dandruff where the scalp and skin on the head, neck, face and back develop red rashes and usually is accompanied by itching.
The other causes of an itchy scalp can be:
Head lice

Allergy

Stress

Fungal infection
Some of these causes require medical attention. For the common one's you can follow the below tips:
Apple Cider Vinegar

: Apple cider vinegar is popular for its anti-fungal and anti-bacterial properties. Dilute the vinegar in warm water and apply it on your scalp and then wash it off to treat dandruff and itchy scalp. Caution is advised while using this method, since vinegar can cause chemical burns on your scalp.

Tea Tree Oil

: Tea tree oil has anti-septic properties and several researches have revealed it to be very effective in getting rid of head lice and their eggs. Note that tea tree oil can cause irritation to the skin for some people, so caution is advised before using it.

Salicylic Acid

: It is a beta hydroxy acid found in plants and a common ingredient used in shampoos. It helps in exfoliating the scalp and therefore is used as a treatment option for

scalp psoriasis

.

Selenium sulfide

: It is used for

seborrheic dermatitis

treatment as it slows down the growth of yeast on the scalp and also slows down the death of skin cells so that flakes are not formed.

Olive Oil

: Warm up olive oil and apply directly on to the scalp and let it sit for some hours. Wash it off with a prescribed anti-dandruff shampoo. Olive oil helps in loosening the itchy crusty scalp.

Peppermint oil

: To reduce the itching and soothing the scalp, mix peppermint oil with coconut or olive oil and apply on the scalp before shampooing.
If the itching and dandruff continue to persist, then consult a doctor as it can be due to a medical problem like psoriasis or eczema. There are a number of treatment options available for these chronic problems but they come with a high recurrence rate and a number of other side-effects.
Homeopathy Treatment
Homeopathic treatment for psoriasis, seborrheic dermatitis & eczema offers a holistic approach where the root cause of the problem is identified and dealt with. Homeopathy provides a customized treatment plan for each patient depending on their history, temperaments and environment, thus addressing the underlying issue while also treating the external symptoms.
At Dr Batra's™, we have treated patients with hair and skin problems with 96.6% & 94.3% success rate respectively (authenticated by the American Quality Assessors).
So, if you are finding it difficult to combat an itchy scalp on your own, seek medical help. Book an appointment with us to get a safe, effective, and long-lasting treatment: https://www.drbatras.com/book-an-appointment