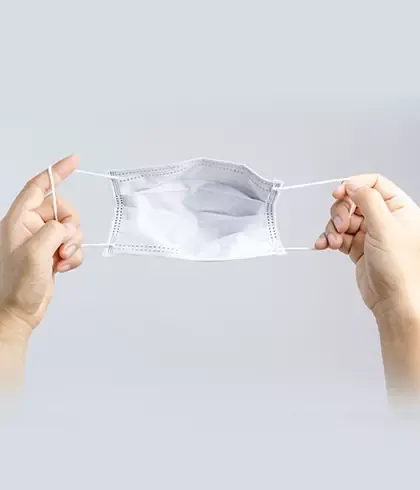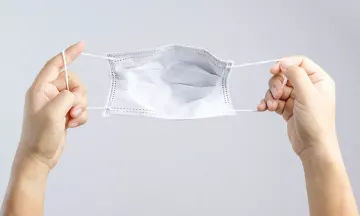 Tips to battle Maskne along with homeopathy
With the emergence of the Coronavirus pandemic, human civilization has proved that slowly but steadily, we can adapt to the changing surroundings. In order to deal with the on-going crisis of COVID-19, we use protective gear like masks and gloves. But what if they leave you with nasty side-effects?
There's no doubt about the fact that masks have become a staple accessory with your regular outfits. But continuous use of masks has given birth to theterm "Maskne".
What is Maskne?
As the name suggests, Maskne is derived from the merger of masks and acne. - It refers to the acnethat develops on the lower part of your face from wearing masks for long periods of time. This may be seen mostly amongst essential workers and frontline health works who have to wear masks for long durations.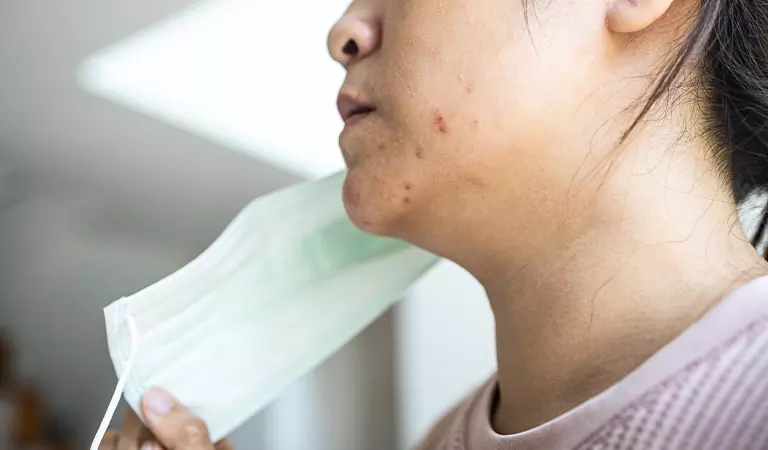 How does Maskne emerge?
Hot moisture from breathing through masks gets trapped because it has no space to be released. This enlarges your pores leading oil and bacteria to clog them up. This process is known as occlusion. Additionally, if you have sensitive skin, the friction between your mask and skin can give you numerous skin disorders including triggering your breakouts and causing inflammation.
The remnants from the washing detergents can also stick to your masks causing further irritation. This irritation can also lead to inflammation leaving you with redness, dry patches and dark marks. If you are battling an on-going skin disease like psoriasis, this inflammation can also flare your psoriasis symptoms further. 
Cure while you prevent
There's no way you will stop wearing masks as it's essential. But there are ways you can adapt to these changing norms.
Skincare:

The right skincare routinecan help you in the long run. You can follow these quick steps to take care of your skin better:
Wash

: Never put on a mask over an unclean face. Ensure that you wash your face gently but thoroughly, cleaning-off all the accumulated dirt in the clogged pores. Steer clear from cleansers or face washes that have chemicals, fragrances and oil.

Moisturize

: Your moisturizer will act as a shield between the friction from your mask and your skin. Even if you have oily skin, use some protective cream which will help with the friction. Opt for skin care

products

that are rich in natural ingredients like Vitamin B3 and Olive oil to maintain nourished and healthy skin.
Wear only clean masks:

If you wear unclean masks, chances are you will expose yourself to dust and dirt. This dust may act as an allergen making your existing eczema flare up.  Wash your mask after every use and keep a rotation of masks. 

Stop reusing surgical masks:

The Centre for Disease Control and Prevention does not recommend using surgical masks for non-medical people. There is no way to wash these masks so even if you do end up wearing one, throw it away after using it once.

Choose mask material carefully:

Choose a fabric which is soft on your skin for your mask. Before looking at the aesthetics and the design, inspect the fabric of the mask. The right mask would be the one which causes the least amount of friction. Silk and cotton are considered to be extremely gentle on your skin. 

Go easy on makeup:

At this point, makeup may not be your best companion. It may clog your pores even further leaving bacteria on your skin causing breakouts. The residue of the makeup can also soil the fabric of your mask. 
Homeopathy to the rescue:
If you are dealing with Maskne and are looking for effective skin solutions, then homeopathy for acne is the most constructive way to treat it. When it comes to sensitive parts like your skin, you need a gentle alternative that doesn't cause side-effects. And homeopathic treatment for skin diseases including acne will ensure just that.
According to a study, two patients experiencing severe acne were monitored and provided homeopathic medicines for acne. A case series suggested a remission rate of more than 80% using customized homeopathic treatment. Additionally, no side-effects were reported. (Source: NCBI)
Dr Batra's™ can be your solace from all the skin disorders. Our qualified and expert homeopathic skin specialist will offer an acne treatment in homeopathy after an in depth inspection of your skin including an examination of your Maskne symptoms, acne causes and any other factor which has influenced your skin diseases. A homeopathy doctor will focus on helping you achieve healthy skin by reducing the eruptions and preventing breakouts.
If you feel sceptical whether a product is good for your skin or not, consult our homeopathic specialist and let their expertise guide you towards  healthy skin.
Read more at: https://www.drbatras.com/acne-homeopathy-treatment
Case Study
With changing times, it's mandatory for you to change your routines to get the desired results. If you want to receive those desired results and great skin, book an online appointment with Dr Batra's™.