Psoriasis - Homeopathy Treatment results
Psoriasis is an auto-immune condition where body's immune system mistakenly attacks the body's own skin cells. This results in a rapid growth of cells, leading to psoriasis. Our doctors identify psoriasis based on visible signs and symptoms, patients' medical history and upon examination of the lesions. Additionally, to confirm the diagnosis, Dr Batra's® has introduced India's first 3D imaging device. The 3D device can show your response to a psoriasis treatment as well as the improvement in your condition much before it is visible to the naked eye. This therefore saves both time and money.
Some of the illustrative case photos of patients treated at Dr Batra's: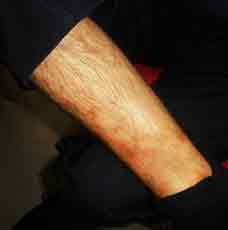 Rajesh is happy with the psoriasis treatment at Dr Batra's. There is no sign of recurrence of the disease after treatment.
Sangeeta Nair visited us 2 years back. She was tensed due to a skin problem known as psoriasis. She tried many things to get rid of the ugly patches on her skin. She met skin specialists, dermatologists and visited several clinics. Applied creams and lotions, but the results were not long-lasting and patches reappeared within few months.
Within 1 month of taking psoriasis treatment at Dr Batra's, she found changes and hence she continued taking homeopathic medicines for long-lasting results.
Find out your skin health score, take the skin evaluation test: Test Now