Homeopathy Treatment For PCOS
Homeopathic remedies work on correcting hormonal imbalance, regularising ovulation as well as restoring menstrual normalcy. Homeopathy also helps treat associated symptoms of PCOS effectively.
For their homeopathic treatment, no two women would be suggested to take the same medication. This is because every woman with PCOS has a specific set of problems, which need an individualistic approach. Stress management, weight control, corrective lifestyle habits along with the medicines can be of considerable help. While the hormonal imbalances can be kept in check, homeopathy can also help to treat infertility in women who are planning for a pregnancy.
Why Dr Batra's™?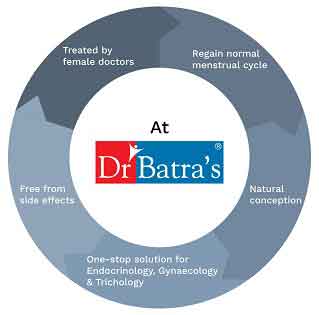 | Conventional treatment | Possible side-effects of conventional treatment* | Advantages of homeopathy |
| --- | --- | --- |
| Birth-control pills | Medicine-induced menses stop egg formation | Natural ovulation, normal menstrual cycle |
| Diabetes medication | Body's production of natural insulin stops, thus increasing dependency on the drug | Anti-diabetic medication not required |
| Surgery. "Ovarian drilling" | Recurrence rate - 90% | Surgery can be avoided in most cases |
| Anti- DHT(for extra hair growth) | Foetal malformation | Hormonal treatment not required |