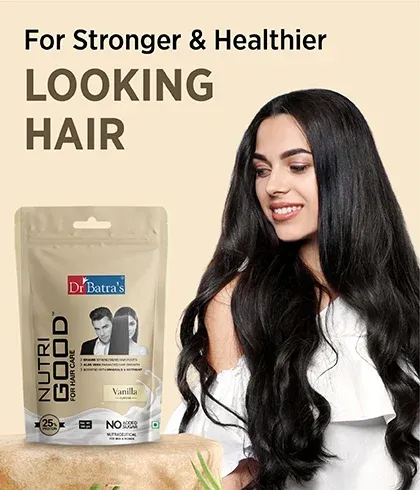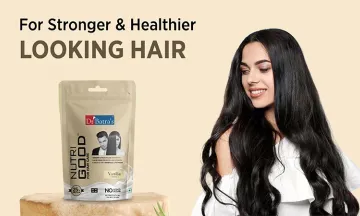 How to use NutriGood in your daily routine
It is rightfully said; that you are what you eat. Your skin, your hair, and your overall well-being are a result of what nutrients and minerals you consume every day. What you eat affects your overall well-being, especially your hair. In today's world, when adults frequently skip breakfast and lunch or depend on junk food to satisfy hunger, the body lacks the essential vitamins for hair growth, resulting in hair loss and dull, unhealthy hair.
So, if are someone who suffers from hair loss or wants to give your hair the extra nourishment it requires but is tired of using boring hair supplements, you've tuned in to the right blog. Read further to know more!
Get the superfood for super voluminous hair today!
Why do you need to intake vitamins for hair growth and thickness?
Your hair is made of complex fibers that garner nutrition from the hair follicles. Hair follicles are the last to receive nutrients from supplements and foods, mainly when there is a deficiency in the body. This deficiency prevents the hair follicles from fostering hair growth and as a result, you experience hair loss.
Since the food you consume every day does not deliver the nutrients necessary for hair re-growth, you can consume a biotin supplement that helps bridge the gap between healthy hair and nutritional deficiency.
Why do you need Dr Batra's NutriGood?
Dr Batra's NutriGood is a rich vanilla-flavored hair supplement that fulfills all the nutritional needs of your hair. It is formulated by trichologists to cater to the needs of sensitive, dry, brittle hair that need more than just care. Dr Batra's NutriGood is endowed with herbal extracts such as Brahmi and Aloe vera and has vitamins such as vitamin C, vitamin D, and vitamin B12. It has everything your hair has been lacking!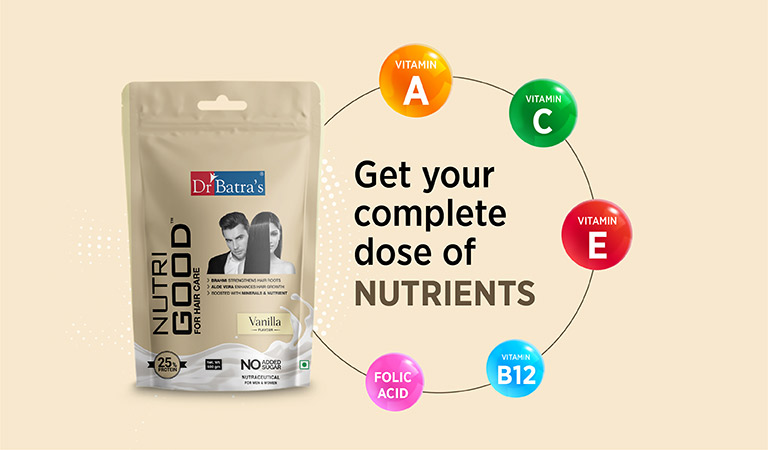 3 Ways you can use Dr Batra's Nutrigood in your daily routine:
Consume the superfood as a super smoothie for breakfast:
The best way to begin your day is to eat a wholesome breakfast. You can add our hair supplement to your breakfast routine. Dr Batra's NutriGood comes in a delectable vanilla flavor, so it is not just savory for your taste buds but is also good for your hair. The vitamins and herbal extracts give you the energy you need to survive the day.
Here's how you can consume it as a smoothie for breakfast:
Step 1: In a cup, pour milk or water (as per your liking)
Step 2: Add 2 teaspoons of Dr Batra's NutriGood hair supplement
Step 3: Topple with any fruit of your choice, preferably half a banana
Step 4: Mix it well and savor a tasty superfood smoothie!
Consume the superfood for supper!
 You've had a long day, it's almost evening and you have hunger pangs? Dr Batra's NutriGood is here for the rescue. You can take two teaspoons of the hair supplement and consume it without diluting it with water or milk. Benefits? It tastes vanilla,  gives your hair the care it needs, and eliminates hunger pangs!
Benefits of Dr Batra's NutriGood
Boosts hair volume
Provides minerals and vitamins that aid in hair re-growth
Eliminates frizz
Promotes a healthy shine to your hair
Acts as a superfood to treat dry and dull hair
While you get along with your day, your hair is exposed to dust, pollutants, UV rays, and so on, making them appear frizzy and prone to breakage. So to give your hair some extra care, invest in our hair supplement today!