Dr Batra's™ Geno Homeopathy: Redefining the future of medicine and healing
Dr.Batra's™ Geno Homeopathy is a revolutionary, scientific, safe and precise gene-targeted homeopathic therapy. It is a new entrant in the field of personalized medicine in India and can redefine the future of medicine and healing.
A treatment as unique as your finger print !
What is Geno Homeopathy?
Being a gene-based therapy, Geno Homeopathy is a customized treatment as no two people on this planet have the same genes. Genes of every person are as unique as his finger print or iris. Therefore, unlike the conventional treatments currently in practice which are one size-fits-all, with Geno Homeopathy, no two patients with even the same medical condition will be given same treatment. Treatment will be given based on their genetic make-up, and will be as unique as every individual, so that the medicines work more effectively for every patient.
Who can benefit from Geno Homeopathy?
Newborns
Children
Men
Women
Elderly
Benefits of Geno Homeopathy:
Predicts if you are at risk of getting a medical disorder in future
Prevents or delays a hereditary medical condition through homeopathic medicine and lifestyle changes
Precise gene-targeting for exact diagnostic evaluation along with accurate and faster treatment results
Painless, safe and is free from side effects
Personalized treatment plans based upon unique genetic history to identify disorders early in life so the treatment can be started as early as possible Read More
On what basis is Geno Homeopathy advised?
Geno Homeopathy is advised on the basis of a genetic test that is non-invasive and is done by collecting the saliva of the patient in sterile conditions. The sample is sent to a special laboratory and your test results are received in a few weeks. Read More
Dr Batra's™ Geno Homeopathy - "The Future of Healing"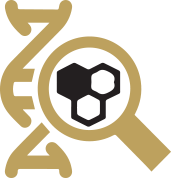 99.9% of DNA in all humans is same.
0.1% is what varies according to generations and this is called SNP (Single Nucleotide Polymorphism).
The SNP gene regulates body functions like:
INSULIN
METABOLISM

Reduces insulin
synthesis
PRESENCE OF SNP IN

VITAMIN B6
METABOLISM

Metabolises
less vitamin
Did you know?
Your genetic information can be used to: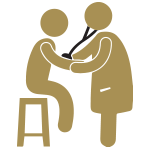 Detect an individual's genetic predisposition to existing illness
Predict a medical condition that you may be diagnosed with in future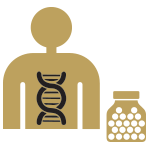 Provide customized and effective treatment
Tests for Geno Homeopathy are designed by Dr Batra's™ team of medical experts in conjunction with specialists in genomics and specialist consultants in the field of medicine.

Dr Batra's™ team of 400 doctors

Specialists in Genomics

Specialist Consultants in the field of Medicine

Dr Batra's™ experience in treating 15 lakh patients
FAQS
1. How does Geno Homeopathy help me?
Geno Homeopathy is the treatment targeted towards your genetic variations. Everyone does not respond to a particular medicine in the same way. Geno Homeopathy personalizes medicine taking into consideration your genetic variations.
We all know that prevention is better than cure. Based on your genetic makeup, Geno Homeopathy can predict an ailment years before it actually occurs. Therefore, if we pay attention to the disease tendencies of our genes, we could rectify the problem and reduce our chances of getting an ailment through preventive medicine, appropriate diet, and exercise.
2. Is the genetic test easy to do?
Yes, the genetic test is very easy to do. It is painless, non invasive and is done on your saliva sample. The sample is sent to a special laboratory and your test results are received in a few weeks.
3. What is the guarantee that the test results are authentic?
The test results are 99.9% authentic. This has been scientifically proven using definitive standards of accuracy and validity of data based on gold standard genotyping arrays.
4. Is there an example of how this test has helped people?
The most famous example of genetic diagnosis is Angelina Jolie's prevent breast surgeries in 2013. A simple genetic test showed that the actor carried a BRCA1 gene, which meant that she had an 87% risk of contracting breast cancer and a 50% risk of ovarian cancer. She knew she had a strong family history for both diseases and took preventive measures on the basis of this prognosis.
5. I have a history of a few health conditions in my family. I am concerned whether any of these conditions will affect my son who is 10-year old and my daughter who is 7-year old. How can you help me?
By doing a Geno Homeopathy test, we can identify whether your son or daughter has carried the disease gene. This genetic test is non-invasive and is done by collecting the saliva of the patient. Based on their individual genetic report, our doctors can guide steps on preventing the disease (if any). Therefore, if we pay attention to the disease tendencies of your children, we could rectify the problem and reduce their chances of getting an ailment through preventive medicine, appropriate diet, and exercise. Read More