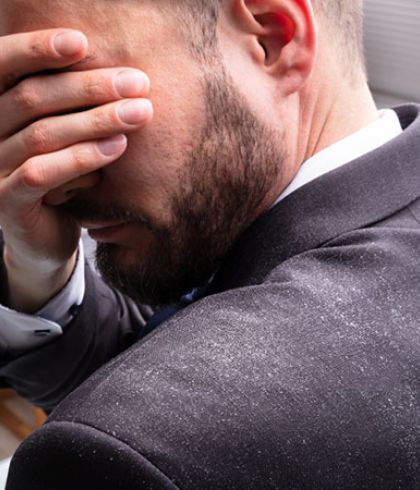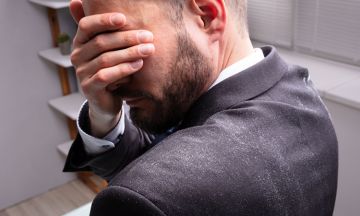 Don't Ditch Black….Ditch the Dandruff
Dandruff…Does it need any treatment? Know all the options to get rid of it.
Getting that last look at yourself before stepping out in your favourite black T-shirt and you notice those white flakes on the shoulder. You don't have an option of blaming the snow as it does not snow where you reside. How many times have you refrained from wearing that sexy black just because of the 'Dandruff Issue'? Well, don't ditch the black anymore, just ditch the dandruff.
Dandruff is shedding of skin flakes (exfoliation) of the scalp and mostly can be controlled by maintaining good hair hygiene. However, severe dandruff is a health problem that can be caused by:
Seborrheic Dermatitis

- a more severe form of dandruff where the scalp and skin on the head, neck, face and back develop red rashes and is usually accompanied by itching.

Lack of shampooing which makes dandruff more visible.

A yeast called malassezia, which aggravates the scalp and causes excess skin cell growth.

Cosmetic products that can irritate your skin and get and cause the onset or aggravate

Seborrheic dermatitis

.
There are various remedies available to control your dandruff:
Manage Your Stress:

Stress is the culprit which always goes unnoticed in case of many major and minor health issues. Stress-related ailments can plague your body. So, don't take it lightly. While stress doesn't cause dandruff directly, but it can certainly aggravate the dryness and itching of skin and scalp. Stress is proven to weaken the immune system of the body and hence your body is less capable to fight off fungal and yeast infections which cause dermatitis. Interestingly, a study of people with

seborrheic dermatitis scalp

had shown that the majority of the dermatitis onset happened after a stressful life event.

(Source: NCBI)

Meditation

, Yoga, homeopathy and other therapies can help you manage your stress levels.
Also Read: Is hair care regime to be blamed for Dandruff?
Tea Tree Oil:

This one is a recent find, though there are not many research studies to prove its mettle. However, due to the widely publicised anti-inflammatory and anti-microbial properties, tea tree oil may be able to assist with seborrheic dermatitis cure. Note that tea tree oil can cause irritation to the skin for some people, so caution is advised before using it.

Sunlight:

Going out into the sun for little exposure can help manage the dandruff severity. It doesn't mean that you should sunbathe since the harmful UV rays can irritate your skin and can also cause skin cancer. Be sure to use a sunscreen before venturing out in the sun.
Also Read: Losing hair because of dandruff? Here's the link
Shampoo Regularly:

If you have an oily scalp it is advisable to shampoo almost daily since it can clear the dirt and skin flakes and keep your scalp clean and healthy. Avoid using multiple brands of shampoos and try and stick to one brand that suits your hair type the best.

Use Aloe Vera:

Aloe Vera is used for multiple skin related ailments. Some studies have found out that Aloe Vera can reduce inflammation and may relieve the

symptoms of

seborrheic dermatitis

.

(Source: NCBI)
You may find a variety of other home remedies for seborrheic dermatitis cure. But if you find yourself stuck even after trying all the methods then Homeopathy is here for your rescue.
Homeopathy has a proven record in reducing the intensity of seborrheic dermatitis as revealed in a study at the Charitè University Medical Centre and since homeopathy has no side-effects it can be considered as a great option for seborrheic dermatitis treatment.
Dr Batra's™ is a name that has been synonymous with homeopathy in India and around the world. We have treated patients with seborrheic dermatitis with a 94% success rate (authenticated by the American Quality Assessors).
So what are you waiting for? Book an appointment https://www.drbatras.com/book-an-appointment  and get a customized treatment for your hair problems. And one more thing, don't forget to wear your black t-shirt!