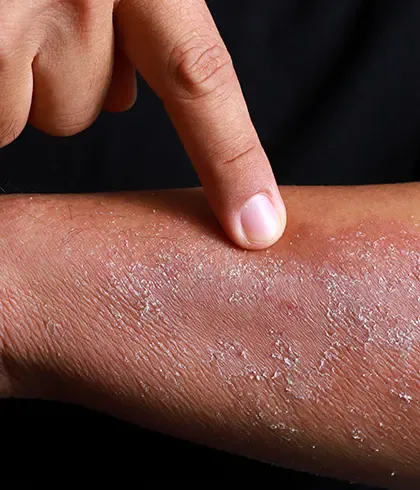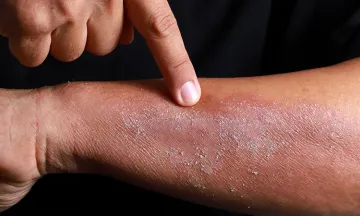 Atopic Eczema & Allergic Rhinitis Treatment with Homeopathy
Did you suffer from atopic eczema as a child and now suffer from allergic rhinitis as an adult? Is your child suffering from red, itchy rashes while you or your partner suffers from seasonal allergies or asthma? If that's the case, it's not a coincidence. Your child's eczema rash may be associated with allergic rhinitis or asthma.
According to a study by The National Center for Biotechnology Information (NCBI), if one or both parents suffer from eczema, asthma, or seasonal allergies, their child is more likely to develop eczema. Furthermore, children with the illness may be prone to allergies or asthma. Scientists are still investigating the connection between the illnesses. Understanding the link can help you manage the condition. There are several things you may do to relieve the itch and possibly reduce your chances of developing allergies.
What Is Atopic Eczema, and Who Gets It?
Eczema refers to several distinct skin ailments. Most of the time, though, it refers to a common skin ailment known as atopic dermatitis, which produces a dry, itchy, red rash. Scratching it can cause it to leak and crust over. If you do it repeatedly, your skin will get thick and dark.
The majority of people who have eczema develop it as children. Symptoms usually improve by the age of 5 or 6, and flare-ups disappear for more than half of children by the time they reach adolescence. However, many adults still have the condition, albeit with reduced symptoms. Adults are less likely to develop eczema for the first time.
The Eczema-Allergy Relationship
Doctors used to believe that eczema was simply an allergic reaction caused by your body overreacting to a harmless irritant such as pollen or dander. Most dermatologists now agree that eczema is an issue with the skin's outer layer.
Nonetheless, they are aware that it is linked to allergic disorders such as food allergies, allergic rhinitis, and asthma. According to a study by the (NCBI),
Up to 80 percent of children with eczema develop rhinitis or asthma later in life.
35 percent of individuals who have asthma or nasal allergies had eczema as children.
If a mother has allergies, her kid has a one-in-three chance of developing eczema.
37 percent of children with moderate to severe eczema also have food allergies.
Causes of Atopic Eczema
The precise cause of atopic eczema is unknown; however, it is obvious that it is not due to a single factor.
People who suffer from allergies are more likely to develop atopic eczema. The term "atopic" refers to the hypersensitivity to allergens.
It can run in families and is frequently associated with other illnesses such as asthma and allergic rhinitis.
Soaps, detergents, stress, and the weather are common triggers for atopic eczema symptoms.
Food allergies can sometimes have a role, especially in young children with severe eczema.
Take the Skin Evaluation Test Now.
What exactly is Allergic Rhinitis?
Allergic rhinitis is a condition in which the nose's mucosal membrane becomes inflamed. It is a reaction to an allergen in the upper respiratory tract. According to the World Allergy Organization (WAO), around 400 million individuals worldwide suffer from allergic rhinitis, with many going undiagnosed or untreated. It is currently one of the most common ailments;causing sleep problems, irritability, and tiredness.
What are the symptoms of allergic rhinitis?
Excessive tiredness
Nose congestion
Coughing
Throat pain or scratchiness
Sneezing
Runny Nose
Nose itch
Eczema-like symptoms include abnormally dry, itchy skin that may blister and drip.
Homeopathic Treatment for Atopic Eczema & Allergic Rhinitis 
Homeopathy is a natural, safe, and side-effect-free treatment. It is concerned with the patient's physical, emotional, and psychological well-being. Many of the symptoms of allergic rhinitis and atopic eczema might be confused with those of other conditions, so it's crucial to get the right diagnosis.
Homeopathy treatment for Atopic Eczema: Homeopathy is by far the safest and most durable treatment for skin allergies such as eczema. It helps in the relief of irritation and swelling by addressing the underlying cause of the condition, which is an excessive release of histamine. It conforms to the unique mind-body idea and seeks to address the internal factors that cause eczema.
Homeopathy treatment for Allergic Rhinitis: Begins by examining the triggers responsible for its symptoms; that may differ from person to person. With the help of this diagnosis, a condition-specific treatment plan is devised. This treatment can help strengthen the immune system to give you an effective treatment solution. They focus on minimizing the effects of the triggers that can lead to allergic rhinitis. 
Why Dr Batra's®?
Dr Batra's® and its expert homeopathic doctors offer you safe and holistic treatment. Our expert homeopaths take a complete diagnosis of your condition and the underlying problems. It helps our doctors devise a customized treatment plan for you. Conventional treatments can cause drowsiness and interfere with your daily activities. On the other hand, Dr Batra's® Allergone is a scientifically proven, non-steroidal, and side-effect-free homeopathic nebulizer. Dr Batra's® Allergone also comprises Dr Batra's® Dermaheal. It is a skin allergy treatment kit, combined with the goodness of homeopathy and therapeutic light therapy. It can heal the redness on your skin, reduce itching and treat scaling of skin lesions. It has proven the efficacy of more than 400 clinical research studies that show better treatment results in just five weeks. 
Book an appointment now!
Also Read: Treat atopic dermatitis naturally with homeopathy