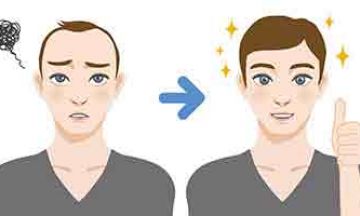 Answers for Hair-Transplant Queries…
What is Hair Transplantation?
Hair transplantation is a surgical procedure in which hair is picked from the back of the scalp (where even a balded man never loses hair) and is transplanted in the balded area. Thus you get a complete natural growing hair, permanent hair and an aesthetically pleasing, youthful look.
Are the results permanent?
Hair picked from the back of the scalp is genetically programmed to grow for the rest of your life. It grows permanently when it is transplanted in the balding area. Necessary care should be taken post hair transplant for best results.
Is special maintenance required?
Transplanted hair can be treated just like normal hair. The hair can be washed, combed, oiled, cut and styled normally giving natural and excellent aesthetic results.
Is Hair transplantation safe?
Hair transplantation is absolutely safe; it has no side effects. However, as a precautionary measure a series of tests are done before the procedure to ensure that you are fit for undergoing surgery.
Is Hair transplantation painful?
Hair transplantation is not painful. It is so comfortable that while the procedure is going on, you can watch TV, read a book or chat with your friends on your mobile phone.
How soon can I get back to work?
You can resume work on the next after hair transplantation, though surgeons often recommend that you take a break for a day before resuming work. No hassles of taking long leave from your work. This adds to the convenience of the procedures.
Who is an ideal candidate for hair transplant?
Men who are losing hair from top and frontal portion of the head (male patterned baldness) are ideal candidates. Women suffering from hair loss can also benefit from hair transplantation. Anyone from 21years right up to 80 years can go for hair transplant.
When can I see results after Hair transplantation?
The new transplanted hair is visible even on the day of the procedure. The hair starts growing gradually and you can notice the steady difference month after month. For hair to grow to your normal full length and observe the full result of the procedure, it may take around 9-12months.
Do I have to continue medicines even after a hair transplant?
The transplanted hair does not need treatment, but it is advisable that you continue medication, after the procedure so that your normal hair doesn't fall out. Preventing hair loss from the rest of your scalp is also important to get the 'best-look' post transplantation.
Is it necessary to shave hair before hair transplantation?
No, it is not necessary to shave hair before hair transplantation. The only exception is a large session of FUE for which only the back of head may require a shave.