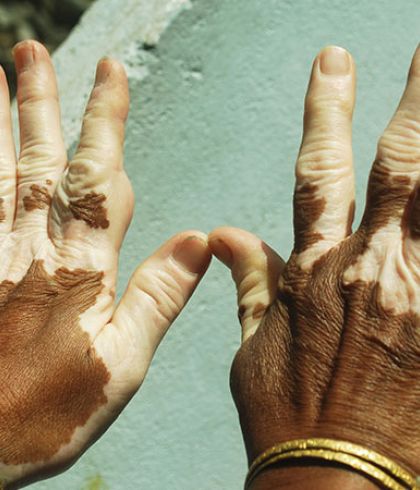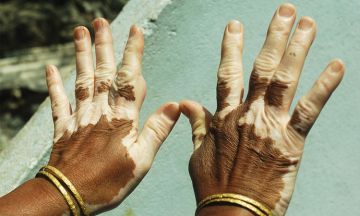 What causes Vitiligo skin disease?
Parul, a 24-year old girl, first noticed some de-pigmentation just a year ago. It's on a pretty hidden area of her body, so at first, she just made a joke and laughed as she was unaware of 'vitiligo' disease. Eventually, the spot started spreading to other body parts which gave her a good cry and left her in a jittery state. She started feeling "rushed" to think about meeting Mr. Right before vitiligo afflicts her face. She stopped drinking milk, changed her cosmetic products and tried few home remedies assuming that these practices will help her to cure vitiligo, which is certainly impossible.
Vitiligo, also called leucoderma, or white patches is a pigmentation disorder. In this condition, the cells that make the pigment, melanin, which gives our skin its colour, are destroyed. The outcome is white patches on the skin and, in different parts of the body including the mucous membranes in the inside of the mouth and nose and also the inner layer of the eyeball or retina. Vitiligo can affect the hair too, turning it white. Hence, it has to be addressed medically and not to believe in myths.
What causes vitiligo?
As mentioned above, vitiligo is caused by the loss of pigmentation in the skin, due to destruction of the pigment-forming cells known as melanocytes. Although the exact vitiligo cause is not known, researchers suggest that people with vitiligo inherit a group of genes that make them vulnerable to loss of pigmentation. The most widely accepted view today is that depigmentation occurs because vitiligo is an autoimmune disorder — a disease in which the immune system attacks the affected individual's own body, organs and tissues.
Vitiligo may not be a life-threatening problem, but it can be extremely stressful. It is not uncommon for women with vitiligo to be discriminated against in matrimony. If vitiligo affects one after marriage, it is often a strong ground for separation.
Vitiligo affects not only one's emotional state, but also one's psychological well-being, familial or social life, career and also self-esteem. More so, when white patches appear on certain areas of the body such as face, hands, arms, and feet, or genitals. Adolescents can be shattered by vitiligo; others may feel just as much humiliated, miserable, or apprehensive about how others react or look at them. Therefore, finding a suitable vitiligo cure is of utmost importance for the sufferer of this problem.
Can homeopathy treat vitiligo?
Yes, homeopathy provides long-term results and side-effects free vitiligo treatment.
As vitiligo is an auto immune disorder, homeopathic medicines provide a comprehensive and effective treatment by moderating the immune system. It thus targets the root cause of the ailment.
In vitiligo, the melanocytes, melanin-producing cells present beneath the skin, are damaged. This mainly results in diminished skin color patches, which later convert into white and get prominent, forming into white patches. Where the homeopathic vitiligo treatment scores over other conventional treatments is that homeopathic medicines activate the melanin cells to produce the melanin pigment and restore the natural color of the skin. So, the vitiligo treatment in homeopathy is primarily aimed at stopping or slowing down the further destruction of melanocytes and stimulating re-pigmentation in the existing patches.
Homeopathy also addresses the underlying conditions like stress, and depression that are seen in many cases of vitiligo to help patients' live normal life.