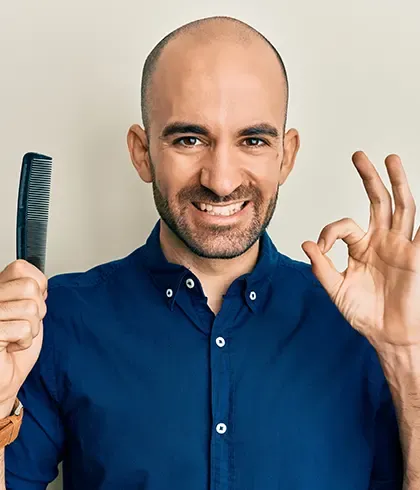 Hair Loss Treatment for Men in Homeopathy
You are not alone if you suffer from hair thinning or hair loss. According to the American Hair Loss Association (AHLA), hair loss is extremely common in both men and women, but it is most prevalent in men, by the age of 50, 85 percent of men had seen severe hair loss
A majority of men who suffer from male pattern baldness are extremely dissatisfied with their circumstances and would do anything to fix it. Hair loss has an impact on all parts of the patient's life. It has an impact on both interpersonal relationships and the professional life of those who are affected. Before we go into hair loss treatments, let's have a look at the hair development cycle.
Hair growth has three stages:
Anagen: This stage is often referred to as the growth stage. Hair actively develops from the roots, and hair growth ranges from 18 to 30 inches, depending on age and health.
Catagen: Also referred to as the transition period. During this stage, hair development ceases and the strands separate from the blood supply. This period only lasts 2 to 3 weeks.
Telogen: The last stage of the hair development cycle. This is also known as the resting phase. During this stage, the detached hair follicles lay on the scalp and fresh hair development occurs. This is a 3-month phase.
Later on, your hair begins to shed, and the growth cycle continues. However, if there is a lot of hair falling out, it should be evaluated and treated.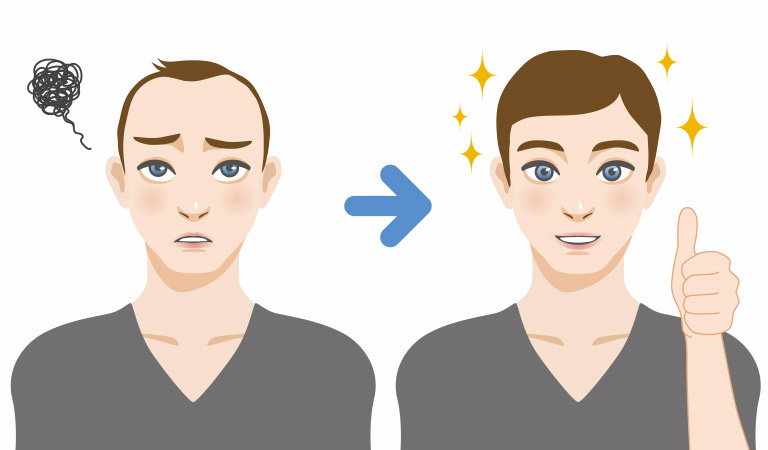 Is it possible to treat hair loss?
Yes, even hereditary hair loss can be effectively treated. You have several treatment options from which to pick. What matters is that you select the treatment that best meets your requirements. Before you choose a treatment for hair loss, keep in mind that each cause of hair loss requires a specific approach. Hair treatment must be tailored to your specific needs, such as the condition of your hair and scalp, as well as the severity of your baldness.
In this blog, we will look at the ultimate guide to hair loss treatment for men
Dr Batra's® New Hair, Dr Batra's® groHAIR, and Dr Batra's® Hair Vitalizing are treatments that can provide long-term answers to hair loss. Let us learn more about each of these treatments.
Dr Batra's® New Hair Treatment is an FDA-approved treatment that works quickly to alleviate hair fall issues. This is a bio-engineered, non-invasive hair follicle treatment that tackles the problem without the use of surgery. Dr Batra's® New Hair contains plant-based Plasma, which strengthens the follicles and promotes hair growth. This is a scientifically proven process that produces obvious effects in just six sessions.
Dr Batra's® groHAIR Treatment is ideal for those who want to strengthen their hair follicles. It combines electroporations to stimulate hair follicle growth and to help in the restoration of strand volume. This treatment is based on a Noble Prize-winning French technology that encourages natural hair growth.
Dr Batra's® Hair Vitalizing Treatment is a low-level laser treatment that has been FDA-approved. It encourages the growth of thick, full, and healthy hair by stimulating cellular activity. According to the American Quality Assessors (AQA), it has a 90% success rate in the treatment of hair loss. The procedure, which takes only 20 minutes once a week, effectively restores hair follicle growth.
It treats damaged scalp areas by reactivating dormant follicle cells. It is completely painless and has no adverse effects. It promotes hair follicle growth and aids in the restoration of strand volume. Reduces hair breakage and also helps with hair regeneration. It is perfect for anyone looking to strengthen their hair follicles.
Homeopathy Hair Loss Treatment
With its mild and natural approach, homeopathy is a holistic approach that can effectively treat hair loss. A homeopathic trichologist uses homeopathy to treat the underlying cause of hair loss and to strengthen the hair follicles. Homeopathy treatment for hair loss helps to control hair loss and promotes of hair growth. Many standard dermatological treatments have substantial possible side effects and do not lower the likelihood of hair loss recurrence. Homeopathy hair loss treatment in dermatology not only minimizes the possibilities of recurrence but is also a side-effect-free hair loss solution.
Dr Batra's® Healthcare is a trusted household name for its natural, non-invasive, and non-surgical hair loss treatments.  According to the American Quality Assessors (AQA), we have treated over 6 lakhs satisfied consumers with a 96.6 percent success rate.
Dr Batra's® combines the benefits of homeopathy with scientifically validated aesthetic treatments to provide patients with a natural, cost-effective, long-term solution. So, don't be concerned about hair loss issues anymore! Get in contact with our team of experienced homeopathic doctors immediately to treat your hair problems.
Book an appointment now!