Lichen planus - Homeopathy Treatment Results
Lichen planus is a chronic inflammatory condition that affects the skin, mouth and genitals. It can affect people of any age group. Homeopathic treatment helps a patient in the resolution of existing lesions, reduces itching and controls the further spread of lesions. At Dr Batra's®, we have to our credit, the experience of treating more than 10,000 cases of lichen planus in our 35 years of practice. Today, we are in a position to offer significant relief to our patients with the help of homeopathy.
Some of the illustrative case photos of patients treated at Dr Batra's: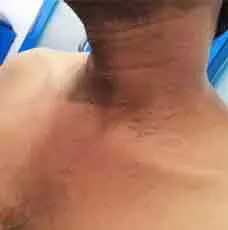 Girish has started taking homeopathy treatment for Lichen Planus at Dr Batra's 6 months ago. He has seen considerable improvement in his condition and satisfied with the result. He now feels positive about continuing the treatment to get rid of the skin disorder completely.
Vasudev from Bangalore has been successfully treated at our clinic for Lichen Planus problem. Before coming to us, he had tried and tested several allopathic medicines, met so many dermatologists to consult, but all in vain. Now, it's been a year, his Lichen Planus problem has completely vanished.