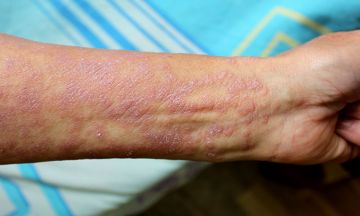 Oral Lichen Planus Treatment in Homeopathy
Authored by
Dr Batra's Doctors
Have you tried taking medications for those purplish spots on your skin but nothing worked for your condition? Do you find the itchiness troublesome and the rashes spreading through the skin? Has it left you wondering how to treat this lichen planus skin disease?
Don't worry. Here's homeopathic help for you to get rid of lichen planus spots.
Homeopathy has proven efficacy in the treatment of lichen planus and this has been clearly demonstrated by clinical studies as well as cured cases. In a research study conducted by the Department of Oral Medicine, Tehran University of Medical Sciences, Ignatia, a homeopathic medicine was found to be effective in the treatment of oral lichen planus. At Dr Batra's™, we have successfully treated more than 1,40,000 skin patients including lichen planus at a 94.3% treatment success rate as authenticated by American Quality Assessors. To get this safe and effective homeopathy treatment for lichen planus, consult our expert homeopaths by booking an appointment online.
Lichen Planus Skin Disease in a nutshell
Lichen Planus is a chronic, inflammatory condition that affects the skin, mouth and genitals. It is characterized by itchy, non-infectious, purplish and flat or topped bumps on the skin. The definite cause of lichen planus is yet unknown but it is thought to be related to immunity and allergic reactions. Studies have also observed that intense and prolonged stress is often known to initiate the process of Lichen Planus.
Lichen Planus can be easily diagnosed basis on its symptoms, patient's medical history, a physical examination and, if necessary, the results of diagnostic tests.
To know more about this skin disease, click on this link: Lichen Planus - Overview
Lichen Planus Treatment
Modern medicine finds little help for this chronic disease. Conventional treatment of lichen planus disease makes use of antihistaminics, dapsone, topical and systemic steroids. But long-term usage of these medications tend to cause side-effects, renal and hepatic ones being the commonest.
Fortunately, homeopathy, the fast-growing alternative medicine, has a promising treatment for Lichen Planus. Since homeopathy targets the psychosomatic nature of this disorder, it treats not only the body but also the mind, thus giving lasting results. Homeopathic medicines for lichen planus target the altered immunity of the body and bring it back to normalcy over a period of time. Additionally, homeopathy prevents future relapses of the disease and the treatment is free from side-effects.
Look how homeopathy helped Seema regain freedom from lesions of lichen planus!
Mrs. Seema Kapoor came to our clinic with a history of severe itching on the inner forearm. She had been noticing a purplish, thickened area there for about 8 months, which got progressively larger and itchier until it covered her entire arm. The lesions gradually started spreading over her thighs and legs; there was too much scaling form it. She had already used steroids and other topical applications for 2 years without any relief. Tired of this, she decided to give homeopathic treatment a try as she has heard a lot about it.
After a detailed case analysis with us, our doctor prescribed her constitutional homeopathic medicine for lichen planus. She started experiencing improvement in her lichen planus symptoms along with a marked reduction in the lesions. With continued treatment, she experienced a lasting relief over a period of 1 year and was very satisfied with the results.
Like Mrs. Seema, Vasudev had been noticing lichen planus symptoms on his skin since last 2 years. Before coming to us for homeopathy treatment, he took allopathic medicines and consulted various dermatologists but nothing really worked for his condition. Within a year of taking homeopathy treatment, his lesions vanished completely and he was satisfied with the treatment.
Combat Lichen Planus in a better manner at home
In addition to lichen planus homeopathic treatment, here are some clinically verified tips to help you manage this condition:
Consume a well-balanced diet with emphasis on raw vegetables and fresh fruits.
Avoid spicy foods, caffeinated drinks like coffee and colas, alcohol and smoking.
Avoid skin injury as new lesions tend to crop up at places of injury.
The American Academy of Dermatology recommends regular visits to the dentist for oral examination and cleaning at least twice a year.
Along with dietary modifications, stress relieving methods such as yoga and meditation are known to be of help.
meditation are known to be of help. Thus, with a strategic combination of homeopathic treatment, lifestyle modification and dietary care, Lichen Planus patients can definitely lead normal lives again.
Medically reviewed by
Dr. A Manjunath
BHMS, Banglore