Eczema Homeopathy Treatment
Eczema is a persistent skin condition characterized by itchy, red, and inflamed skin. Blisters can develop in some cases of atopic eczema. Although eczema frequently affects children, it can also affect adults. Asthma may coexist with eczema in certain people, and both conditions frequently flare up.
Homeopathy focuses on treating disease as well as addressing its underlying causes. Homeopathic treatments are more effective and completely free of side effects because they are derived from natural plant sources. Homeopathic eczema treatment takes a holistic approach and can help stop any further health problems brought on by eczema.
Homeopathy was found to be clinically helpful for treating eczema, according to a study published in Complementary Therapies in Medicine. In a 6-year study of patient outcomes at the Bristol Homeopathy Hospital in the UK, it was discovered that 82% of eczema sufferers reported feeling better or significantly better after receiving homeopathic eczema treatment.
It is important to bear in mind that the length of time needed to treat eczema varies from patient to patient and depends on several factors, including the severity and extent of eczema as well as previous treatment regimens. However, homeopathic eczema treatment has many advantages to offer to every patient, so it is strongly advised in all circumstances
Advantages Of Homeopathy Medicine For Eczema
Improves Skin Texture
Internal Healing Through Oral Medicines
Treats The Root Cause Of The Condition
No Side Effects
Natural and Effective
Why Dr Batra's® for Eczema Treatment?
At Dr Batra's®, we have treated over 1.41 lakhs skin patients successfully over the last 35 years. As authenticated by the American Quality Assessors, we have a 94.3% success rate in treating skin disorders, including eczema.
According to a study by AC Nielson, Dr Batra's® skin treatments have a greater than average rate of improvement when compared to those provided by general practitioners, specialists, and local homeopaths.
At Dr Batra's®, our doctors have a 30- to 40-minute in-depth consultation with the patient during which they use the medical science of homeopathy to assess the patient's physical, emotional, and psychological issues, and then diagnose the condition correctly.
Diagnosis at Dr Batra's®
The Dr Batra's® Skin Analysis System is an advance skin-specific analyzer that doctors utilize to determine your precise skin condition. Based on a computerized report we recommend an eczema treatment and create a specific treatment to treat eczema from the root after doing a comprehensive skin assessment test. Eczema treatment combines homeopathic medications, a healthy diet, and skincare tips.
In addition, we provide patients with individualized homeopathic eczema treatment based on the findings of the diagnosis. Our specialists offer specialized psoriasis care, which may involve psychotherapy, homeopathic eczema medication, and specific diet programs created by our nutritionists, among other things.
Dr Batra's® Derma Heal for Eczema
Derma Heal is a beneficial form of light skin therapy. It can treat redness, and blisters, It can also lessen itching. Due to their obviousness, eczema not only inflicts physical scars on the patient but also has a psychological effect on their self-esteem. Many people who have eczema undergo treatment, which may have unfavorable outcomes, while Dr Batra's® Derma Heal has given demonstrated success.
Easy and pain-free solution
Safe and Effective
Gives visible results in 5 weeks
Proven Effective with 400+ clinical research studies
Our homeopathic skin doctors offer a combination of homeopathy and advanced skin treatments to give our patients safe, effective, and long-lasting results.
FAQs
What Is The Best Treatment For Eczema?
The best eczema treatment is homeopathy, as it manages the condition's signs and symptoms while preventing recurrence, all while not harming the skin or general wellbeing.
How Do You Stop Eczema From Spreading?
Early medical intervention is essential to prevent eczema from spreading to other body parts. The skilled homeopathic experts at Dr Batra's® can assist in determining an effective, side-effect-free homeopathic treatment for eczema to stop it from spreading. Dr Batra's® Skin Analysis System is a skin-specific analyzer that our doctors use to diagnose the exact condition of your skin. Following a thorough skin evaluation test, we prescribe an eczema treatment and develop a tailored treatment to address eczema's underlying causes based on computerized analysis.
What Are Symptoms of Eczema?
The skin is dry, scaly, itchy, and red in mild forms of eczema. Weeping, crusting, and bleeding are possible in more serious cases.
What Are Some Triggers For Atopic Eczema?
Atopic eczema is largely caused by environmental factors. Patients with atopic eczema frequently notice that wearing wool clothing, using strong detergents, or sweating while exercising can cause itching and cause flare-ups of the condition.
Eczema is just dry skin.
Eczema is inflammation of the skin & not merely dry skin
Eczema is caused by stress.
Stress can aggravate the existing eczema, but a direct role of stress causing eczema is not proven.
You can catch eczema from your family members.
Eczema is not contagious. You can not catch it from anybody.
Eczema can be treated with applying moisturisers and using the correct soaps.
Mere moisturising & using correct soaps will not treat eczema
Eczemas persists throughout life.
Eczema can be treated and does not persist throughout life.
Blood purification is done for eczema treatment.
Blood purification has nothing to do with eczema treatment.
All eczemas are hereditary.
All eczemas are not necessarily hereditary. Some of them have a genetic predisposition.
Cosmetics help reduce eczemas.
Cosmetics can aggravate eczemas and certainly do not cure them.
Hand-washing helps to moisturise the hands.
Hand-washing leads to the stripping of natural oils and moisture from the skin, making it dry and irritated.
Stopping particular food items will eliminate eczema.
Food habits have no relationship to eczema.
Eczema patient experiences inflammation of the skin, which is characterized by itching, redness and an outbreak of lesions. If ignored, it becomes a chronic problem and a major health burden. Research has shown that homeopathy offers significant improvement in eczema without any side effects as compared to other conventional treatments. Dr Batra's® has introduced India's first 3D imaging device for the analysis and evaluation of skin health. The powerful diagnostic machine allows the skin to be viewed in 2 and 3 dimensions, and enables multi-spectral analysis of the epidermis and dermis.
Some of the illustrative case photos of patients treated at Dr Batra's: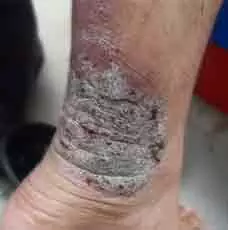 Eczema is a skin disease with a tendency to last for years. Similar is the case with Mr. Anand. He is experiencing the eczema problem since 1995 but he ignored the condition and has not taken any treatment to cure the disease. Hence, the disease flared up, resulting in significant itching and discomfort. In 2008, he started taking treatment for eczema at Dr Batra's. Since then, he has seen a lot of improvement. Now, he is continuing with the medicines prescribed by our doctors to achieve 100% satisfaction.
Dashrath has noticed improvement in eczema condition. After taking eczema treatment at Dr Batra's, he has not seen any spots or marks on his skin.
Want to understand the severity of your eczema? Take the eczema evaluation test: Test Now