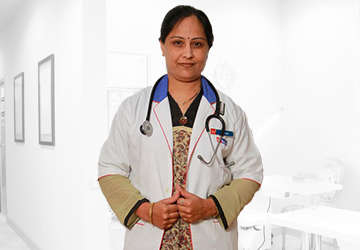 Dr. Swati Maheshwari
DHMS

Qualification
DHMS
Speciality
Hair Specialist, Skin Specialist
Language Spoken
English, Hindi
About Me
Dr. Swati Maheshwari is a highly experienced and qualified doctor who has been practicing for more than 30 years. She has done a Diploma in Homeopathic Medicine and Surgery from R H M C R C Raipur. Dr. Swati is passionate about providing her patients with personalized care that is tailored to their unique needs. She takes a comprehensive approach to healthcare, addressing all aspects of her patient's physical and mental well-being.Dr. Swati has written various blogs on Uterine Fibroid. She was awarded the Purshottam Das Kabra Gold Medal by the LBS Homeopathic Medical College, Bhopal.
Professional Excellence: With her professional experience in various ranges of ailments, she has treated 35,000+ patients so far including hair and skin patients. She has done consultation to various range of ailments such as, ANO Rectal Disorder, Diabetes, GroHair, Paediatric, Renal, Rheumatology, Skin-NBUVB, Child Health, CNS, ENT, Gastro-related, Immunity Building, Parkinson's Disease, STMcell, Stress Management, Women's Health, Allergy, Female Disorders, Gastrointestinal, Musculoskeletal System, Obesity, Psychiatric, Respiratory, Weight Management, Backache, Cardiovascular, Endocrine, Haematological, Migraine, Pain Management, Sexual Health, Urinary-related.
Focus on Preventive Healthcare: Dr. Swati believes in the importance of preventive healthcare and is committed to helping her patients maintain optimal health and well-being. She works with her patients to develop strategies for preventing illness and maintaining a healthy lifestyle.
Head Medical Services Professional: As a Head Medical Services professional, Dr. Swati is dedicated to helping her patients learn about their health and make informed decisions about their healthcare. She provides guidance and support to her patients, as well as the other doctors training helping them navigate complex healthcare issues.
Multilingual: Dr. Swati is fluent in English, and Hindi, which allows her to effectively communicate with her patients and build strong relationships with them. She can explain complex medical concepts in a way that is easy for her patients to understand, which helps to facilitate effective communication and better health outcomes.
Dr. Swati is a compassionate homeopath who is currently associated with Dr Batra's® Positive Health Clinic Pvt. Ltd. Through her exceptional healthcare services, she has touched the lives of many patients, providing them with the highest level of care and support. Her dedication and commitment to her patients are a true testament to her kind and caring nature, making her an invaluable asset to the clinic and the community.