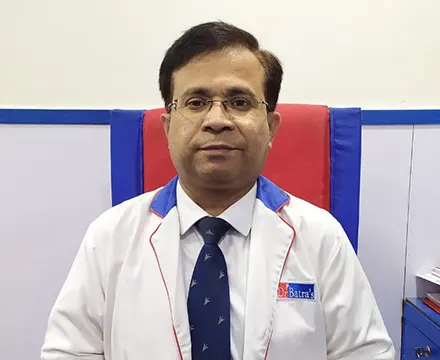 Dr. PRAKASH KUMAR JHA
BHMS

Qualification
BHMS
Speciality
Hair Specialist, Skin Specialist
Language Spoken
English, Hindi, Bengali
About Me
Dr. Prakash Kumar Jha is an extremely qualified and competent homeopath who has been practising for over 25 years. He has completed his Bachelor of Homeopathic Medicine and Surgery (BHMS) from National Institute of Homoeopathy, Calcutta in 1998. He has proficiently treated around 33,642 people up till now and deals with acute and chronic ailments like skin and hair complaints, allergic rhinitis, asthma, piles, migraine, arthritis, gastro-intestinal issues, reproductive problems, stress management, warts, anger management, musculoskeletal problems, obesity, child health, and many more.
Council of Homoeopathy registration: Dr. Prakash Kumar is registered with the Maharashtra council of Homoeopathy, Mumbai in 2001 with the registration no. 31343. It ensures that he follows the most suitable standards of medical practices and ethics, guiding his patients well and giving them safe and efficient services.
Personalized and comprehensive care: Dr. Prakash Kumar is passionate for managing patients with the personalized care that is suitable to their very own needs. He always believes in taking a comprehensive approach towards better healthcare, taking into account patient's physical and mental well-being.
Tremedous Clinical expertise: Dr. Prakash Kumarhas 25 years of medical expertise and tremendous knowledge under his belt, that's the reason for his successful practice. His tireless efforts has been a boon to many patients and his enthusiasm has proven to be great driver for his excellence.
Excellent Communication skills: Dr. Prakash Kumar has excellent languages skills and is eloquent in English, Hindi and Bengali languages. He communicates effectively to patients to build a strong relationship in order have an efficient communication and resulting in better health outcomes for the patients.
Dr. Prakash Kumar Jha is associated with Dr Batra's Positive Health Clinic Pvt. Ltd. as Head of Medical Services in the Mira Road clinic, Thane. His effortless work and extraordinary understanding of patient care has increased the patient's satisfaction. With his exceptional contributions, we are incredibly grateful to have his presence at our clinic.