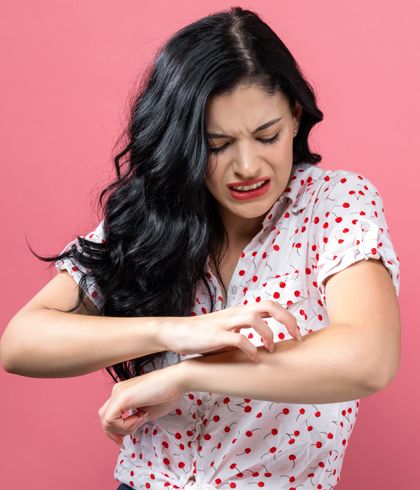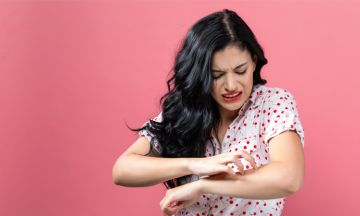 Need relief from eczema. Treat it with homeopathy
Your skin is really a great indicator of what's going on inside your body. ~ Sami Blackford (a holistic skin care expert)
Skin problems not only affect the appearance, but also impact your self-confidence and quality of life (QOL). As per a research study by NCBI, the adverse impact of skin diseases on the quality of life, includes depression and anxiety as well as effect on work or education. Individuals even select their clothes, based on the body part they need to hide because of the skin disease. The skin is the longest and the most exposed organ of our body and it tends to fall prey to various skin diseases. One such common skin disease is eczema!
Eczema is a chronic skin condition that is characterised by red, inflamed and itchy skin. Some atopic eczema can also cause blisters. Eczema is commonly seen in children but can affect adults, as well. Eczema skin disease tends to flare up periodically and may be accompanied by asthma, in some individuals. The objective of this article, is to reduce your discomfort and prevent atopic eczema and its flare-ups.
Symptoms of Eczema
Eczema symptoms may vary from person to person, some common symptoms of eczema are:
Dry and itchy skin, where itching is continuous
Redness and swelling
Skin eruptions are seen on affected areas
Chronic scratching that leads to thickening of skin
Flaking of the skin
In some cases, fluid or blood oozing might occur
Darkening of the skin can be seen in chronic patients.
In baby eczema, the areas commonly affected are the nappy area, scalp, face, neck, and forearms. So, if you notice any of these symptoms of eczema get the skin treatment, immediately.
Also read: https://www.drbatras.com/skin-diseases/eczema/homeopathic-treatment
Types of Eczema
There are several different types of eczema, including: 
Atopic dermatitis: Atopic eczema is the most common type of eczema. This skin problem tends to cause patches of dry and itchy skin that can become red and inflamed. These patches often appear in the creases of the knees, elbows, and on the face, neck and wrists.
Contact dermatitis: Some people experience a skin reaction when they come into contact with certain substances. The allergy caused by contact with nickel (a component of artificial jewellery) is one of the most common form of contact dermatitis. It may also cause red and itchy rashes, which may further result in tiny blisters and peeling of the skin.
Dyshidrotic eczema: Dyshidrotic eczema or pompholyx eczema typically appears in adults, under 40 years of age. It usually occurs on the hands and feet and has characteristic symptoms, including intense itching and the appearance of small blisters. Dyshidrotic eczema may be common in people with hay fever (or allergic rhinitis — causing common cold like symptoms), atopic dermatitis or its family history, and other fungal infections.
Discoid eczema: Also known as nummular eczema is recognisable due to the disc-shaped patches of itchy, red, cracked, and swollen skin. The discs typically appear on the lower legs, torso and forearms. 
Varicose eczema: Varicose eczema is also known as venous or stasis eczema. It is common in older adults with varicose veins (enlarged, swollen, and twisting veins due to altered blood circulation).
Asteatotic eczema: Also called as xerotic eczema and craquelé eczema, generally affects people, over 60 years of age. This may occur due to skin dryness as a person age.
Neurodermatitis: Neuro-dermatitis develops due to emotional stress, wherein the patient feels intense itchiness on the skin— of the head, forearms, wrists and lower legs.
Treatment for Eczema
Adopt self-care tips to manage your eczema along with the homeopathic treatment.
Moisturize your skin frequently
Drink a substantial amount of water
Avoid sudden changes in temperature or humidity
Do not use soaps, detergents or solutions that are harsh on the skin
Wear comfortable cotton clothes
Keep your nails trimmed to avoid scratching, inadvertently.
Also read all about this eczematous itch: https://www.drbatras.com/skin-diseases/eczema/types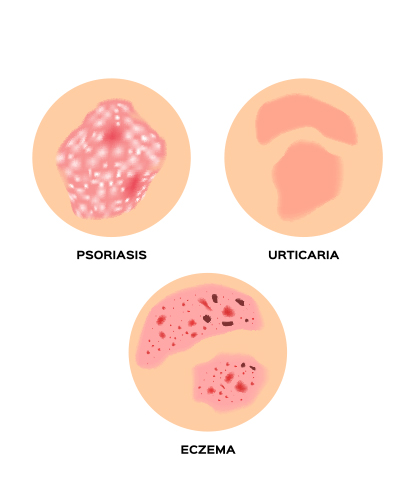 Homeopathy Treatment for Eczema
recent clinical research study of 118 eczema patients, published by Complementary Therapies in a medical journal, reported that homeopathy was as effective as the other conventional treatments in the short-term. Moreover, homeopathic medications were found to be more effective than other conventional treatments, in the long-term. The eczema symptoms can be physical like redness, swelling and itchy skin or it can also be emotional like stress and depression. Homeopathy treatment for eczema helps to control itching, prevents the spread of eczema and treats the symptoms of eczema, without any side-effects.
Importantly, if you are suffering due to neuro-dermatitis, homeopathic medicines will also help to improve your ability to cope with stress. Homeopathy does not merely take care of your eczema symptoms, but also treats the root-cause of your illness. Homeopathy has the ability to strengthen your immune system and treat eczema, holistically.
Dr Batra's™, we have successfully treated thousands of cases of eczema in the last 35 years. So, if you are suffering from eczema, please consult Dr Batra's™ homeopathy doctors to get safe and permanent relief from atopic dermatitis.
Additionally, we highly recommended you to take the eczema evaluation test in order to assess the current state of your skin disease. Dr Batra's™ has achieved a 93% success rate for treating eczema rash, as authenticated by the American Quality Assessors.Book an appointment with Dr Batra's™ homeopathy specialist as soon as you notice skin eczema symptoms.