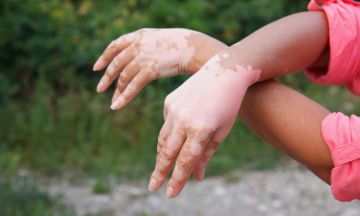 If you have vitiligo, you might wonder if it is hereditary. Evidence suggests vitiligo disease might have a genetic component. Approximately 25-50% of those with vitiligo skin have a relative with vitiligo patches. 6% might have a sibling who has vitiligo spots. (Source: NIH)
Are you genetically predisposed to develop vitiligo?
Vitiligo skin disease sometimes appears to run in families. So, it's understandable to wonder if it's genetic. It is also comprehensible that someone with symptoms of vitiligo might want to know if they will pass them on to their children. The genes that are involved are called immune susceptibility genes.
Impact of vitiligo
People who suffer from vitiligo skin disease might go through extreme emotional stress. In severe cases, it might also lead to depression and suicidal thoughts. The following instances have also been observed:
Vitiligo can be a reason for the non-acceptance of a matrimonial alliance.

Developing white patches on the skin after the marriage has been grounds for divorce.

People with white patches on the genital areas typically avoid intimacy.

Many vitiligo patients experience social rejection.
Does vitiligo run in your family?
If vitiligo disease runs in your family and you are worried that it might affect you as well, Dr Batra's™ can predict it years before it occurs with Geno Homeopathy. The genetic test is carried out with the help of a simple saliva sample that helps us to predict the probability of you developing vitiligo. It also helps in treating the root vitiligo causes. It reduces your chances of getting vitiligo skin disease with the help of preventive medicine, appropriate diet, and lifestyle changes. Geno Homeopathy is based on your hereditary disposition. It is, therefore, the most individualized vitiligo treatment.
Treatment of vitiligo in homeopathy
The goal of vitiligo treatment is to stop or slow down the progression of de-pigmentation and return your skin to its normal color. The advantages of homeopathic treatment for vitiligo are:
It is a safe option for treating vitiligo disease as it comes without side effects.

It builds immunity and stimulates re-pigmentation in the existing white patches on the skin.
It addresses the underlying conditions of mental stress, depression, and anxiety.
Dr Batra's™ has the expertise of treating more than 45,000 skin cases effectively over the past 35 years. Therefore, we can ensure a safe and scientific solution for vitiligo. The vitiligo treatment in homeopathy is chiefly aimed at stopping or slowing down the further destruction of melanocytes and stimulating re-pigmentation in the existing patches. Our team of expert homeopathic doctors, dermatologists, and nutritionists work in unison to ensure the best treatment for each vitiligo patient. The homeopathic medicine for vitiligo is known to be safe and without any adverse effects. Our success rate for treating vitiligo is 89% (as authenticated by the American Quality Assessors).
Consult our homeopathic expert for a safe, natural and effective vitiligo treatment by booking an online appointment.