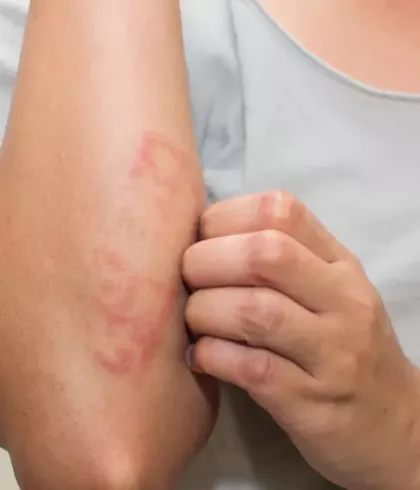 How to get rid of eczema?
Eczema is a skin condition that can cause patches of the skin to become itchy, red, and sometimes blistered. There are treatments to relieve the symptoms of eczema and prevent the disease from getting worse. Keep reading to know more.
Common symptoms of eczema
Some of the symptoms of eczema include:
Itchy and dry skin

Small bumps on the skin

Discolored

patches of skin ranging from brownish-grey to red

Areas of thick and scaly skin
Symptoms of eczema are not easy to deal with as these can disturb your sleep patterns and interrupt your daily activities with itching. However, the good thing is that several treatments are available which can help to improve the symptoms.
How to get rid of eczema?
It is not easy to get rid of eczema, but some measures can help to prevent the symptoms from worsening. Keeping your skin moisturized will help to control eczema symptoms. Applying oil-based moisturizers on the skin creates a barrier that keeps the water from leaving and helps prevent the dryness caused by eczema. Coal tar is another eczema remedy. You can apply it to your entire body. It helps to slow down the growth of new skin cells and softens the top layer of the skin. It allows the skin to shed the scales and retain moisture easily. Follow these measures to reduce eczema flare-ups and prevent the symptoms from getting worse.
Why homeopathy?
Homeopathy treatment is one of the best and most effective treatments as it provides long-term relief. After considering the medical history, nature, and behavior of the patient, among other relevant factors, homeopathic doctors prescribe appropriate homeopathic medicines. Homeopathic eczema treatment is natural and is free from any toxic side-effects. Homeopathy may take time but for sure prevents the symptoms of eczema from getting worse.
Why Dr Batra's®️?
At Dr Batra's®️, we make sure each patient gets personalized eczema treatment because the symptoms may vary from person to person. Our team of homeopathic doctors finds the root cause of the problems and then prescribes the medicines accordingly. Homeopathy treatment for eczema heals not only the mind but also the body.
Book an online appointment with us to get treated by the best homeopathic doctor or visit your nearby homeopathy clinic to know how to prevent flare-ups and reduce the symptoms of eczema.