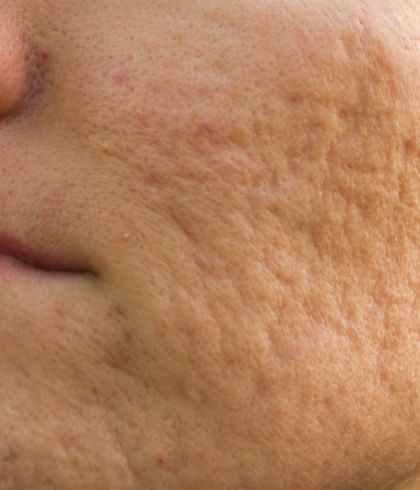 How to reduce acne scars?
Acne is estimated to affect 9.4% of the global population. This makes acne the eighth-most prevalent disease worldwide. (Source: NCBI) It can cause severe damage to your skin, especially if left untreated for an extended period. If you don't treat the acne scars, they may be almost impossible to get rid of later. Let's discuss some methods to help reduce the severity and visibility of these scars over time.
What are acne scars?
Acne scars are skin imperfections that occur when acne has healed. When our body heals after having an infection or condition, it leaves behind a mark on the surface of our skin in some cases. Our lifestyle, hereditary factors, and nutrition have a significant impact on the healing process of these marks. 
There are various types of acne scars; these include ice pick scars, boxcar scars, rolling scars, and hyperpigmentation.
Boxcar scar - A boxcar scar is a round or oval depression in your skin that's left behind after certain forms of acne heal. Some boxcar scars can look red or dark brown, but others are the same color as the skin around them. Boxcar scars are atrophic. This means the skin may not return to its previous condition after healing.
Rolling scars are raised scars with a wave-like pattern due to the stretched skin during the infection, known as acne vulgaris.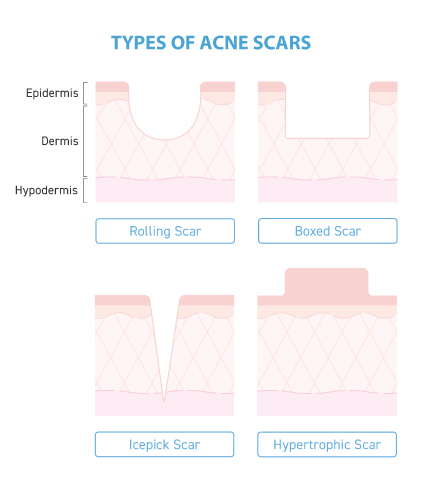 How do we reduce acne scars?
There are various over-the-counter and prescribed treatments that we can use to reduce acne scars.
Retinoids: When spread on the skin, retinoids can unclog pores. They also reduce acne outbreaks. They prevent dead cells from clogging pores. They may also reduce the formation of acne scars. Wash your face. Smooth a pea-sized amount of retinoid cream over your face. Leave it on for 20-30 minutes. You should do this once a day.
Salicylic acid: Salicylic acid is an ingredient that can be found in many acne products. It helps to remove dead skin cells from your pores. It clears up blackheads or oiliness for a clearer-looking complexion! Check with your doctor if you can't see results after 6 weeks though. It might not work quickly enough on sensitive skin.
Glycolic acid: Glycolic acid peels are a great way to remove blackheads, whiteheads and pimples from your skin. A study found that people who used the product consistently had less scarring than those without glycolic acid treatments. (Source: NCBI)
Kojic acid: Kojic acid is an antimicrobial that can help fight off several common types of bacteria even in small dilutions. It could be used as a treatment for acne caused by bacteria on your skin. It also lightens scars from old breakouts.
Tretinoin: Typically, topical tretinoin is a short-term solution to clear up active breakouts. It's used for hard-to-clear acne blemishes on your skin.
Chemical peels: Superficial chemical peels can be a great addition to acne treatment. They produce quick results and improve the skin texture over time. These make the chemical peels perfect additions in tandem with retinoids or antibiotics. But chemical peels can have adverse effects like post-inflammatory hyperpigmentation on a darker skin type.
Laser treatment: Laser treatment for acne scars aims to minimize the appearance of old scars. Scars are often a result for people with cystic acne outbreaks.
Homeopathic acne treatment:
If you want to avoid the side-effects of conventional treatments, choose homeopathic treatment for acne scars. It is also cost-effective and painless when compared with other treatments.
Homeopathic acne treatment has the holistic approach to cure the pustules or papules and the scars left behind. It reduces recurrence. It heals internally.
If you are looking for the best acne treatment, you can visit Dr Batra's® Healthcare. We have the experience and expertise of successfully treating over 1.4 lakh skin patients over the past 35 years. We have a positive treatment outcome rate of 94.3% in treating skin disorders, including acne, as authenticated by American Quality Assessors.
Dr Batra's® Homeopathic MediFacial can help with several skin ailments. Its combination of innovative Korean technology, a European-made serum and active homeopathic ingredients treat acne scars or open pores to give you flawless, soft skin!
Dr Batra's® Homeopathic HydraFacial is the natural and safe treatment available. It is free of any pain or discomfort during the session time. The antioxidant serums infused during the treatment process give radiant-looking skin.
Dr Batra's® is one of the best homeopathic clinics that offer safe and effective treatment for acne. You can book an appointment now!