Excess Sweating Treatment in Homeopathy
Authored by
Dr Mukesh Batra
How Excess Sweat Occurs?
We are an extremely adaptive species. We are constantly evolving and maintaining our balance and harmony. This process is constant. For example, in the tropics on a hot, sunny day, we sweat profusely. In extremely cold weather, we shiver. The endocrine and nervous systems are primarily involved in mediating how, our body makes certain small, subtle adjustments. This is called homeostatic balance. The outcome of this reaction is presented in the form of symptoms, the basis of homeopathic treatment.
There are scores of people, who suffer from excessive sweating for no real reason in summer, or winter. Excessive sweating is called hyperhidrosis, it highlights sweating that is far beyond what the body, on average, needs. Most people who suffer from excessive sweating are often normal although some may be anxious, or restless, and more than lacking in terms of self-confidence.
Excessive sweating often creates a stigma with one's damp, dripping hands, feet, and armpits. It makes the sweaty individual "freeze" before a handshake, or uncomfortable at the workplace, or during social interaction.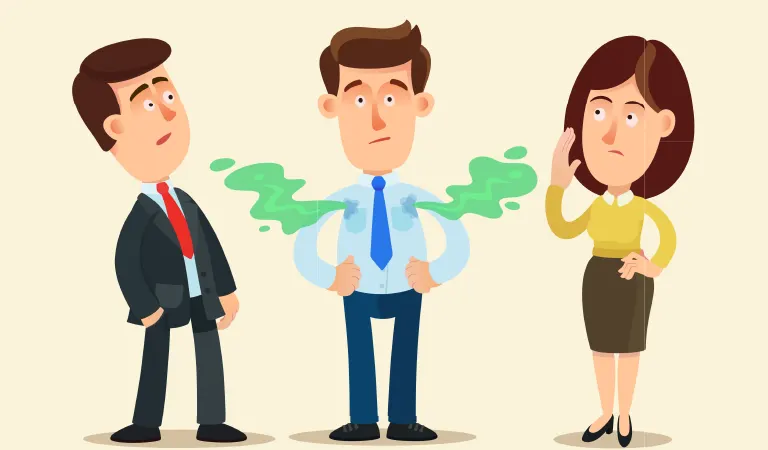 How Homeopathy Treatment & Medicine treats Excess Sweating
Homeopathy looks at the type of sweating and its unique nature. Not just sweating in isolation. It aims at understanding the cause. For example, excessive sweating, in a sensitive individual may be due to extreme anxiety, or apprehension of an approaching event, a job interview, or something one can't comprehend. The fact is the trigger exists somewhere, deep inside the body and mind. This is a key area a professional homeopath would analyze while treating sweaty distress.
The homeopathic medicine, Silicea, for example, is most useful in individuals who are visibly hypersensitive and suffer from foot sweats with an extremely foul odor. Acidum Hydrofluoricum is, likewise, useful in individuals, who have excessive sweating of palms and feet but feel better in cool, open-air, or under a ceiling fan.
Calcarea Caronica is effective in overweight individuals, presenting with symptoms of profuse, uncontrolled sweating. Iodum is useful in excessive sweating in humid conditions.
Medications mentioned in this blog should not be taken without the advice of a professional homeopathic practitioner. You can consult an expert from your nearest Dr Batra's® Healthcare and obtain answers to your concerns if you have a worry or a question!
FAQs
What exactly is hyperhidrosis?
Excessive sweating is referred to as hyperhidrosis in medicine. Although it is not a dangerous medical illness, hyperhidrosis can be an uncomfortable condition that interferes with daily activities. Although numerous effective treatments are now available, most people never seek treatment for this ailment.
What are the symptoms of hyperhidrosis?
Most people sweat when they exercise or exert themselves, when they are in a hot atmosphere, or when they are anxious or stressed. Excessive sweating caused by hyperhidrosis vastly outnumbers regular sweating.
Hyperhidrosis generally affects the hands, feet, underarms, or face.
Sweating typically occurs on both sides of the body.
Does excessive sweating cause social and emotional difficulties?
According to the study by The NCBI, physiological issues aren't the reason for excessive sweating in most cases, but they can lead to melancholy and anxiety in the long term because the condition is so exhausting. People who suffer from excessive sweating have agonizing difficulties in their daily lives. They avoid social interactions with others and are embarrassed in both their work and personal lives. They are more likely to suffer from anxiety, sadness, emotional distress, and so on.
What are the types of hyperhidrosis?
There are two types of hyperhidrosis; Primary focal hyperhidrosis and secondary generalized hyperhidrosis.

Primary focal hyperhidrosis: Excessive sweating occurs in "focal" parts of the body, such as the hands, feet, underarms, face, or head. It creates the same amount of sweating on both sides of the body. Most persons will be affected in more than one area of their body, such as both their hands and feet. Sweating rarely occurs during sleep. This condition usually manifests itself during childhood or adolescence and is inherited.

Secondary generalized hyperhidrosis: is caused by excessive sweating, which is either a symptom of another medical condition or a side effect of drugs. Sweating occurs all over the body, not only in certain places.
Who is affected by hyperhidrosis?
There are two types of hyperhidrosis: the one that affects young individuals and the one that develops later in life. Men and women are both affected to a similar level. When youngsters are affected, it is mainly on their hands and feet, followed by armpits and maybe groins/buttocks in their teens, and facial sweating or general sweating as they become older. There are, however, diverse forms of this condition.
Why should you use homeopathy to treat excessive sweating?
Using antiperspirants or talcum powders to control sweating and its odor is only a temporary fix. Homeopathy treatment is a holistic approach that aims to restore balance to the system and addresses underlying issues such as thyroid difficulties, diabetes, and hot flushes with menopause, obesity, and hormonal imbalance. Homeopathy can be used to treat excessive sweating. Many homeopathic medicines have proven to be beneficial in excessive sweating.

While excessive sweating does not create major difficulties, it can emotionally and psychologically exhaust you. It is a condition that is rarely discussed, and if you are unsure whether you have hyperhidrosis or a minor anxiety problem, seeing a homeopathic doctor can help rule out the wrong condition. Get in contact with our team of homeopathic specialists to obtain answers to all of your questions.