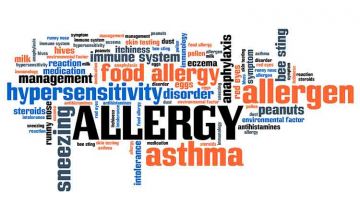 Homeopathy is a system of natural medicine that treats the total allergic symptom-picture – physical, mental and emotional. It treats allergies – at three levels, viz., nasal/respiratory, skin and gastrointestinal — by the administration of minute doses of a homeopathic remedy that would in healthy persons produce symptoms similar to those of the allergic response.
For example, when you chop onion, you get watery eyes, a runny nose, sneezing, coughing, and throat irritation from exposure to the tuber's active substances. The homeopathic remedy, Allium Cepa, made from red onion, can help you overcome a cold, or allergy, attack in which you may have similar symptoms — watery eyes, runny nose, sneezing, coughing, or throat irritation.
For one who has a severe allergic reaction to bee stings is treated safely and successfully with Apis Mellifica, a homeopathic medicine, made from honeybee.
Thus, whether you suffer from nasal allergy, asthma, skin allergy or digestive problems emanating for allergies, homeopathy provides you with the right medicine to get rid of your problems from the 'root.' It helps to calm down your overactive immune system so that the body does not throw up a 'war' after exposure to otherwise harmless substances. To augment good treatment outcomes, and long-term cure, homeopathy emphasises on good, personalised healthcare and appropriate dietary advice.
Homeopathic treatment of allergic rhinitis [nasal allergy], including skin and other allergies, has been well-documented in scientific research.  A study published in the British Medical Journal, for instance, showed a statistically significant improvement in objectively measured nasal air flow for nasal allergy patients treated with homeopathic medicines for allergy.
In another study conducted at the University of Glasgow, Europe's largest medical school, allergic asthma patients, given small homeopathic doses of the substance to which they were most allergic, showed significant relief within the first week of treatment. The study provided impressive results, with no side-effects. Over 80 per cent of patients, given a homeopathic medicine for allergy, improved — while only 38 per cent of patients given a placebo [dummy pill] experienced equivalent degree of relief.
CAUSES OF ALLERGY
Pollen
Dust [House dust, wood dust]
Outdoor moulds
Exposure to certain animals [including pets]
Cockroaches
Rodents
Irritant triggers such as smoke, pollution
Cigarette/ tobacco smoke
Strong smells [perfumes, incense sticks or agarbattis], cosmetics
Certain food items
Certain conventional drugs
Insect bites
Change of weather
Emotions [stress, anxiety, depression].
There is a degree of enjoyment, or satisfaction, experienced in everyday life. HRQL [Health-Related Quality of Life] is an attempt to evaluate directly the impact of a disease, or treatment, on an individual/ patient's ability to function in life.
Allergies can have a significant impact on the quality of life of the individual/patient resulting in anxiety, irritability, inability to function smoothly with everyday chores, fatigue, depression, etc. Homeopathy's holistic approach towards allergy patients not only addresses their physical symptoms, but also works to improve their emotional state — while giving them a better quality of life.