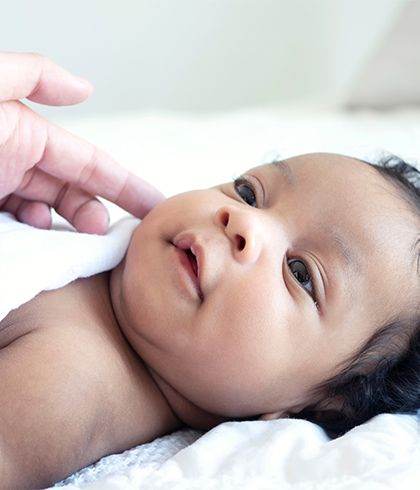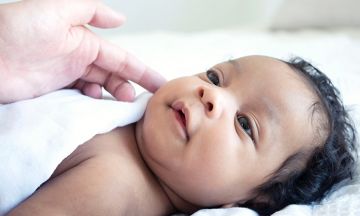 Healthy skin tips for newborn
Various factors directly or indirectly affect the development and maintenance of newborn babies' skin. These include genetics, family history, environmental factors at home, etc.  Skin conditions of newborns are generally harmless but can occasionally be associated with more severe conditions. We have enlisted some common skin conditions seen in neonates.
Baby Acne: It is also known as neonatal acne; it is common in newborns and appears as tiny bumps typically on the face, back, or buttocks. They are not 'acne' but a form of "plugged follicle" that lasts for two to eight weeks before disappearing without treatment.
Cradle Cap: This is sometimes called 'epithelial napkin dermatitis' and appears as scaly reddish patches of skin on the top of the baby's head, which resemble dandruff. It is not due to poor hygiene but due to the build-up of dead cells and scalp oils in hair follicles.
Heat Rash: This appears as tiny red bumps on the baby's trunk because of exposure to sunlight or heat.  It may itch and make your baby uncomfortable./p>
Milia: This looks like tiny white dots that frequently develop on a newborn's face. These are hard 'sebaceous' (oil-producing) glands that become trapped in the skin as it is still soft. They tend to disappear on their own within a month.
Dry skin in newborns: Almost all newborns will have dry skin for a few days after birth. It is prevalent in premature babies and can be helped by regularly applying "mild" or "pure" moisturizing lotion to their skin.
Erythema toxicum: This rash appears as red patches around the face, neck, or chest. It is common in babies less than a month old and lasts for 2 to 10 days before disappearing on its own.
Healthy skin is a sign of good health. If you take proper care of your baby's skin, it will look glowing and healthy.
Tips that can make your babies skin healthy:
1. Dry the baby entirely after bathing. Make sure to cover the body with a towel and pat dry gently, don't wipe or rub the baby's skin hard. Change the diaper soon after you finish bathing. Do not use dry terry towels, which will be harsh on your newborn's delicate skin
2. Choose hypoallergenic baby soap, which is often available in supermarkets. Unlike soaps made explicitly for newborn babies, regular soaps tend to dry out the skin and may lead to chapping of the skin.
3. Similarly, we should not use bath oils or other lotions on your baby's skin as they can clog pores and cause acne-like rashes.
4. After bathing hair with warm water, use a soft brush or comb to avoid tugging the tender baby's scalp hard. It will help prevent all hair problems, from cradle cap to baldness, down the road.
5. Pure cotton clothes are very gentle on your baby's sensitive skin and keep them comfortable throughout the day without getting too hot.
6. Choose hypoallergenic diapers which do not contain chlorine bleach as the components may cause skin rashes and allergies. Also, it is a good idea to change diapers frequently to avoid irritation of the baby's delicate skin.
7. Use natural oils like olive or almond oils for a massage instead of chemical-based ones like petroleum jelly or silicone-based creams and lotions since they are less likely to clog pores.
8. Do not expose your child to excessively cold weather or hot sunlight as this can lead to sunburns and other harmful effects on the skin.
9. Be gentle with your baby. Try not to get carried away while giving massages, applying diaper ointments, etc., to avoid rough handling of your baby's sensitive skin.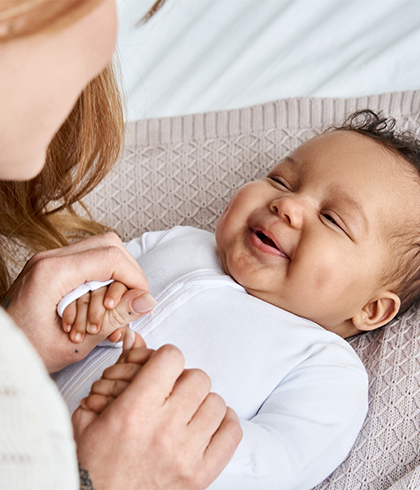 Dr Batra's® homeopathic treatment for baby's skin:

-Dr. Batra's® homeopathic remedies are best for babies' skin problems like rashes, dry skin, allergies, etc.
-Dr. Batra's® homeopathic treatment can help your baby lead a healthy life without suffering from common rashes.
-We use small doses to help your baby's body heal itself and balance what it needs naturally.
Homeopathic remedies are safe, have no side-effects, no known drug interaction, and do not cause any allergies. If your baby suffers from any skin problem, you can visit Dr. Batra's® homeopathic clinic to get the best homeopathic treatment for your baby's skin. The skin of a newborn baby is delicate and fragile. You can give a gentle healing touch with homeopathy. Book an appointment with us today!