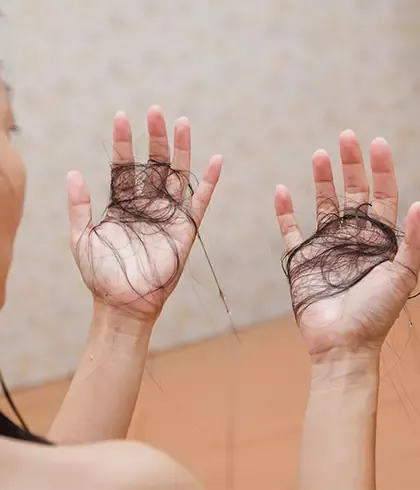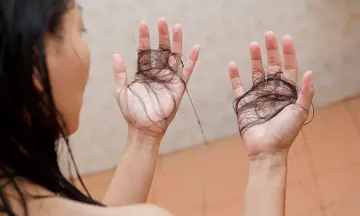 Hair fall treatment guide
Authored by
Dr Batra's Doctors
Does your hair seem a lot thinner? While hair fall is a common problem, it is normal to lose anywhere from 50 to 100 strands of hair per day. Losing an unusual amount and clumps of hair can become a cause for concern. It can also indicate medical conditions such as thyroid, alopecia or others.
There are various solutions to control hair fall, however, knowing the underlying reason for your hair loss can help you find an effective solution.
A number of factors can cause you to lose more than the usual amount of hair. Here are the most common ones:
Aging

Genetics

Nutritional deficiency

Hormonal imbalance

Stress

Hairstyling

Medical conditions/ certain medications.
Unfortunately, factors such as aging and genetics cannot be controlled. However, that should not stop you from getting healthy hair. So what can you do to prevent hair fall?
Here's an easy and effective guide to help you prevent hair loss:
Keep your scalp clean
Wash your hair regularly to keep your scalp clean and healthy. The key is to use a mild shampoo. Using harsh chemical-based shampoos can cause dryness and make hair prone to breakage. Also, using a conditioner after shampoo can keep your hair smooth, tangle-free, and avoid breakage.
Massaging the scalp
If you are dealing with hair problems, massaging the scalp with warm oil can do wonders. Gently massage your scalp with warm hair oil for about 10-15 minutes. It helps in improving blood circulation to the roots, thus preventing hair fall.
Switch to a healthier diet
A poor diet can reflect on skin, hair, and your overall health. Eating a healthy and balanced diet can aid in keeping your hair healthy, shiny, and strong. A daily diet that includes eggs, oily fish, fresh fruits or vegetables can help avoid hair fall.
De-stress
The more you stress over something, the more it shows its effect on your health. To prevent further hair fall, turn to relaxation techniques such as yoga or meditation. Also, making sure you get at least 8 hours of sound sleep every night can help reduce the effect of stress.
Treat the underlying cause
Hair loss may respond well to simple lifestyle changes however, at times, hair loss may not stop until the underlying condition is treated.
To identify the reason for hair loss, hair experts may make the diagnosis based on the symptoms or appearance of the hair. To make sure of the diagnosis, a scalp biopsy, light microscopy or blood test may also be suggested.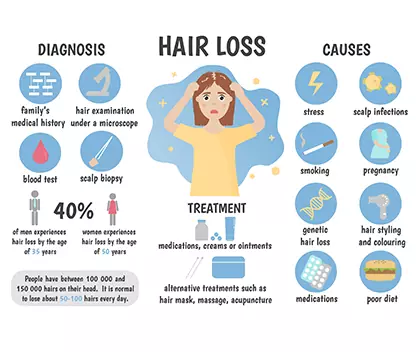 For lasting results, correcting the underlying problem is important. Research has proven that homeopathy offers excellent hair fall treatment. A study published in the Journal of Recent Advances in Applied Sciences, 2015, found that homeopathy showed a positive result in the treatment of hair loss within 6 months.
Be it a result of a genetic problem, hormonal imbalances or lifestyle issues; homeopathy aims to treat hair loss from the root without any side effects. Due to homeopathy's individualized and holistic approach, medicines are prescribed based on individual symptoms. At Dr Batra'sTM, the expert trichologist evaluates the patient's medical history, temperament and extent of hair loss. The hair treatment is targeted to not just reduce hair loss but also promote hair growth. Dr Batra's™ hair falling treatment holds the success rate of 96.6% – as authenticated by the American Quality Assessors. With over 6 lakh happy hair patients, you too can find the perfect solution to your problems at Dr Batra's™. For a safe, natural and long-lasting solution, book an appointment with us: www.drbatras.com/book-an-appointment.
Also Read: Top 10 tips to prevent hair loss