Alopecia Areata-Treatment Results
Alopecia areata is an autoimmune disorder which causes the immune system to attack healthy hair follicles, causing excessive hair fall from the scalp or all over the body. Homeopathic medicines offer excellent relief for such disorders that are triggered by an abnormal immune response of the body. These medications are good for enhancing the immunity, thereby preventing the immune system from attacking the hair follicles.
Some of the illustrative case photos of patients treated at Dr Batra's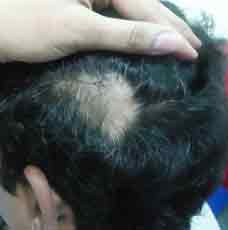 Ritika's father visited our clinic with the complaint of Alopecia Areata for his daughter. She had one circular patch about half an inch in diameter, on the back side of the scalp. She was having it for last six months. She was suffering from severe hair fall as well. She had taken some other conventional treatments but there was no significant improvement. After starting with Dr Batra's treatment for Alopecia condition, she states that she feels much better and her hair has started growing thick.
He came with the history of patchy baldness since 3 years which presented as multiple big round bald patches on the scalp and small multiple patches on the beard. He had used corticosteroid injections locally, he had also used Ayurveda and herbal medicines in the past, however nothing seemed to help, and he was very depressed. He had lost all hopes and so he had stopped all sorts of medicines and contacted our Chennai clinic. There, finally he was able to get relief from his Alopecia problem.