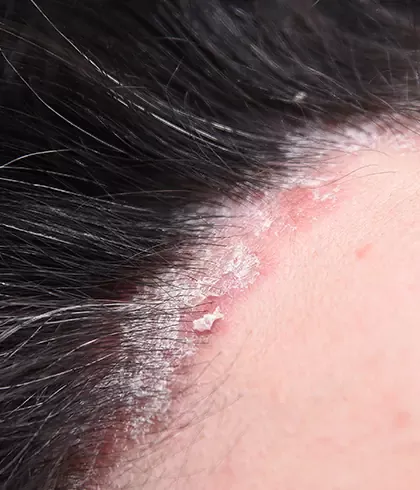 Do over-the-counter drugs work for scalp psoriasis?
The scalp is one of the most commonly affected regions in psoriasis. However, scalp psoriasis can be challenging to treat because of the presence of head hair. There are plenty of treatments available, but their questionable efficacy and side effects can be a dilemma when choosing the right treatment. Hence, it's worth getting familiar with the benefits and side effects of the available treatments.
The scaly patches you get on your scalp can be itchy and uncomfortable, but the right treatment plan can help. The common over-the-counter treatments for mild cases are medications that you put directly on your scalp. If you have a severe case of scalp psoriasis, you may need prescribed medication to treat the condition.
Over the counter treatments
Moisturizers and emollients
Moisturizers and emollients& you buy without a prescription can help control flare-ups to a certain extent. They can help to trap moisture in your skin and give relief from itchiness and inflammation.
Side-effects: Moisturizers and emollients can give temporary relief from scalp psoriasis and do not reduce the chances of its reoccurrence. They can help to manage the symptoms, but the relief comes with stronger side effects. The side effects include:
Thin skin
Changes in skin color
Bruising
Stretch marks
Broken blood vessels
Salicylic acid
Salicylic acid can help to clear the scales that show up on patches of psoriasis. It comes in creams, lotions, ointments, foams, gels, soaps, shampoos, patches, and cloth pads.
Side-effects: Along with its needed effects, a medicine may cause some unwanted effects that may need immediate medical attention. Visit a dermatologist if any of the following side effects occur:
Skin irritation not present before use of salicylic acid (moderate or severe)
Difficult breathing
Dryness and peeling of skin
Fainting
Hives or itching
Skin redness
 
Tightness in the throat
Unusually warm skin
Coal tar
Coal tar can help to slow the growth of skin cells and make your skin appear better. It comes in different forms, including shampoo and soap to treat scalp psoriasis.
Side-effects: Long-term use of this product can cause hair follicle problems and lead to hair loss or tar acne. Other side-effects include:
Allergic reactions
Skin rashes
Swelling (especially of the face/tongue/throat)
Severe dizziness
Trouble breathing
Corticosteroids
Corticosteroids can aid in the treatment of psoriasis by slowing the hyper-production of skin cells and the reduction of inflammation. Not all topical corticosteroids are the same. The best-suited corticosteroid is selected based on the location of your plaque and the general state of your skin.
Side-effects: The incidence of side effects increases in tandem with the strength of the drug and the duration of treatment. The possible side effects of corticosteroids are:
Stinging or burning sensations
Skin redness (erythema)
Rosacea
Skin thinning (atrophy)
Easy bruising and tearing of the skin
Some severe symptoms can occur after weeks or months of treatment. If you notice any abnormalities in your skin, it is important to stop treatment immediately as any damage to the skin may be permanent. Consult a dermatologist to control the skin abnormality.
Seek professional help to identify the trigger of your scalp psoriasis condition. A suitable treatment suggested by a dermatologist can minimize the risk of further complications, such as hair loss or cracked and bleeding skin on the scalp.
Also read: https://www.drbatras.com/skin-diseases/psoriasis/causes
Homeopathy treatment for scalp psoriasis
Homeopathy provides safe and mild remedies that treat scalp psoriasis naturally and gently. Homeopathy moderates the immune system of the body; this leads to the prevention of a quick increase of the skin cells. It also stimulates the body's healing ability. Homeopathy also brings the recurrence of scalp psoriasis under control.
The standard form of treatment for scalp psoriasis is the use of medicated creams, lotions, gels, shampoos, soaps, foams, oils, and ointments which primarily contain retinoid and steroids. It is important to note that these medications can have side effects if used in the long term. Homeopathy brings hope for psoriasis. This type of medication treats the disorder right from the root with zero side effects.
According to a case study published by the National Center for Biotechnology Information, a 53-year-old patient developed severe scalp psoriasis and mild fever of 100°F. Within a month of starting homeopathic treatment for scalp psoriasis the intense and widespread state, the scalp psoriasis intensity was significantly reduced and the patient improved considerably within 3 months.
At Dr Batra's®, with our experience in homeopathy, we have treated over 1.4 lakh patients suffering from skin disorders including scalp psoriasis with a positive outcome rate of 94.3% (authenticated by the American Quality Assessors). Book an appointmentwith Dr Batra's™ and get rid of scalp psoriasis with an effective and safe homeopathic treatment at our nearest clinic.