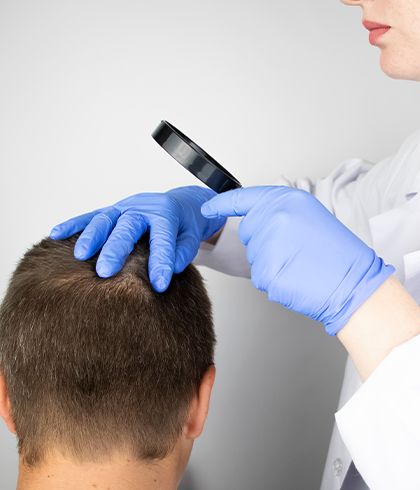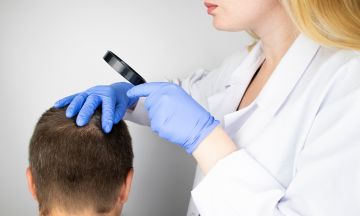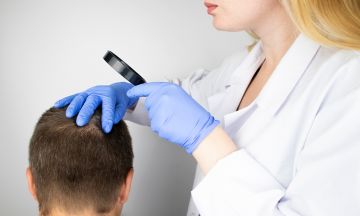 5 Helpful Tips to Manage Alopecia Areata
Alopecia areata or patchy hair loss is a common autoimmune disorder that often results in unpredictable hair loss. According to The National Alopecia Areata Foundation (NAAF), approximately 147 million people worldwide have or may develop alopecia areata, at some point in their lives.
Alopecia Areata Symptoms
In alopecia areata, the affected hair follicles are mistakenly attacked in groups by your immune system (white blood cells), resulting in the arrest of the hair growth stage. These affected hair follicles become very small, the hair production slows down, and there is no visible hair growth above the skin surface, for months or years.
The scalp is the most commonly affected area, but your beard or any other area of your body can also develop hair loss. Some patients develop only a few bare patches that can have hair regrowth, within a year. In other cases, scarring alopecia (patchy hair loss) occurs and there can be complete scalp hair loss (alopecia totalis). Additionally, there can be hair loss from the entire body (alopecia universalis). The patients with alopecia areata who miss the protective qualities of hair, must: /p>
Apply sunscreen, when exposed to the sun.
Wear wrap-around glasses to protect the eyes from the sun and debris in case of alopecia universalis, when there is hair loss from eyebrows and eyelashes.
Use headwear, such as hats and scarves to protect the head from the sun or to keep it warm, during winters.
Moisturise inside the nose to keep membranes moist and to protect against the organisms that are normally trapped by the nostril hair.
Alopecia areata is a difficult disease to cope with, but some natural hair regrowth treatments, can benefit patients with alopecia areata:
Read more about alopecia areata: https://www.drbatras.com/hair-conditions/alopecia-areata
Avoid tight hairstyles: If your religion (such as Sikhism) or any profession require tight hairstyles, then you should loosen your hair or keep it open, whenever possible. You should often change your hairstyles to prevent strain and avoid scalp hair loss.
Use ginseng: In a preliminary research study by the Journal of Ginseng Research (JGR), ginseng may help augment hair growth in patients with alopecia areata. According to the Traditional Chinese Medicine (TCM), each type of ginseng is thought to have some unique healing properties. For example, some types of panax ginseng have 'warming' properties that aid blood circulation. Moreover, it can increase energy, boost the immune system, and help manage certain health conditions.
Onion juice: Applying onion juice on parts of the head or body affected by alopecia areata may help promote hair growth. Onions may support the building and maintenance of collagen. Collagen provides structure to your skin and hair. Their potential health benefits may also include, reducing the risk of several types of cancer, improving mood, and preventing skin and hair diseases. Additionally, include spring onions in your diet, as they contain vitamin B and minerals, including copper, iron, manganese and calcium. The leafy green part of the plant is also a good source of folic acid.
Aromatherapy treatment: The essential oils (lavender, cedarwood or rosemary) have been traditionally used for the treatment of hair loss. According to an article published in the Jama Dermatology Journal, aromatherapy aids in the alopecia treatment.
Acupuncture treatment: According to an article published in the Sage Journal, acupuncture may inhibit certain alopecia-related changes in skin cells.
Stress management: Stress and depression may play an important role in triggering episodes of alopecia areata. Hair loss caused by stress is known as telogen effluvium. Usually, telogen effluvium diagnosis indicate physical or mental stress, such as severe illness, surgery, childbirth, emotionally stressful event sand certain conventional medications. You can follow certain healthy lifestyle measures, such as breathing exercises and yoga to manage or prevent stress-induced feelings.
Hypnosis treatment: According to an article published in the Karger Journal, 21 people with alopecia areata received 10 sessions of hypnosis over a period of six-months. The participants showed improvements in several markers of psychological wellbeing, including anxiety and depression.
Also read about Dr Batra's™ alopecia treatment: https://www.drbatras.com/hair-conditions/alopecia-areata/treatment-results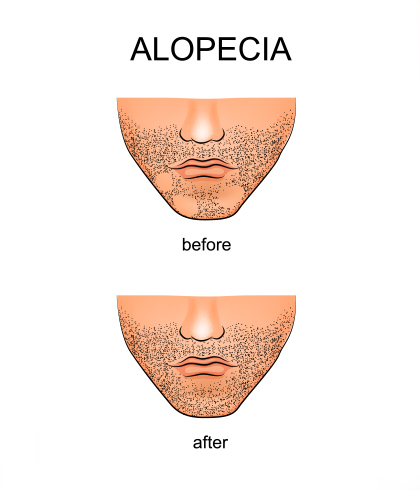 A trichologist will be able to diagnose alopecia areata by examining its symptoms. A hair doctor can also perform a skin biopsy or recommend certain blood tests to rule out the possibility of other autoimmune diseases.
Alopecia Treatment in Homeopathy
Dr Batra's™ treatment combination of homeopathy and aesthetics is the best treatment for alopecia areata. The aesthetic treatment groHair is a non-surgical hair therapy that enhances hair fall control, improves hair volume and stimulates hair growth. Whereas, STMcell treatment is based on a French technology that increases hair volume and density. Dr Batra's™ Hair Vitalizing Treatment (HVT) stimulates hair regrowth and reduces hair breakage. Moreover, Dr Batra's™ NutriGood for healthy hair growth is fortified with vitamin C, vitamin D, vitamin B complex and zinc. This hair nutrition product can reduce hair loss, stimulate hair growth and enhance your hair quality. Dr Batra's™ Geno Homeopathy treatment for hair loss is a gene targeted homeopathic therapy. It provides 99.9% accurate test results and can possibly also prevent heredity hair loss (androgenetic alopecia or male pattern baldness).
Additionally, we highly recommended that you take the Dr Batra's™ hair loss evaluation test in order to assess the current state of your hair problems. More than 7 lakh patients with hair problems have been successfully treated with a 96.6% success rate as authenticated by the American Quality Assessors.
Dr Batra's™ homeopathic specialist will determine your hair fall treatment after considering your specific hair loss causes, the extent of hair loss, the type of alopecia areata and also the condition of your hair and scalp. Book an appointment with us at https://www.drbatras.com/book-an-appointment and let our homeopathy specialist guide you towards the most suitable alopecia treatment.