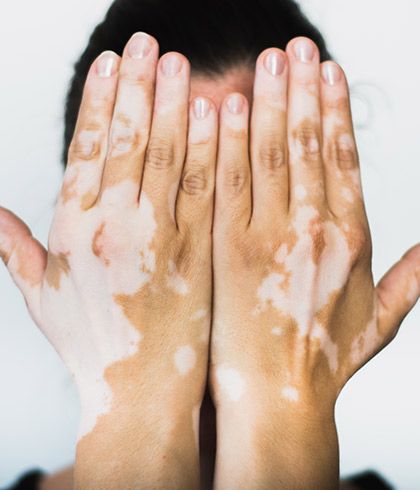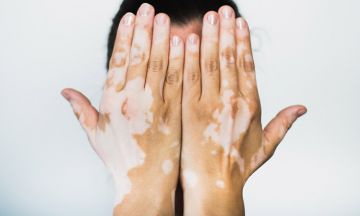 Best Vitiligo Treatment in Homeopathy without Side effects
Living with vitiligo can be difficult. It is an autoimmune condition that can interrupt your day-to-day life. The social stigma around this white skin condition can make it difficult for patients to interact and move around freely. People find it tough to identify these white patches and treatment can be delayed. It is important to get to know your condition and the treatment options available for long-term and effective relief from vitiligo.
You are not in this alone; Vitiligo is a skin condition that affects 2% of people worldwide, according to a study by Karger. It is a medical condition that can lead to a loss in the color of the skin due to damaged cells that produce skin pigment. 
Vitiligo can affect the skin in different ways, such as generalized vitiligo, where the discolored patches are visible on various parts of your body. With segmental vitiligo, the patches are visible on any one side of the body. In mucosal vitiligo, the discolored patches affect the membranes of the mouth. With focal vitiligo, the discolored patches affect small areas of the body and do not spread. The colorless white patches in the trichome affect the skin along with lighter pigmented patches. The white patches in universal spread to the larger areas of the body.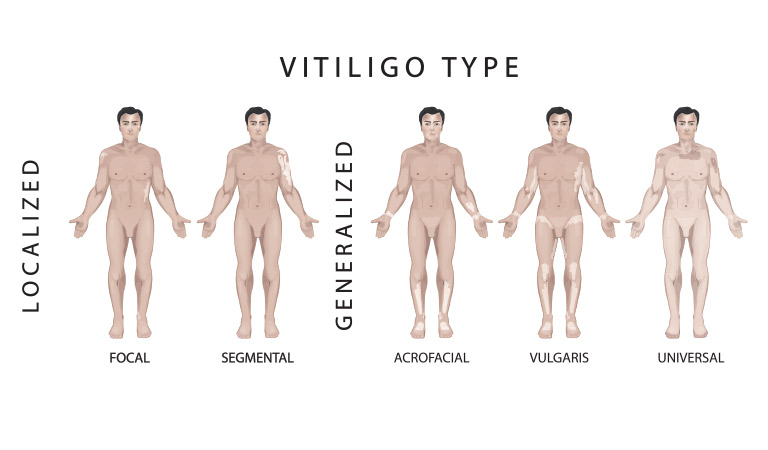 Causes of Vitiligo
The cause of vitiligo includes an autoimmune disorder, where the antibodies destroy the skin pigment cells. Sometimes a genetic factor can also trigger the symptoms of vitiligo. Neurogenic factors like a substance that is toxic for the pigment cell can cause this condition. Self-disrupted Melanocytes can be another reason for the vitiligo skin condition. It can be painful when the patches get exposed to the sun. Hence, timely treatment can help reduce the symptoms of this condition. Let us find out more about vitiligo and the treatment that can help with this skin condition better.
Treatments for vitiligo
You can opt for traditional treatments for vitiligo, such as light treatment; in this, light restores the color of the skin. The patient sits inside a lightbox to help treat vitiligo patches from spreading or may be given laser treatment that can reduce patches on small areas of your body. This treatment can take 2 to 3 sessions per week. The possible side effects of this condition may include stinging or irritation on the skin; it can also cause a sunburn reaction.
You can also choose the PUVA light treatment. In this treatment type, UVA light and a medicine called psoralen that helps restore skin color. Psoralen medicine can be either used to apply on the skin or taken in the form of a pill. It is a treatment that is best for widespread vitiligo but may not be as effective on the hands and the feet. You visit the PUVA light treatment center twice a week for a year.
You can also opt for a Homeopathic treatment for vitiligo that is natural, safe, and side-effect-free. According to a study by NCBI, 14 vitiligo patients with a minimum age of 29 got an individualized homeopathic treatment. The patients showed positive results during the early stages of their condition. Thus, holistic, homeopathic treatment offers results that are long-term and effective.
Read more: https://www.drbatras.com/10-reasons-homoeopathy-good-vitiligo 
Why Dr Batra's®?
Homeopathic medicine for vitiligo prescribed at Dr Batra's® is safe and without any side effects. Dr Batra's® has combined the goodness of homeopathy with scientifically proven treatment to give 15 lakh happy patients better treatment outcomes. Dr Batra's® and its expert homeopathic doctors have provided 1.4 lakh skin patients, long-term results for skin problems like vitiligo, eczema, acne, and psoriasis. As authenticated by the American Quality Assessors, we have an 89% success rate for treating vitiligo skin conditions. So, get in touch with our expert doctors today. Book an appointment https://www.drbatras.com/book-an-appointment.