Homeopathy Treatment for Vitiligo
Why Is Homeopathy Treatment Good For Vitiligo
Vitiligo is an autoimmune disease. It is an immune system malfunction that has a broad approach to the skin. Homeopathy medicines for vitiligo balance the immune system and slow down the spread of the condition. Additionally, it promotes re-pigmentation in the most natural, safe, and effective way. Homeopathy treatments for vitiligo also treat underlying issues that are prevalent in vitiligo sufferers, such as anxiety and depression.
Unlike conventional medicine, which may result in severe burns and blisters, homeopathic vitiligo treatments are natural and have no side effects. It provides long-lasting relief.
Homeopathy treatment is prescribed based on each patient's unique case history to effectively cure the underlying stress and achieve successful vitiligo treatment. If the illness is not treated, it may return. Homeopathy vitiligo treatment aids in reversing the loss of melanin and hence stops the sickness from returning. The use of homeopathy medicine helps to stimulate repigmentation and restores the proper immunological response.
According to the research conducted at the University of Toronto and published in the BioMed Central Journal of Dermatology, Ginkgo Biloba the homeopathic medicine for vitiligo, which has been used for centuries to treat white spots, is effective to treat vitiligo.
Homeopathy's efficacy in treating vitiligo has also been shown in several clinical studies. Patients who received treatment in the beginning stages of their condition had seen the best improvements.
What Role Does Homeopathy Play In Vitiligo Treatment?
Homeopathy attempts to address the underlying cause by addressing immune system malfunction or overactivity.
The continued spread of vitiligo is prevented by homeopathic medications.
It aids in restoring the natural skin tone by encouraging the production of melanin by the skin pigment melanocytes. Additionally, it lessens the breakdown of melanocytes.
Homeopathy medicines for vitiligo are efficient, secure, and provide long-lasting treatment without any negative side effects.
Vitiligo instances that are not severe react well to homeopathic treatment, whereas severe cases can be controlled.
Dr Batras Homeopathy Treatment For Vitiligo
At Dr Batra's®, we have treated over 1.41 lakhs skin patients successfully over the last 35 years. We have a 94.3% success rate in treating skin disorders including vitiligo, as authenticated by the American Quality Assessors.
A study conducted by AC Nielson shows a higher than average rate of improvement seen at Dr Batra's® skin treatments, as compared to general practitioners, specialists, and local homeopaths.
Our doctors have a 30- to 40-minute in-depth consultation with the patient during which they use the medical science of homeopathy to assess the patient's physical, emotional, and psychological issues, and then diagnose the condition correctly.
Depending on the outcomes of the diagnosis, we provide patients with individualized homeopathy treatment for vitiligo. Our doctors offer specialized vitiligo care that may involve counseling, homeopathy vitiligo medicine, and special diet programs created by our nutritionists, among other things. Homeopathic treatment for vitiligo targets the body's immunity and gently returns the aberration to normalcy. It aids in slowing the disease's progression.
Dr Batra's® Derma Heal for Vitiligo
Derma Heal is a cutting-edge skin-care treatment that uses homeopathy and UVB light to safely and effectively treat skin conditions. Each Derma Heal treatment only lasts 30 minutes and is performed by certified therapists under the direction of licensed homeopathic dermatologists. With more than 400 clinical research papers supporting its efficacy, this treatment approach improves the effects of skin treatments so that you get better results in just 5 weeks.
Derma Heal for Vitiligo:
Narrowband UVB phototherapy awakens latent skin melanocytes and modifies cutaneous (skin-related) immunity, allowing regimentation and returning the skin to its normal color, this advanced treatment is:
Easy and pain-free solution
Safe and Effective
Gives visible results in 5 weeks
Proven Effective with 400+ clinical research studies
Our Homeopathic skin doctors offer a combination of homeopathy and advanced skin treatments to give our patients safe, effective, and long-lasting results.
Find out your skin health score, take the vitiligo evaluation test
FAQs
How Effective Is Homeopathy For Vitiligo?
When it comes to vitiligo treatment, homeopathy offers a lot of potentials. In a clinical trial run by the AKP Homeopathic Clinical Centre, 42 of the 97 leucoderma patients and 259 of the 629 individuals with vitiligo who participated in the study saw improvements. This study supports the efficacy of homeopathic vitiligo treatment.
What Distinguishes Leprosy And Vitiligo From One Other?
These two ailments are wholly unrelated to one another. A bacterial condition known as leprosy causes patients to acquire light-colored patches, lose their sensibility, and lose their hair over these regions. On the other hand, vitiligo develops as a result of the skin's melanin pigment disappearing.
How Should I Describe Vitiligo To Others?
We advise you to be forthright and honest when explaining to individuals that vitiligo is an autoimmune condition in which the body's immune system mistakenly assaults pigment cells because it thinks they are unwanted substances.Explain how it is a very common ailment that is not contagious, does not pain, or itch. Finally, let them know that medical technology for treating the ailment is developing and that future genetic discoveries might be able to cure it.
I Have Vitiligo. Do I Need To Wear Sunscreen?
Every time someone with vitiligo will be spending more than a few minutes in the sun, it is a good idea for them to wear sunscreen. Sunscreen will prevent areas that are not affected by vitiligo from tanning, helping you to avoid the contrast that develops between tanned areas and vitiligo spots in addition to the necessity to protect the skin from severe sunburn.
Vitiligo is contagious.
It is not contagious, and it cannot be passed through contact.
Vitiligo increases after consuming milk and other white foods.
It is an auto-immune disease which has no direct relation to food.
No new spots come after the stoppage of treatment.
Generally speaking, no new spots occur, but there are certain cases of extreme stress or compromised immunity wherein spots may recur; however, these spots can be taken care of by the treatment.
Vitiligo is a chronic skin disorder. It causes depigmentation in patches of skin. It presents in the form of white patches. Homeopathic remedies which our doctors provide to vitiligo patients helps to control the spread of white patches; they also facilitate repigmentation by enhancing the natural formation of melanocytes without side-effects. At Dr Batra's®, we have the expertise of treating more than 45,000 skin cases successfully over past 35 years. Thus, we can ensure you a safe and scientific solution for vitiligo.
Some of the illustrative case photos of patients treated at Dr Batra's: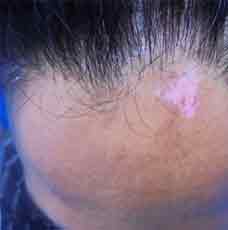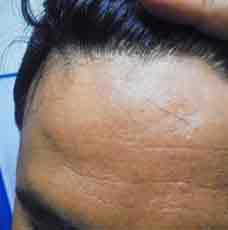 The couple is happy taking treatment for Vitiligo problem at Dr Batra's. They tried each and every hospital in the city to cure the disease but found no solution! Dr Batra's played a significant role on treating the condition and they are satisfied with it.
The family visited one of our clinics on November 2014 to get the little boy treated for Vitiligo condition. They have got wonderful treatment results and are happy about the decision of visiting Dr Batra's.
Want to know what type of vitiligo you have? Take the vitiligo evaluation test: Test Now