Vitiligo
Vitiligo is a chronic skin disease characterized by white patches on the skin. A pigment called melanin imparts skin its colour. This pigment is produced in the cells called 'melanocytes'. When melanocytes die or are unable to function, it results in the loss of melanin causing white patches on the skin leading to vitiligo skin disease.
Vitiligo affects males and females equally, and is commonly seen in children as well. The incidence is higher in children when both parents are affected by vitiligo.
People who suffer from vitiligo skin disease go through extreme emotional stress. It may also lead to depression and suicidal thoughts.
Besides,
Vitiligo has unfortunately been the reason for getting rejected for marriage.
Developing vitiligo after marriage has unfortunately been a ground for divorce.
People who develop white patches on the genital areas avoid intimacy.
Many vitiligo patients experience social rejection.
It is therefore necessary to treat vitiligo disease. The goal of vitiligo treatment is to stop or slow down the progression of de-pigmentation and attempt to return your skin to its normal colour
Diagnosis
Our doctors can identify vitiligo disease based on the visible white patches on your skin. A diagnosis is done through the ultra-violet rays as well. Dr Batra's™ homeopathic clinics* also have India's first 3-D Imaging device for accurate analysis and evaluation of your skin. Based on an advanced optical technology developed by scientists in Dublin, 3-D Imaging device captures the condition upto 10 mm below the surface of the skin. This helps to know the problem at least 12 weeks in advance before it can be seen on the skin by the naked eye. This helps to prevent the skin problem and even saves on the treatment time.
Snapshot of a genetic test report for PCOS ~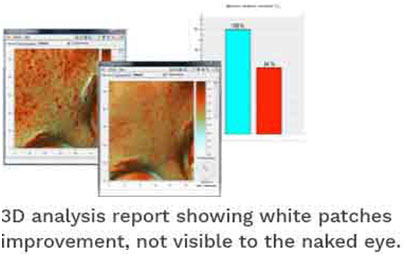 Homeopathic Treatment for Vitiligo
There are 5 advantages of vitiligo treatment in homeopathy :
Homeopathy is a safe option for treating vitiligo disease as it treats it without side-effects.
It stops or slows down further destruction of melanocytes.
It stimulates re-pigmentation in the existing white patches by building immunity.
It treats associated complaints such as thyroid disorder and diabetes.
It also extends beyond the physical symptoms to address the underlying conditions of mental stress, anxiety and depression that may be seen in such patients.
Case Study
Kriti, a 7-year old girl, was brought to Dr Batra'sTM when her parents noticed that white spots are coming up on her eyelids, nose and right knee. Before taking vitiligo treatment in homeopathy, they tried a lot of conventional treatments but her problem persisted. To know more about how Kriti regained the natural color of her skin, Read more
Vitiligo in family? You can prevent it with Geno Homeopathy.
If vitiligo disease runs in your family and you are worried that it might affect you as well, we can predict it years before it actually occurs with Geno Homeopathy. It is carried out through a simple saliva test that not only helps us to predict the probability of getting vitiligo but also helps in treating the root cause. It reduces your chances of getting vitiligo disease through preventive medicine, appropriate diet and lifestyle changes. Since Geno Homeopathy is based on your individualized genetic predisposition, it is, therefore, the most individualized and customized vitiligo treatment in homeopathy.
Snapshot of a genetic test report for vitiligo ~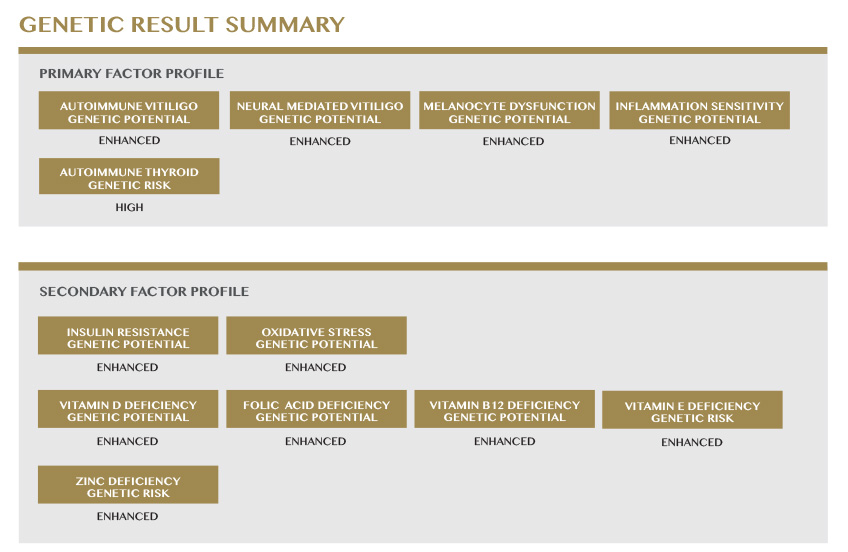 FAQs
1. Can vitiligo be cured completely?
Yes, it is easier to treat the fleshy parts of the body but more difficult to treat the bony areas. Similarly, the skin on the lips and on the fingertips often takes longer. The more extensive the area, the longer it takes to treat. Some cases are very long-lasting, stubborn and extensive, and may not react to any form of therapy. Hence, an early diagnosis and vitiligo treatment is recommended.
2. My son suffers from vitiligo. I want to take homeopathic treatment for him but I have heard that in homeopathy, the disease increases first and then gets better. Is that true?
This is a complete myth. In some cases, the patient presents in an active phase of the disease where new patches come up which has nothing to do with homeopathic treatment. While undergoing a homeopathic treatment, the vitiligo disease does not increase first and then gets better.
3. Is vitiligo contagious?
Vitiligo is not contagious and cannot pass through contact.
4. Is vitiligo hereditary? If yes, can you please tell me how to prevent vitiligo if my daughter gets it?
Yes, it may be passed on from parents but the chances of children inheriting vitiligo disease is only 5-7%. Your daughter may or may not get vitiligo. To know if it might affect your daughter in future, we recommend our Genetic Test for all the family members. Dr Batra'sTM Geno Homeopathy is a gene-targeted therapy that can predict a problem years before it actually. It is carried out through a simple saliva test that not only helps us to predict the probability of getting vitiligo but also helps in treating the root cause. It reduces your chances of getting vitiligo disease through preventive medicine, appropriate diet and lifestyle changes. Read more