Psoriasis Treatment
Psoriasis is a chronic auto-immune disease wherein the immune system of the body mistakenly attacks the body's own skin cells. This causes cells to build-up rapidly on the surface of the skin. The extra skin cells form scales and red patches that are often associated with itching and flaking.
Homeopathy offers long-lasting psoriasis treatment without any side-effects by building the immunity of the patient. This results in better management of psoriasis and also controls the further progression of the disease.
Homeopathic advantage
| Conventional psoriasis treatment | Possible side-effects of conventional psoriasis treatment | *Advantages of homeopathic treatment for psoriasis |
| --- | --- | --- |
| Immuno-modulators | Drug toxicity | No toxicity |
| Photo therapy | May lead to cancer | No side-effects |
| Topical immuno-modulators | Skin atrophy | Oral medicines to improve immunity |
* Psoriasis treatment effects may vary from person to person
Why Dr Batra's™?
At Dr Batra's™, we have treated over 1.41 lakhs skin patients successfully over the last 35 years. We have a 94.3% success rate in treating skin disorders including psoriasis, as authenticated by the American Quality Assessors.
A study conducted by AC Nielson shows a higher than average rate of improvement seen at Dr Batra's™ skin treatments, as compared to general practitioners, specialists and local homeopaths.
Furthermore, we provide personalized homeopathic treatment for psoriasis to patients, depending on the diagnosis results. Our doctors provide customized psoriasis treatment plans that include homeopathic psoriasis medicine, counseling and individualized diet plans prepared by our nutritionists amongst others.
The homeopathic medicine for psoriasis addresses the body at the level of immunity and gently restores the deviation back to normalcy. It helps to control the progression of the disease.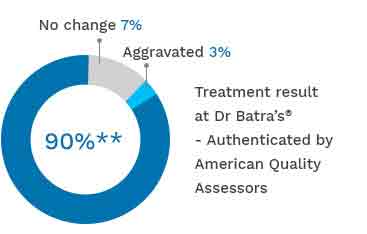 Diagnosis
At Dr Batra's™, our homeopathic doctors diagnose psoriasis based on the visible signs and symptoms. They take into account the patient's medical history and conduct a detailed examination of the lesions. Dr Batra's™ uses India's first 3-D imaging device for accurate analysis and evaluation of the patient's skin condition. Based on an advanced optical technology developed by scientists in Dublin, this 3-D imaging device captures the skin's condition up to 10 mm below the surface of the skin. This state-of-the-art technology helps to diagnose the problem at least 12 weeks in advance, even before visible symptoms appear.
At Dr Batra's™, we can predict the occurrence of psoriasis years before it actually appears with the help of Geno Homeopathy. This treatment requires a simple saliva test that not only helps us predict the probability of getting psoriasis but also helps in treating the root cause. It reduces the chances of its occurrence through preventive homeopathic psoriasis medicine, appropriate diet and necessary lifestyle changes. Since the diagnosis of the genetic test for Geno Homeopathy is based on individualized genetic predisposition, it is, therefore, the most individualized and customized psoriasis treatment in homeopathy.
Find out your skin health score, take the skin evaluation test: Test Now
FAQs
What is the most effective treatment for psoriasis?
There is no known psoriasis cure so far but, with the right psoriasis treatment, the symptoms can be effectively managed. Psoriasis is a chronic condition, with chances of recurrence throughout life. In such a scenario, home remedies for psoriasis treatment may not be very effective in giving long-term relief. For safe and natural psoriasis treatment, homeopathy is an effective medium. It is advised to consult an expert for more information on homeopathic treatment for psoriasis:
https://www.drbatras.com/book-an-appointment.
How do you permanently treat psoriasis?
Homeopathic psoriasis medicine is made from natural ingredients, free from side-effects and offers long-term solutions. Homeopathic medicine for psoriasis can help strengthen the immune system to manage the disease effectively. Homeopathic treatment for psoriasis can also address the various underlying problems associated with it such as anxiety, stress, depression and obesity. Psoriasis treatment in homeopathy can be safely taken over a long period of time without any fear of addiction. Psoriasis homeopathic treatment can help control further progression of the condition as well as reduce the chances of recurrence.
How do you treat psoriasis of the nails?
Psoriasis being an autoimmune disease, it needs a careful evaluation of all the possible factors that may lower the immunity. Nail psoriasis is not a topical disease that can be treated with topical ointments or creams. This disease results from an abnormal immune system response and hence, needs to be addressed internally. Homeopathic psoriasis medicine is known to treat the patient holistically. Homeopathic medicine for psoriasis of the nails is the most safest, natural and effective treatment; without any side-effects. It is therefore; imperative to consult your homeopathic doctor for an effective psoriasis treatment plan.
https://www.drbatras.com/book-an-appointment.
Can homeopathy cure psoriasis permanently?
Homeopathy treatment for psoriasis offers a holistic approach where the root cause of the problem is identified and dealt with. Psoriasis treatment in homeopathy provides a customized treatment plan for an individual based on their medical history, temperament etc., thus addressing the underlying issue. Homeopathic medicine for psoriasis helps regulate the immune system of the body and reduces the symptoms like redness, itching and scaly skin.
What is the best psoriasis medicine?
External creams and ointments may temporarily help to control the existing patches; they may not stop the development of new ones. Psoriasis is an autoimmune disorder that needs to be treated internally by building immunity. Homeopathic treatment for psoriasis helps reduce the symptoms like redness, itching and scaly skin. It helps build immunity over a period of time and facilitate healing of lesions without side-effects. One has to keep in mind that psoriasis is a disease that has remissions and relapses. Psoriasis homeopathic treatment can help in prolonged periods of remissions and shortened periods of relapses. It also helps in treating psoriatic arthritis. This results in improved quality of the patient's life.