Psoriasis - Diagnosis
Our doctors can mostly identify psoriasis based on the visible signs and symptoms, your medical history and examination of the lesions.
Additionally, Dr Batra's™ has introduced India's first 3D imaging device for the analysis and evaluation of skin health. The powerful diagnostic machine, based on advanced optical technology and developed by scientists at Dublin (Ireland), allows the skin to be viewed in two and three dimensions, and enables the multi-spectral analysis of the epidermis and dermis.
A quick scan by the 3D imaging device reveals how rough the skin is, how deep the wrinkles are and the degree of redness. It can also determine the response of a particular medicine. The device completely eliminates subjective analysis, and allows our doctors to communicate the patient's level of progress in definite terms.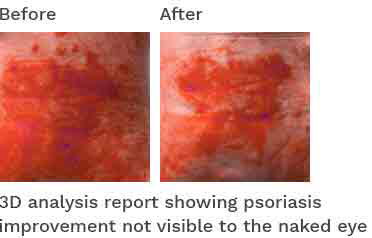 International studies supporting homeopathy for psoriasis
Research-based evidences commend the success of homeopathy in treating psoriasis.
A study published in the Journal of the European Academy of Dermatology and Venereology showed that psoriasis patients experienced significant improvement in their quality of life and reduction in their symptoms with homeopathy, without any side-effects.
The study was conducted for two years, and it included 82 patients with psoriasis. Some of the subjects included in the study had suffered from psoriasis for as long as 15 years, for whom conventional treatment methods failed to show results.
Find out your skin health score, take the skin evaluation test: Test Now