Homeopathic Treatment of Psoriasis
Psoriasis is a chronic auto-immune disease wherein the immune system of the body mistakenly attacks the body's own skin cells. This causes cells to build-up rapidly on the surface of the skin. The extra skin cells form scales and red patches that are often associated with itching and flaking.
Homeopathy offers long-lasting psoriasis treatment without any side-effects by building the immunity of the patient. This results in better management of psoriasis and also controls the further progression of the disease.
Homeopathic Advantage for Treating Psoriasis
| Conventional psoriasis treatment | Possible side-effects of conventional psoriasis treatment | *Advantages of homeopathic treatment for psoriasis |
| --- | --- | --- |
| Immuno-modulators | Drug toxicity | No toxicity |
| Photo therapy | May lead to cancer | No side-effects |
| Topical immuno-modulators | Skin atrophy | Oral medicines to improve immunity |
* Psoriasis treatment effects may vary from person to person
Why Dr Batra's® for Psoriasis Treatment?
At Dr Batra's®, we have treated over 1.41 lakhs skin patients successfully over the last 35 years. We have a 94.3% success rate in treating skin disorders including psoriasis, as authenticated by the American Quality Assessors.
A study conducted by AC Nielson shows a higher than average rate of improvement seen at Dr Batra's® skin treatments, as compared to general practitioners, specialists and local homeopaths.
Furthermore, we provide personalized homeopathic treatment for psoriasis to patients, depending on the diagnosis results. Our doctors provide customized psoriasis treatment that include homeopathic psoriasis medicine, counseling and individualized diet plans prepared by our nutritionists amongst others.
The homeopathic medicine for psoriasis addresses the body at the level of immunity and gently restores the deviation back to normalcy. It helps to control the progression of the disease.
Dr Batra's® Derma Heal for Psoriasis
Derma Heal is a beneficial form of light skin therapy. It can treat scaling skin lesions and heal skin redness. It can also lessen itching.Due to their obviousness, psoriasis not only inflict physical scars on the patient but also have a psychological effect on their self-esteem. Many people who have psoriasis undergo treatment, which may have unfavorable outcomes, while Dr Batra's® Derma Heal has demonstrated success as this treatment is used Therapeutic UVB Light Treatment to lessen skin thickness, redness, and scaling as well as to stop the growth of new skin cells. The Treatment is:
Easy and pain free solution
Safe and Effective
Gives visible results in 5 weeks
Proven Effective with 400+ clinical research studies
Our Homeopathic skin doctors offer a combination of homeopathy and advance skin treatments to give our patients safe, effective and long lasting results.
Find out your skin health score, take the skin evaluation test: Test Now
FAQs
What is the most effective treatment for psoriasis?
Homeopathy offers hope to psoriasis patients. Psoriasis is a chronic disorder with a lifetime risk of recurrence. Home remedies for psoriasis treatment may not be very efficient in providing long-term relief in such a condition. Since the immune system affects this condition so greatly, homeopathy helps to manage and treat psoriasis by boosting the immune system. Homeopathy addresses the underlying cause of the issue, provides effective, long-lasting psoriasis treatment without any negative side effects, and also slows the spread of the condition.
Can homeopathy cure psoriasis permanently?
Homeopathic psoriasis treatment addresses the root cause by creating a personalized treatment plan for each patient based on their medical history, temperament, and other factors. Homeopathy offers long-lasting psoriasis treatment without any side-effects by building the immunity of the patient. This results in better management of psoriasis and also controls the further progression of the disease.
How do you treat psoriasis of the nails?
Due to the fact that psoriasis is an autoimmune condition, every potential component that can impair immunity must be carefully considered. Psoriasis of the nails is not a skin condition that responds to topical lotions or ointments. Homeopathy works by boosting the patient's immunity to provide long-lasting psoriasis treatment without any side effects. As a result, psoriasis of the nails is better managed with homeopathy.
Is psoriasis contagious?
No. Psoriasis is not contagious. It cannot spread from one person to another through contact.
Psoriasis is contagious.
It is not contagious, and it cannot be passed through contact.
Psoriasis is related to food.
It is an auto-immune disease, which has no direct relation to food.
If I have psoriasis, my child will surely get it.
Strong hereditary tendencies cannot be denied, but whether your child will get it surely or not get it at all is something which no one will be able to tell surely.
If I have psoriasis on one part of my body, it will spread all over.
There are many patients who have psoriasis on only one part of their body and it never spreads. So, it is possible that your disease may never spread.
Psoriasis stops to spread the moment the treatment is started.
It cannot be guaranteed, as it takes time to build the immune system, and by the time the immune system is built, few new affected areas might appear, which in turn disappear as the treatment proceeds.
Psoriasis completely vanishes after stopping the treatment.
Generally speaking, no new patches occur, but there are certain cases of extreme stress or infections or trauma to the skin that can lead to compromised immunity, in which case the patches may recur; however, these spots can be controlled with treatment.
Psoriasis is an auto-immune condition where body's immune system mistakenly attacks the body's own skin cells. This results in a rapid growth of cells, leading to psoriasis. Our doctors identify psoriasis based on visible signs and symptoms, patients' medical history and upon examination of the lesions. Additionally, to confirm the diagnosis, Dr Batra's® has introduced India's first 3D imaging device. The 3D device can show your response to a psoriasis treatment as well as the improvement in your condition much before it is visible to the naked eye. This therefore saves both time and money.
Some of the illustrative case photos of patients treated at Dr Batra's: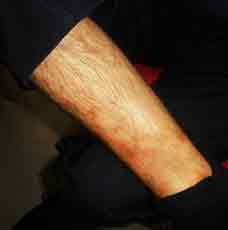 Rajesh is happy with the psoriasis treatment at Dr Batra's. There is no sign of recurrence of the disease after treatment.
Sangeeta Nair visited us 2 years back. She was tensed due to a skin problem known as psoriasis. She tried many things to get rid of the ugly patches on her skin. She met skin specialists, dermatologists and visited several clinics. Applied creams and lotions, but the results were not long-lasting and patches reappeared within few months.
Within 1 month of taking psoriasis treatment at Dr Batra's, she found changes and hence she continued taking homeopathic medicines for long-lasting results.
Find out your skin health score, take the skin evaluation test: Test Now