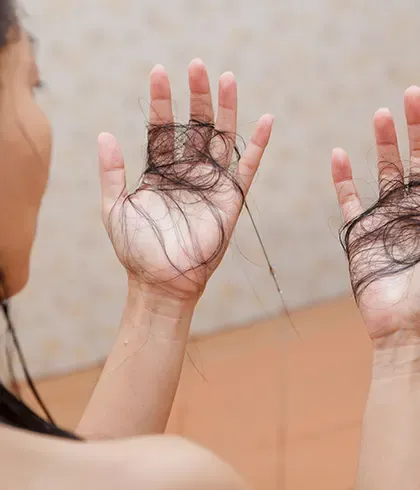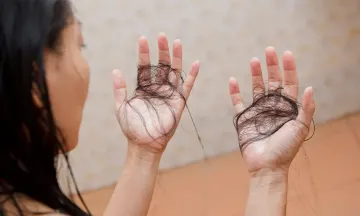 Homeopathy Treatment for Hair Loss In Women From Root
Authored by
Dr Mukesh Batra
Hair loss is not just a cosmetic disorder, it affects a woman's self-esteem much more than it does a man's. The very thought of hair loss can trigger intense psychological reactions among women. The causes for hair loss can be genetic, a diabetic shortfall, hormonal imbalance, or emotional stress. Hair loss can also be triggered by dandruff, cosmetics, and disorders such as psoriasis, allergic dermatitis, or eczema, of the scalp.
Book an appointment now or Hair Loss Treatment, especially for Women
Small Research on Hair Loss in women
According to a study by The Cleveland Clinic, More than 50 % of women will experience noticeable hair loss. Female-pattern hair loss (FPHL), which affects roughly one-third of all susceptible women, is the most common cause of hair loss in women.
Research suggests that hair loss may be an early, latent sign of underlying illness such as diabetes, or high blood pressure. It is, therefore, advisable to investigate such likely causes of hair loss. Common investigations should include blood sugar tests for diabetes, thyroid hormone function test for hyperthyroidism and hypothyroidism, hemoglobin and serum ferritin tests for iron deficiency anemia, and abdominal ultrasound for Polycystic Ovarian Syndrome (PCOS) one of the classical triggers for hair loss in women.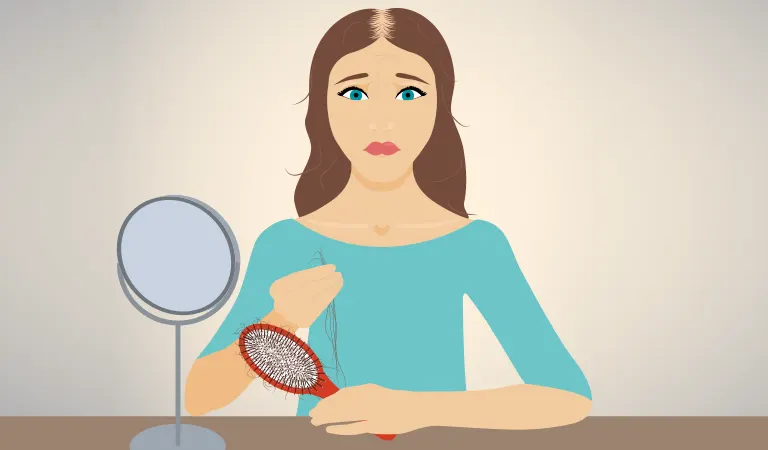 How Homeopathy Treatment treats Hair Loss in Women
Homeopathy does not treat hair loss on the surface or the presenting symptoms, It treats the "root cause" of the problem, taking into account the individual's unique nature, distinctive temperament, and idiosyncrasies. International studies suggest that certain homeopathic remedies, like Thuja Occidentalis and Sabal Serrulata, act as natural dihydrotestosterone (DHT)- inhibitors. DHT is a byproduct of the male hormone, testosterone, which activates hair loss. They are, therefore, evidenced to stop hair loss safely and effectively.
Medications mentioned in this blog should not be taken without the advice of a professional homeopathic practitioner. You can consult an expert from your nearest Dr Batra's® Healthcare and obtain answers to your concerns if you have a worry or a question!
FAQs
Is it normal to lose hair daily?
Yes. As per a study by the NCBI, the average person sheds 50-100 hair per day. If you're experiencing more severe hair loss, our skilled homeopathic trichologist can assist you in determining your severity of hair loss and what you can do about it.
Take a Hair Evaluation Test Now!
Why does women's hair fall out?
Hair loss in women can be caused by a variety of factors, including medical disorders, certain drugs, and physical or emotional stress. Here are five types of hair loss that affect women.
Aging
Hormonal changes — menopause.
There is a family history of pattern baldness.
Anxiety (physical or emotional)
Poor Diet.
Is Hair Loss Caused by Frequent Combing?
Combing or brushing one's hair does not result in hair loss — no matter how many times per day one does it. Constant traction with braids or hair extensions, on the other hand, can result in severe hair loss.
Is it true that stress causes hair loss in women, or is this a myth?
Although stress may cause temporary shedding, it has little effect on the long-term course of genetic hair loss. According to The National Center for Biotechnology Information (NCBI), stress appears to impact women's hair more frequently than men's hair.
Why choose homeopathy for hair loss/ female pattern baldness?
Homeopathic treatment for female hair loss does not have the side effects that are usually associated with conventional hair loss treatments. Homeopathic treatments for female pattern baldness help to naturally strengthen the hair roots. They address not only the symptoms of hair loss but also the underlying cause. Homeopathy hair loss treatment efficiently targets underlying diseases such as thyroid disorder, PCOS, anemia, diabetes mellitus, physical and emotional stress.
How to prevent hair loss in women?
Without medical treatment, it may be difficult to prevent hair loss caused by genetics or underlying medical problems. However, some simple tips might help you control your hair fall:
Protect your hair from the sun's damaging rays. When going out, cover your hair with a scarf or carry an umbrella. Wearing a helmet while biking can also be beneficial.
Reduce and, if possible, avoid smoking, which can cause baldness in women.
Wash and brush the hair gently, ideally with a wide-toothed comb, to avoid pulling out the hair. This can help in preventing hair loss.
Hairstyles such as tight braids, buns, or ponytails should be avoided. They pull at the hair's root and can cause hair loss in women.
Avoid using harsh hair treatments at salons.
Avoid taking medications that may cause hair loss.
Is Hair Loss Caused by Hard Water?
According to a study by The NCBI, hard water has no direct influence on the tensile strength and elasticity of hair. Hard water cannot directly cause hair loss, although it might cause hair breakage after continuous use. Hard water, on the other hand, contains a high concentration of minerals such as calcium carbonates, magnesium sulphates, and hazardous lead and chlorine, which can be harmful to our hair's health.
Why Choose Dr Batra's® Healthcare
Over the last 35 years, Dr Batra's® has specialized in treating over 6 lakh patients with hair problems successfully. After an in-depth consultation, a unique hair treatment is planned out. This incorporates homeopathic medicines to prevent hair loss and lifestyle tips for the complete well-being of the patient. We offer the best possible solutions to every patient suffering from hair loss according to their requirement. Dr Batra's®Bio-engineered Hair Treatment is the best choice which includes Dr Batra's® New Hair Treatment, Dr Batra's®groHair, and Dr Batra's® STM Treatment, it is FDA approved, safe, painless and, gives quick results.