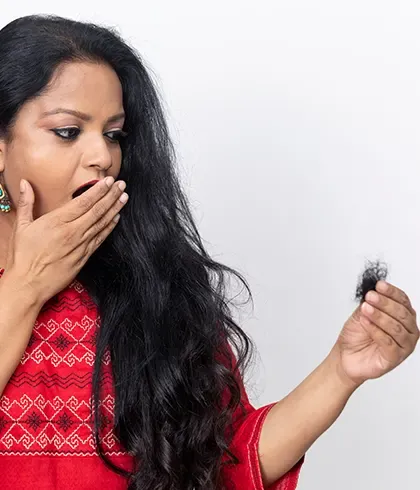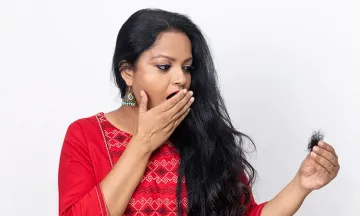 Treatment for Hair Loss in Women with Homeopathy
Authored by
Dr Mukesh Batra
Story of Ritu on how she got rid of Hair Loss with Homeopathy
Twenty-seven-year-old Ritu (name changed) presented with hair loss symptoms on her scalp, fine hair growth on her face, (which, she said, was "extremely embarrassing"), and irregular periods. We immediately ordered a pelvic ultrasonography (USG) for her. The test confirmed that she had ovarian cysts (PCOS) — a common hormonal disorder in women of reproductive age, which triggers hair loss on the scalp with 'paradoxical' hair growth in areas where women ought not to have hair growth.
Book an appointment now!
Ritu's other symptoms included depression and temper outbursts on people she'd always loved. We put her on the homeopathic remedy, Sepia, based on her symptom picture. In 6-8 months, her PCOS symptoms eased and her hair loss also stabilized. After 12 months of homeopathic treatment, a repeat USG showed that she was free of her ovarian cysts.
No one faces as distinct, or unique, health challenges as women do. Besides, no medical system understands them better than homeopathy as it treats both their mind and body concerns. From a women's perspective, it also understands their subtle emotions, which are as changeable as their moods. Nothing can be more devastating for women than just the thought of hair loss.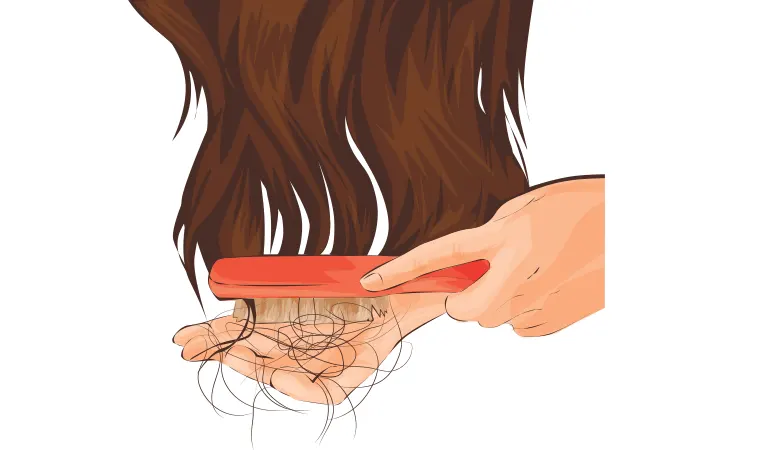 When hair loss happens, it makes them feel anxious, depressed, and unattractive. Interestingly, hair loss can be an 'early' sign of an underlying illness, as was the case with Ritu and her ovarian cysts, apart from her as yet undiagnosed diabetes, thyroid problems, and iron-deficiency anemia.
Clinical Studies & Homeopathy Results
According to clinical studies conducted in Europe, 83% of women, suffering from ovarian cysts and hair loss, who were treated with homeopathic remedies, started ovulating, while their ovarian cysts 'disappeared' along with a tangible reduction of hair loss on the scalp.
However, the most important thing is that homeopathy takes into account not just hair loss, but also one's unique, characteristic symptoms, temperament, and individuality. Besides, there are more than a handful of homeopathic remedies for treating hair loss in women. The reason being no two individuals show the same symptoms of a given hair loss problem. It's, therefore, imperative that given such subtleties, one seeks professional treatment from a qualified homeopathic doctor at the clinic.
Can Homeopathy Provide Long-Term Relief for Hair Loss?
Homeopathy seeks to treat the underlying cause of a disease rather than merely the symptoms. It treats the patient from the inside out. Homeopathy believes that disease is caused by an imbalance in the individual rather than a particular disruption in the body. It treats the person's distress rather than just the symptoms of the disease. As a result, the treatment is holistic, with long-lasting and effective outcomes. Once effectively treated with homeopathy, the condition rarely returns.
Is it normal to lose hair daily?
Yes. According to an NCBI study, the average person sheds 50-100 hair every day. If you have more serious hair loss, our expert homeopathic trichologist can help you determine the degree of your hair loss and what you can do about it.
Take a Hair Evaluation Test Now!
Homeopathic Remedies Commonly Used to Treat Hair Loss
Some of the most widely prescribed hair loss treatments include:
Silicea: Silicea promotes hair development, strengthens hair, and minimizes hair dryness.
Kalium Carbonicum: This medication, which is especially advised for introverts, prevents hair thinning and falling and promotes hair growth.
Lycopodium: Lycopodium is used to treat both men and women who have premature hair thinning. It is created from the distilled spores of evergreen plants.
Arnica: Arnica promotes blood circulation, stimulates hair follicles, and is quite useful in treating female pattern hair loss.
Medications mentioned in this blog should not be taken without the advice of a professional homeopathic practitioner. You can consult an expert from your nearest Dr Batra's® Healthcare clinic and obtain answers to your concerns if you have a worry or a question!
What causes hair fall in females?
Various variables might cause female hair loss, and not all of them are easily addressed.
Genetics
Poor Diet
Over-Processing and Styling Hair
Childbirth and Menopause
Harmful Chemicals in hair products
PCOS
Certain Medications
What is the most effective hair fall treatment?
The ideal hair fall treatment helps in hair fall control as well as hair growth while causing no harm to the hair, scalp, or overall health. This is why you should opt for homeopathic hair loss treatment. Homeopathy hair fall treatment is made from natural components and has no adverse effects. As a result, it is a natural and risk-free method of treating hair loss.
Why Choose Dr. Batra's® Healthcare for Hair Loss Treatment in Women
Dr Batra's® Healthcare has successfully treated over 6 lakh individuals with hair problems over the last 35 years. Following an in-depth consultation, a one-of-a-kind hair treatment is designed. This includes homeopathic medicines to prevent hair loss as well as lifestyle suggestions for the patient's overall well-being. We provide the finest available solutions to each patient suffering from hair loss based on their specific needs.
Dr Batra's® Bio-engineered Hair Treatment which comprises Dr Batra's® New Hair Treatment, Dr Batra's® groHair, and Dr Batra's® STM Treatment, is the best option because it is FDA approved, safe, painless, and provides quick results.