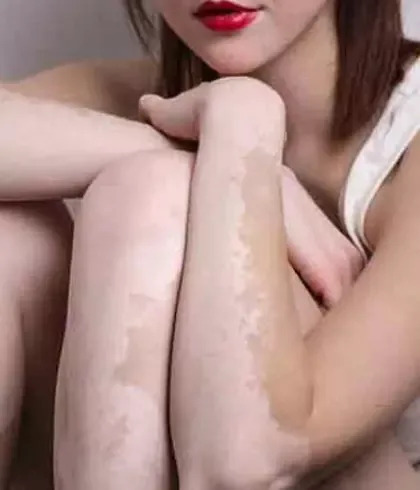 Homeopathy cure for White Patches
Authored by
Dr Batra's Team
If you are suffering from white patches and looking for natural, safe and long-lasting treatment, homeopathy is what you need. Homeopathic 'white' pills have proven efficacy to treat white patches, the condition medically known as 'Vitiligo'. To book an appointment with an expert homeopath click .
Also known as Leucoderma, Vitiligo, affects approximately 1 in every 200 people globally. It develops when the skin loses its pigment called melanin that determines skin colour. This results in development of irregular, pale or milky white patches on the body.
Immediate treatment of Vitiligo is necessary not only to treat white patches and restrict their spreading but also to avoid psychological complications associated with it. Leucoderma though affects skin, is extremely stressful for the patients suffering from it, considering the social stigma associated with the condition. It affects their emotional state, and also has negative impact on their psychological well-being, family or social life, career as well as self-esteem. Homeopathy takes into consideration all these symptoms and provides holistic relief. To treat your white patches with natural and safe homeopathic remedies, book an appointment with our experienced and expert homeopathic dermatologists – Click.
What should be the vitiligo treatment goal?
Vitiligo patients are most worried about the patches spreading and increasing in size, especially on the face. This stress leads to depression, anxiety and low self-esteem in many patients. The goal of Vitiligo treatment therefore should be to focus on complete well-being of a patient with focus on relief from medical symptoms, which means arresting the spread of white patches, and also emotional as well as psychological improvement. Homeopathy takes this treatment approach and heals patients holistically. This is why homeopathic 'white pills' are the best solution for white patches.
Homeopathy treatment for vitiligo
Homeopathy treatment for vitiligo is natural and safe. The primary aim of the treatment is to stop or slow down the further destruction of melanocytes (the cells forming melanin) and stimulate re-pigmentation in the existing white patches. The best part of homeopathy treatment for vitiligo is that it extends beyond just the physical symptoms of Vitiligo. Homeopathy also addresses the underlying causes that might have triggered vitiligo like mental stress and depression.
Can Vitiligo be cured with homeopathic treatment? By and large Yes. It is much easier to treat the fleshy parts of the body affected by vitiligo but difficult to treat the bony areas. Similarly, the skin above the lips often takes longer to cure. However, the treatment success does depend on the extent of the areas in which the white patches have spread. The more extensive the area, obviously it will take longer to heal. It is therefore recommended to take early treatment so that chances of recovery are better. Even if complete cure is not possible, with homeopathic treatment, you can stop or slow down the progression of vitiligo and attempt to return some color to your skin.
Conclusion
So, if you are suffering from white patches, without any delay, visit your nearest homeopathic clinic and see how the tiny 'white' pills heal the white patches of vitiligo naturally without side-effects.