All about Male Pattern Baldness
Few things create as much stress and anxiety in men as these two words – hair loss. And why not? After all, we assign value in the way we look. While healthy and fuller hair can make one look younger, loss of it can make one look older. It affects not only the outer appearance but also self-confidence in males and can possibly impact their relationships and career.
Male Pattern Baldness affects 20% of men at age 20 and 50% of men at age 50. It is medically known as androgenetic alopecia - 'androgenetic' referring to the genes meaning the condition is inherited and 'alopecia' referring to hair loss. Around 80% males who suffer from hair loss have been found to have a family history of it.
One of the most common misconceptions is that genetic hair loss cannot be treated. This is because most people use over-the-counter products, anti-hair fall oils and shampoos to treat genetic hair loss. Hair loss being a medical problem needs to be treated with internal medication and not superficially. Homeopathy is effective in treating genetic hair loss in men, that too without any side-effects.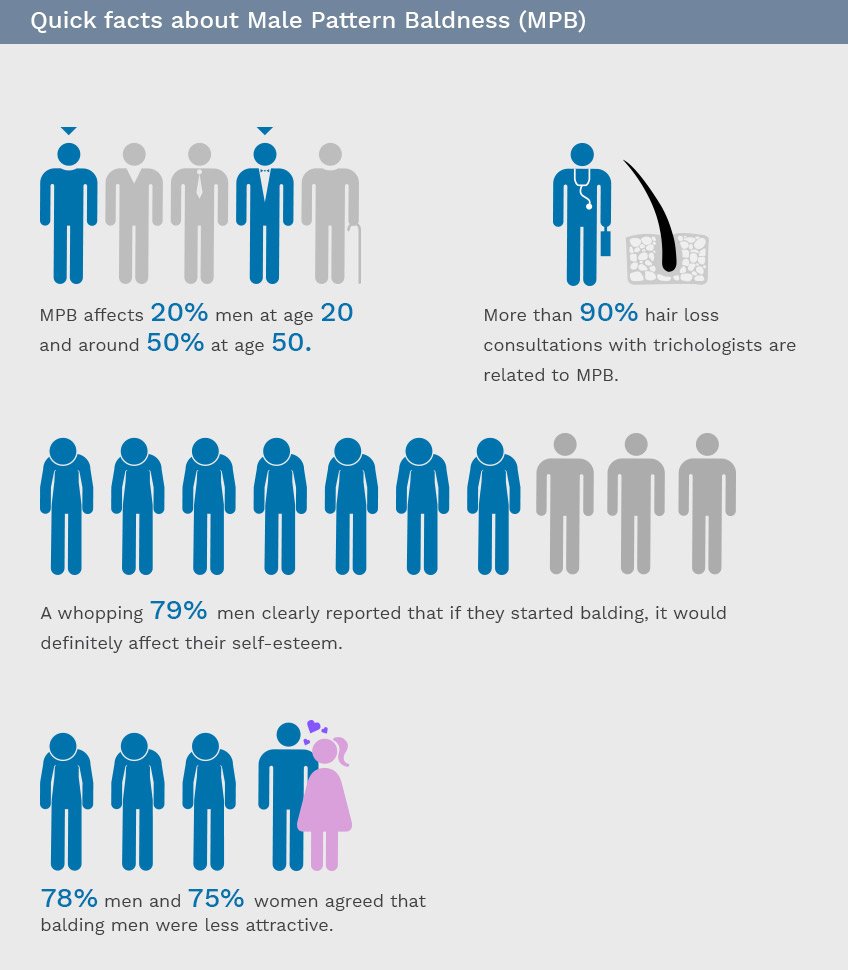 Signs and Symptoms
The most common symptoms of male pattern baldness are:
Receding hair line
Bald patch on the crown (top of your head)
Hair begins to recede from the forehead in a line that resembles the letter M
Overall thinning of hair
Complete baldness at a later stage Read More
Causes
Approximately 80% of males suffering from male pattern baldness have a family history of it. Sometimes, baldness may be accentuated by other medical causes like:
Anaemia
Thyroid Disorder
Diabetes Mellitus
Use of certain medications
Stress and Anxiety
Certain hair treatments and hairstyles
Smoking Read More
Risk factors
Following are some conditions that affect the risk of baldness:
Age
Huge amount of weight loss
Family history of balding on either side of the familiy
Seborrhoeic dermatitis
Metabolic disorders like hypertension and high cholesterol
Nutritional deficiency of protein, iron, vitamin B12, folic acid and biotin

We also have a self evaluation hair loss test that you can take online to assess the current state of the hair loss problem and know the individualized hair loss risk.
Diagnosis
What to expect in a consultation at Dr Batra's™?
Medical Assessment: In the first consultation, the doctor spends 45 minutes understanding the extent and root cause of the hair loss.
Scientific Analysis: The doctor conducts a digital hair and scalp analysis with a video microscope that helps to magnify the hair and scalp up to 200 times. It identifies the extent of the problem enabling an accurate scientific treatment plan.
Genetic Test Advice: In many cases, our genes are responsible for hair loss. Dr Batra's™ has developed Geno Homeopathy - the world's first gene-targeted homeopathic therapy. Geno Homeopathy is advised on the basis of a non-invasive Genetic Test that is done by collecting the saliva of the patient. This helps identify the strength of the hair loss gene, helps predict the probability of going bald, and helps identify and treat possible genetic factors that can cause hair loss. Since Geno Homeopathy is based on your individualized genetic predisposition, it is, therefore, the most individualized and customized treatment for hair loss.
Snapshot of a genetic test report for hair loss ~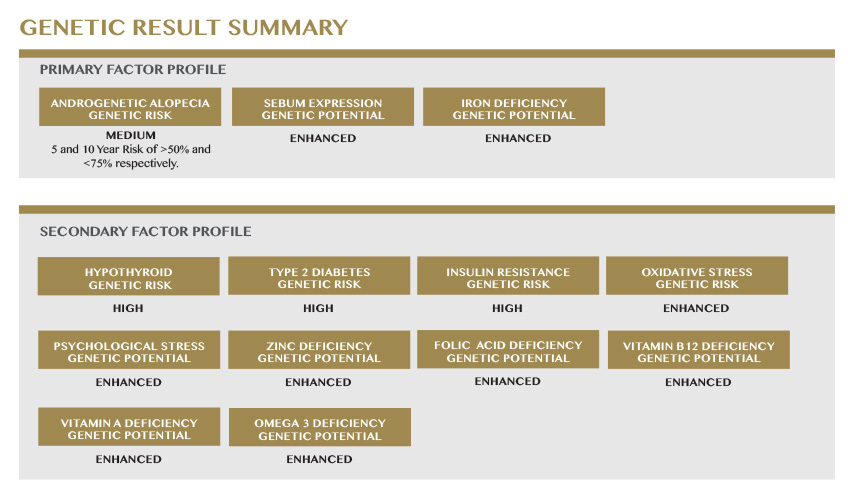 Treatment Plan: Based on the diagnosis of the hair loss problem and the expectations from treatment, our qualified and experienced doctors (some have completed a fellowship course in Dermatology, including Trichology, from the Mumbai University) develop a customized treatment plan. Based on the individual needs, they recommend the right treatment to the patient. Dr Batra's™ follows an integrated approach combining homeopathic medicine, nutritional supplements and aesthetic treatments to bring best results to patients. Read More
Prevention
If the hair loss is caused by genetics (male pattern baldness) it may not be preventable without treatment. However, here are some hair growth tips to follow for better hair care:
Wash and brush the hair gently and use a wide-toothed comb preferably so that it does not pull out the hair.
Avoid harsh treatments done at the salon.
Avoid medicines that could trigger hair loss.
Protect the hair from sunlight by wearing a scarf or a helmet (while riding a bike) or carrying an umbrella.
Stop smoking as it may cause baldness.
Homeopathic treatment for Male Pattern Baldness
There are 5 advantages of homeopathic treatment for male pattern baldness:
It not only treats the symptoms of hair loss but also its root cause, which can be an underlying illness like thyroid disorder or diabetes mellitus, or even physical and emotional stress.
It does not cause harmful side effects such as decreased libido or ejaculation problems, which commonly occur with the use of conventional drugs used for hair fall treatment. Homeopathic remedies for hair fall such as Thuja Occidentalis or Sabal Serrulata have been used to treat hair loss for over 100 years.
It helps to strengthen the hair roots, naturally and without side effects.
It helps to regulate the hormonal imbalance/s, slows down the rate at which air is falling and improves the uptake of nutrients showing long-lasting results.
It delays deterioration and baldness, improves blood circulation beneath the hair roots and removes toxins. Read More
Dr Batra's™ Homeopathy: Safe, natural, holistic treatments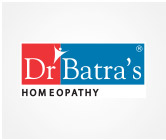 Internationally proven homeopathic medicines cited as natural DHT-inhibitor
96.6% treatment success rate
No side-effects
Understands and treats medical ailments, thereby treating hair fall from the root
Dr Batra's™ Geno Homeopathy: Homeopathy combined with genetics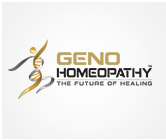 World's 1st ever gene-targeted homeopathic therapy
99.9% accurate test results
Predicts & prevents hereditary hair loss
Long-term results
Dr Batra's™ STM Cell: Derma roller treatment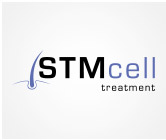 Hair Treatment based on French Technology
88% treatment success rate
Increases hair volume and density
Procedure takes just 60 minutes once a week
Dr Batra's™ groHAIR: Meso Therapy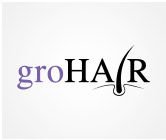 Treatment based on a Nobel Prize winning discovery
77% treatment success rate
Non-invasive treatment that improves hair volume & stimulates hair growth
Procedure takes just 30 minutes once a week
Dr Batra's™ Hair Vitalizing Treatment: Hair fall control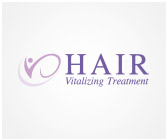 US-FDA approved low-level laser therapy
90% treatment success rate
Treatment to restore growth of hair follicles
Procedure takes just 20 minutes once a week
Dr Batra's™ Hair Transplant: Reverses baldness & restores hair line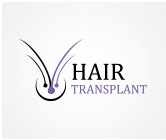 International techniques of FUE & FUT
95% treatment success rate
Surgical treatment to reverse baldness and restore natural hairline
Long-lasting hair fall solution
Dr Batra's™ Quik Hair: Wigs & Toupees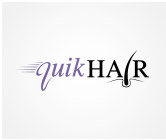 International quality toupees & wigs
Made from natural human hair
Get a head full of hair instantly


Dr Batra's™ Home Care: Products formulated by Trichologists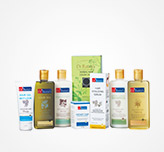 Products formulated by Trichologists
Natural & safe products that control hair fall & boost hair growth
Enriched with benefits of natural plants for healthy hair & skin
Choose from our wide range of hair & other products because you deserve the best
Testimonial
"After 5 months of treatment, hair fall reduced from 60 to only 15 strands a day, and my itching stopped too. I am now confident about myself and believe that if you treat hair loss early, you can be cured."
Click here to watch Mr.Rajput Chetan Singh recommend Dr Batra's™ homeopathic treatment of hair loss.
https://www.youtube.com/watch?v=jObXN698DrU&list=PL630953A6C0D06A80&index=2
Case Study
Vipul, a business executive consulted Dr Batra's™ after he had lost almost 40% of his hair from the scalp in a span of 3 years. He was balding on the crown area and had a strong family history. To know more about how Vipul regained his hair, read his complete story on
https://www.drbatras.com/know-how-vipul-reached-normal-limits-hair-loss.
FAQs
Since last 4 years I have been suffering from male pattern baldness. Is it possible for me to re-grow my hair?

Yes, it is possible. Male pattern baldness can be reversed to some extent - it depends on factors like your age, the extent of your hair loss and any underlying medical causes of it like as diabetes mellitus or thyroid disorder. In case there is an underlying medical problem responsible for your hair loss, Dr Batra's™ homeopathic doctors would recommend a homeopathic treatment to treat your hair loss problem from the root. In case you have nutritional deficiencies leading to hair loss, they would recommend a nutritional supplement. Certain non-surgical aesthetic treatments including Gro Hair, STM Cell Treatment and Hair Vitalizing Treatment are also available to enhance treatment results. Book an appointment here to consult a homeopathic doctor at Dr Batra's™.

There is a strong history of male pattern baldness in my family. Is there any way I can prevent it?

Even though male pattern baldness is a hereditary phenomenon, you can certainly prevent or delay it with the right treatment. At Dr Batra's™, Geno Homeopathy, a gene-targeted homeopathic therapy can be advised for such cases. A simple saliva test can help us determine your genetic disposition and help to reduce your chances of getting hair loss. The sooner you start with the treatment, the better are your chances of recovery. An integrated approach to the treatment as well as choosing the right combination of treatment for hereditary hair loss will certainly be of help.

I am 25 years old. I'm losing my hair rapidly and I really don't know the cause. What treatment can I take to stop my hair loss?

Since you are experiencing rapid hair fall, the first goal of treatment should be to arrest this. To recommend an appropriate treatment, let us understand the root cause of your hair loss. For this, we will need to conduct a hair and scalp analysis through a video-microscope to identify the underlying cause. Homeopathy would be the first line of treatment to address the underlying cause of hair loss. If required, it would be supplemented with nutritional supplements and/or aesthetic treatments to improve the quality of your hair.

I have been losing hair for long. I have tried all kinds of products for controlling my hair fall but nothing has helped. How can I stop my hair from falling?

It is a misconception that products help you control hair loss. Hair loss is a medical condition that is caused by some underlying health conditions such as thyroid disorders, anaemia, diabetes mellitus, etc. A treatment at the parlour or a hair product can help superficially and temporarily but not treat it from the root. Hair loss can only be treated by diagnosing the underlying medical conditions scientifically and treating them accordingly.

How do I stop my hair from falling out?

On an average, we lose around 50-100 strands a day. That's just hair going through its cycle and there will be a new one to replace it. But if you are losing more hair than that, or if your falling hair is not being replaced be new ones, treatment is necessary. Read More