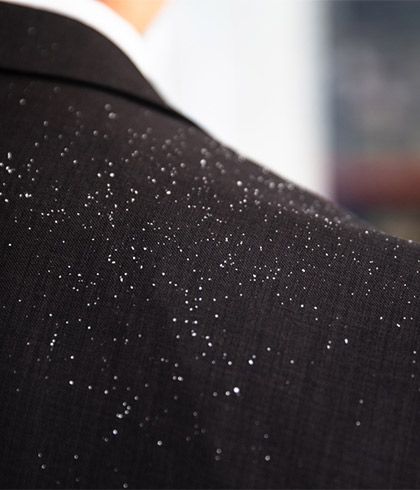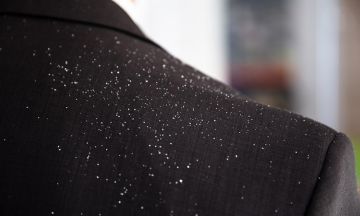 GET RID OF SEBORRHOEIC DERMATITIS WITH HOMEOPATHY!
29-year-old Amit came to our clinic with an unusual compliant. He said he needed help to cope with breakup with his girlfriend. We realised it was the case of stress post break-up. However, while taking his case history, we figured out the cause of his break-up and… WE TREATED IT! After all, that's what homeopathy does. It treats the root cause of the disorder. In Amit's case, it was seborrhoeic dermatitis, or dandruff, as it is commonly known as. Yes, you heard it right – Dandruff was the culprit that made Amit's relationship kaput. We treated it with homeopathy.
Amit got dumped over a reason that he couldn't even think through. When she left, his girlfriend had just said, "I don't want to be with you anymore. I think I should find a better shoulder to lean on. Literally"! The reason for his break-up was his flaky shoulder, his dandruff, something that Amit had never taken seriously!
Have you too experienced such embarrassment due to seborrhoeic dermatitis? If yes, do not leave it untreated. Treat it with homeopathy. Homeopathy treats dandruff from the root without any side-effects. To book an appointment with an expert homeopathic trichologist (hair specialist), click the below link.
Let not seborrhoeic dermatitis break you
Seborrhoeic dermatitis often negatively impacts emotional & psychological health of the person suffering from it. Like Amit, there are many people who suffer break-ups in relationships as well as lack of self-confidence due to dandruff. According to a survey conducted with people suffering from seborrhoeic dermatitis, a whopping 73% people said that it made them feel less attractive and more than a third admitted to avoiding social gatherings to avoid embarrassment. Also, seborrhoeic dermatitis might lead to other problems like hair loss and acne. However, the good part is that it can be treated effectively.
Anti-dandruff shampoos cannot treat seborrhoeic dermatitis
Many people depend on anti-dandruff shampoos to get rid of their dandruff. For a minor dandruff condition, you can do that but for severe dandruff, anti-dandruff shampoos would hardly make any difference. Also, it's a myth that dry skin flakes are caused due to dry scalp. The fact is that people with an oily scalp are more prone to dandruff. Seborrhoeic dermatitis is caused by the fungus Malassezia, which feeds on the excess oil produced in the scalp. This causes skin cells to shed faster and results in dandruff flakes. Therefore, applying oil whether hot or normal will not help much. Severe dandruff needs to be treated medically. Amit's case history revealed a past account of pneumonia when he was 12, besides chest infection and jaundice at the age of ten. He also had a family history of asthma, besides his father suffered from diabetes as well as premature grey hair. Amit's other complaints were a recurrent cold and cough at every change of season, acidity and pain in the knee joints.
We analysed his case and put him on an appropriate homeopathic treatment for seborrhoeic dermatitis considering all the above factors. Within six months of taking homeopathic treatment, Amit felt significantly better. By the end of eight months of homeopathic treatment, there was no trace of dandruff on his scalp. His other health troubles were addressed as well.
Homeopathy treatment for seborrhoeic dermatitis
Significant reduction in the severity of seborrhoeic dermatitis is seen with homeopathic medicines. Patients are able to reduce and gradually stop conventional medicines when they started with homeopathic medicines.
Homeopathic medicines are natural medicines which help to reduce the itch, dandruff, intensity, frequency and duration of the complaints.
Homeopathy has a holistic approach in treating this condition hence it helps to reduce undue anxiety.
Homeopathy helps in treating the associated complaints and corrects the underlying diseases like thyroid disease or zinc deficiency. Homeopathy helps to improve confidence and improve the quality of life.
Furthermore, the results with homeopathy treatment are long-lasting, with a minimal risk of recurrence.
Seborrhoeic dermatitis cases, especially those treated in the early stages, show much better results. However, people at advanced stages of the disorder also respond very well to homeopathic treatment, though that requires time.
To book an appointment with an expert homeopathy doctor now, click here
Self Help Tips
Wash your skin and hair regularly. Rinse the soap completely off your body and scalp. Avoid harsh soaps / shampoos and use a moisturizer.
Avoid products that contain alcohol. These can cause dandruff to flare up.
Avoid scratching. Scratching can increase irritation and your risk of infection.
Consume flax seeds. Flaxseeds are rich in omega 3 fatty acids that moisturize the scalp, reduce the scaling and stimulate the production of sebum in the scalp preventing flaking. Therefore, consuming one tablespoon of flaxseed might help you manage dandruff better.
Manage your stress well. Stress weakens the body's natural defenses making it more difficult to deal with dandruff and scalp irritation. In fact, the dandruff symptoms like dryness, flakiness and itching become more of a problem when you are under stress. So, manage your stress well by breathing exercises, and yoga.